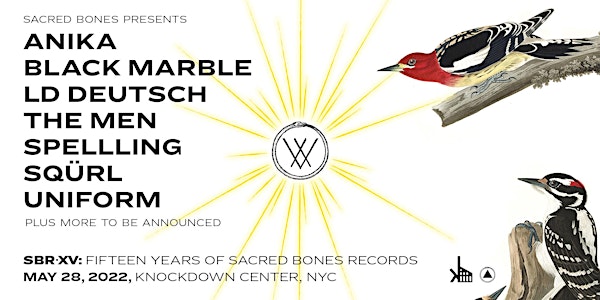 SBRXV: Fifteen Years of Sacred Bones
Event Information
Performers
Black Marble
Anika, Spellling, SQÜRL
Location
Knockdown Center
52-19 Flushing Ave
Queens, NY 11378
About this event
Sacred Bones, one of the defining record labels of Brooklyn's independent music scene in the 21st Century, celebrates its 15th Birthday at the Knockdown Center, with a stacked lineup of label artists spread across multiple stages.
╸╸╸╸╸╸╸╸╸╸╸╸╸╸╸╸
Featuring:
Anika
Black Marble
LD Deutsch
SPELLLING
SQÜRL
The Men
Uniform
+ More details to be announced
╸╸╸╸╸╸╸╸╸╸╸╸╸╸╸╸
Anika
Anika a.k.a Annika Henderson (D/GB), born 1987 in Woking, England, is a hybrid artist. The former journalist made a name for herself in the electronic music scene, with her experimental sound collages, confrontational texts and unique way of performing live solo. Her breakthrough came in 2010 with the release of the cult-hit, experimental LP, Anika (Stones Throw /Invada), which she recorded with Geoff Barrow and band Beak> in Bristol, a wholly unexpected and unplanned affair, which began Anika's long and winding road into the music, film, poetry and arts scenes.
Since, she has collaborated with a wide spectrum of musicians, artists and film-makers, among them: Tricky, Gudrun Gut and Beate Bartel (Malaria!, Liaisons Dangereuses), Jandek, Shackleton, Michael Rother (Neu!), Dave Clarke, PBDY (Brainfeeder), Melanie Jame Wolf, SYNY, T.Raumschmiere, Andreas Reihse, Doireann O'Malley, Ricardo Domeneck and Yann Tiersen. She formed the band Exploded View in Mexico City, in 2015, along with local synth freak legends Hugo Quezada, Martin Thulin and Amon Melgarejo. They have since released two LPs and an EP on Sacred Bones, touring the Americas and Europe extensively.
She has performed extensively since 2009, with and without band, in renowned venues and festivals across the globe, such as the Portishead-curated All Tomorrows Parties in New Jersey and London, Moog Festival, alongside the likes of Suicide, Tangerine Dream, Silver Apples, and Moebius, Mexico City's Normal Festival, Tehran's Tadaex, Berghain, Atonal festival, SKIF St Petersberg, and WWWX Tokyo among others.
She interweaves dub, post-punk, and psychedelic, with shadows of drum and bass and a strong emphasis on the voice. Henderson operates as a poet, composer, musician, DJ, photographer, radio host and film-maker.
Black Marble
Black Marble emerged from NYCs cold wave revival scene in the early twenty teens, and released his first full length "A Different Arrangement" in October of 2012. Signed by Sub Pop imprint Hardly Art after releasing just one song online, Black Marble quickly hit his stride alongside other NYC synth acts like Martial Cantrell, Led Er East, and Frank (Just) Frank - playing small club shows in the bowels of Manhattan's Lower East side to small but dedicated throngs of in-the-know city kids.
2019 saw Stewart change coasts (New York for LA) as well as Labels (Ghostly for Sacred Bones) to coincide with the release of his third album, "Bigger Than Life", which reflected the change of scenery by letting more light creep into his sound without losing the detachment of his subject matter. Pitchfork weighed in by saying: "Stewart positions many of his characters as passengers observing the city from the window of a crosstown bus, freaky classmates keeping bones under their bed, or lonely introverts looking for salvation in consumerism."
Now, Stewart returns two years later with his fourth full length record (and second for Sacred Bones) entitled "Fast Idol". On it, Stewart takes the next logical step from BTL, keeping its evolving and more unexpected arrangements while returning to some of the more moody production that defined some of his earlier work. Melodies roll with the fizz and charm of Jacno and phrases repeated are electric torchlight ballads sung after hours in William Gibson's San Francisco. Writing and playing everything himself, Black Marble carries on the tradition of early synthwave pioneers like Martin Dupont and Modern Art, who made their mark at the end of the 1970s when synths became affordable for the first time. Repurposing them from status symbols of stadium bands into cultural signifiers for bedroom artists, they sought to connect wires and twist knobs into something that felt entirely new.
Comfortable with his place in this lexicon, "Fast Idol" sees Black Marble face the rising tide of uncertainty with an oblique wink and nod, leaving our future selves to trace its signal as its frequencies echo into an interstellar expanse. He says: "I want my music to stick with you after I leave and I want you to take something from it, even though you might not feel like you've totally unraveled it".
LD Deutsch
A Lecture On Time: Reality at the Edge of Itself
"This talk will explore the kaleidoscopic nature of time in an attempt to understand some of the ways in which this seemingly integral aspect of the universe operates, and why we experience it the way that we do. By comparing models of time from the perspective of physics, neuroscience, analytical psychology and mythology, what will hopefully emerge is a truthfully textured portrait of reality's greatest mystery."
LD Deutsch is a writer, thinker and scholar based in Los Angeles, Her essays and talks are engaging expositions that deftly integrate a range of disciplines to consider the headiest of ideas: Time, consciousness, and the narratives and nature(s) of reality. Aesthetically proximate to the underground – and with academic rigor – Deutsch's output itself is rightly associated with vital cultural movement; A trio of stand-alone essays published by Sacred Bones Records in recent years – Technomythology, and Mythologies of Time and Timelessness, and Pluto & the Mythic Dimension – have expanded her to wider audience. A fourth – Myth & the Multiverse – will be published this year.
Spellling
SPELLLING released her first full-length "Pantheon of Me" in September 2017 and it was self-written, performed, and produced in her apartment in Berkeley, California. She began experimenting with music production in 2015 in an effort to carry on the creative legacy of a lost loved one. Drawing heavily from messages in her dreams, her sound spirals through clarity and obscurity searching through landscapes of psychic space. The result is a divine soul music, soft in its restraint but heavy with passion. "Pantheon of Me" was Bandcamp's #4 record of the year in 2017 and they raved of that sound: "Cabral has it, from her careful sense of composition to her charismatic presence to her ability to communicate with her music straight through to the listener's heart."
In 2018 SPELLLING signed to Sacred Bones and released "Mazy Fly" to great critical acclaim. Venturing to push the boundaries of her primarily synth-based work, SPELLLING took on the ambitious task of orchestrating and self-producing her 2021 album "The Turning Wheel", which features an ensemble of 31 collaborating musicians. The album incorporates a vast range of rich acoustic sounds that cast SPELLLING's work into vibrant new dimensions.
2021 saw the release of "The Turning Wheel", the third full-length by the Bay Area artist, which revolves around themes of human unity, the future, divine love, and the enigmatic ups and downs of being a part of this carnival called life. Venturing to push the boundaries of her primarily synth-based work, SPELLLING took on the ambitious task of orchestrating and self-producing an album that features an ensemble of 31 collaborating musicians. "The Turning Wheel" is a manifestation of this considerable effort, time, and collaborative energy and has become a career-defining opus for the artist. The album received widespread unanimous praise, earning itself The Needle Drop's #1 album of the year in 2021. NPR said the following when including the album in their top 50 "On her third album as SPELLLING, the Bay Area-based wizardess Chrystia Cabral employs the language of myth, magic, and fancy to illuminate her reality as an empathic artist negotiating the realities of a world that's multifariously on fire."
She has toured with Boy Harsher and Amen Dunes and her live performances are regarded as revelations of spell and spectacle.
SQÜRL
SQÜRL is: Jim Jarmusch, Carter Logan and Shane Stoneback.
An enthusiastically marginal rock band from New York City who like big drums & distorted guitars, cassette recorders, loops, feedback, sad country songs, molten stoner core, chopped & screwed hip-hop, and imaginary movie scores.
The Men
The Men were formed in 2008, in Brooklyn, NY. Since then, they've released 8 LPs, 6 EPs, and 8 tapes. They've played basements, dive bars, theaters, parking lots, big festivals, small festivals, and a boat. A lot of different people have come in and out of the band over the years. They're still ridin' on.
Uniform
What if the antihero in your favorite film or book had no chance to repent, reconcile, or redeem himself? There's no victim to rescue. There's no evil to thwart. There's no tyranny to turnover. Instead of saving the day against his better judgment, he just walks a Sisyphean circle of existential malaise doomed to repeat yesterday's vices without the promise of a better tomorrow. Rather than tell this story on the screen or on the page, Uniform tell it on their fourth full-length album, Shame. The trio — Michael Berdan (vocals), Ben Greenberg (guitar, production), and Mike Sharp (drums) — strain struggle through an industrialized mill of grating guitars, warped electronics, war-torn percussion, and demonically catchy vocalizations.
Born in 2013, Uniform bulldozed a path to the forefront of underground music. Following "Perfect World" (2015) and "Wake in Fright" (2017), the group's third offering, "The Long Walk" (2018), represented a critical high watermark. Pitchfork christened it "their most unified—and most deranged—record to date," and The Line of Best Fit crowned them "vanguards within the genre." In addition to touring with the likes of Deafheaven and Boris, they joined forces with The Body for a pair of collaborative albums – "Mental Wounds Not Healing" (2018) and "Everything That Dies Someday Comes Back" (2019) – as well as the live release, "Live at the End of the World" (2020).
Performers
Black Marble
Anika, Spellling, SQÜRL
Date and time
Location
Knockdown Center
52-19 Flushing Ave
Queens, NY 11378
Refund policy