SBODN - Game Changers

Monday, November 1, 2010 from 5:30 PM to 7:00 PM (PDT)
Event Details
SBODN Panel:  Game Changers – Strategies for Making a Difference at Work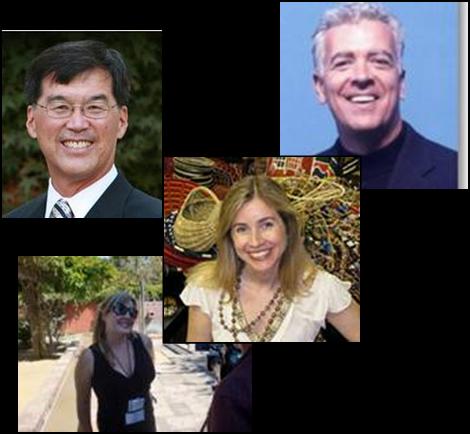 November 1 from 5:30 – 7:30
Rising International Artisan Sale at Event – Bring Your Holiday List

Live at Citrix in Santa Clara
REGISTER ($20 Advance, $25 Door, and $10 Students/Job Seekers):

The Huffington Post calls them "Game Changers - innovators, mavericks, visionaries, and leaders who are changing the way we look at the world and the way we live in it." Meet a few local game changers from angles we might all benefit from changing a bit – one person or one company at a time.  Game changers share a common trait: a willingness to look at things and take the risk of saying, "I think I have a better way."  Join us to be inspired to act, change and be more aligned to changes that benefit humanity and the planet.

Panel Moderator:  Heather Durham, President, the Durham Group
Panelists:
Jeff Chow – Morgan Stanley, Corporate Giving Circles – Game Change
Carmel Jud – Rising International, Reducing Poverty – Game Change
Brad Davis – Marketing Consultant, Branding and Marketing – Game Change
Branding and Marketing Game Change:
Brad Davis is a recognized expert on growing brands and building award-winning communication strategies.  He was named one of the Top 50 Marketers in America, and was inducted by the U.S. retail industry into the Retail Marketing Hall of Fame in Chicago.  He's been a featured speaker globally on Growing Brands on a Human Scale:  The One Question You Need to Grow.  Brad is a communications advisor to execs in the retail, renewable energy, and financial sectors.  For more information:  www.jbraddavis.com.  

Corporate Giving Circles – Game Change
With the "Great Recession" that we are currently experiencing, spending for Corporate Socially Responsible programs have understandable been reduced. How
could a corporation through their HR Department or an existing CSR effort develop a collaborative "Corporate Giving Circle" to continue to support philanthropy and social responsibility among their employees without spending a lot of money? 
Reducing Poverty – Game Change
Rising International is the first non-profit in the world to use the home party business model to end world poverty.  Rising International's goal is to use the purchasing power of the United States to mobilize over 50 million people to join us in caring about the world.
Here's how it works:  Mary Kay, Tupperware, and Avon-type home party businesses (a $100 billion dollar a year industry) earn money by selling products in family's living rooms. Rising International has borrowed these successful business practices for a higher purpose …ending poverty.  We sell crafts made by the world's poorest people, women in developing counties.    For example, we're developing a crafts project for Darfur refugees living in Chad.  These crafts will be sold at Rising International Home Parties, enabling the refugees to find a way out of poverty by running a sustainable micro-enterprise. Each craft will come with the story of the refugee giving the refugee a voice to the world. In addition, we train low-income women and teens in the United States to run their own Rising International Home Party businesses. These American low-income entrepreneurs earn a commission selling crafts made by global low-income entrepreneurs. In essence, we've created a way for the worlds impoverished to help each other out of poverty.

Panel Moderator Bio:  Heather Durham, President, The Durham Group
Heather Durham is one of the founding members of the US Green Building Council- Northern California Chapter, Silicon Valley Branch, launched in May 2008, but her planning started in 2007 for this new branch. This was the fastest branch to ever form in USGBC history. As Program Chair, she helped shape their educational programs, is an advisor on the "Programs Team" and was elected as Sponsorship Chair for 2010.
In 2009, Ms. Durham launched Silicon Valley -Technology, Art, Green and Sustainability (SVTAGS) TV/Cable show, airing on San Jose/Campbell and in Santa Cruz County. The program also streams on demand at CreaTV San Jose (www.creatvsj.org) and www.Veoh.com.  She created the show to help educate the public--- to connect them to what's happening with technology, art, green and sustainability in the Silicon Valley and beyond. She has a beta Website up at www.svtags.org and her plans are to continue to help educate around the topics of Silicon Valley -Technology, Art, Green and Sustainability with a book in the making and more.
A marketing professional, Ms. Durham has been media planning, branding, marketing and performing public relations since 1995. Projects have ranged from small websites to yearly marketing strategies and planning for large companies. She started consulting through her own Durham Group in 2002. www.thedurhamgroup.net

PANELIST BIO:  Carmel Jud, Founder, Rising International
Carmel Jud is the founder of Rising International which promotes ownership of craft-based businesses by women in both impoverished areas of developed nations as well as in developing nations. Her focus is primarily on women in high risk environments such as those in refugee camps, those living with HIV/AIDS, homeless women, displaced immigrants, former slaves, or those in war-torn regions of the world.

PANELIST BIO:  Jeff Chow, Financial Advisor, Morgan Stanley
Jeff is a Financial Advisor / CERTIFIED FINANCIAL PLANNER with Morgan Stanley Smith Barney. He works with investors and their families to manage their
personal wealth and partners with Nonprofit to optimize the philanthropic potential of their donors. Some of the organizations that Jeff works with include the Salvation Army, One World Children's Fund, the Global Women's Leadership Network, the Big Turtle Fund (for sea turtle research and environmental education) and numerous organizations working in Africa. In September 2009, Jeff had the idea to develop a network to promote synergy between people and organizations working in Africa and founded a group called "Collaborate for Africa" . "Collaborate for Africa" now has over 200 members, sister organizations in Santa Cruz, Los Angeles, Silicon Valley, San Francisco and has relationships with the UN Foundation, UNICEF and Children's Hospital in Oakland. In 2008, he co-founded a forum call "Continuing the Conversation" that focuses on issues facing our Silicon Valley magnified by the 2008 Financial Crisis. In 2006, Jeff and his wife, Dr.Shirley Chen, Ph.D, Esq., developed their "Little Eagle Scholarship Program" to support talented, disadvantaged students at Shirley's high school in rural Southern China.
PANELIST BIO:  Brad Davis, Marketing Consultant
Brad Davis has a doctorate in law and 20 years experience building high-growth brands and award-winning communication strategies.
Named one of the Top 50 Marketers in America, Davis was Executive Vice President and Chief Marketing Officer for Washington Mutual following 14 years in traditional retail with Dayton Hudson (Target Corporation).  Entering half of the nation's top 50 markets, his teams' strategies were commended by the Chairman of Columbia Pictures and Twentieth Century Fox for messaging which resonates with the community, and were awarded an Effie from the American Marketing Association for business results.
He was named to the #1 position in the industry's annual selection of leading marketing executives. The U.S. retail industry inducted Davis into the Retail Marketing Hall of Fame in Chicago. He served as Chairman of the Board of the Retail Advertising & Marketing Association from 2004-2006.
His blueprints for market leadership have been the subject of symposiums in Europe, Asia, and Australia attended by some of the world's leading brands including Vodafone, Marks & Spencer, American Express, IKEA, Cathay Pacific, Iberdrola, and the Bank of Australia.  He has been a guest speaker in London, Dublin, Madrid, Toronto, Hong Kong,
In 2009, he was among 100 global business, social and philanthropic leaders invited to join the Dalai Lama and Archbishop Desmond Tutu at the 2009 Vancouver Peace Summit's "Connecting for Change."
He serves as a communication advisor to the former President of the U.S. Conference of Mayors, and to the leadership teams of start-ups, retail, financial and renewable energy companies.
When & Where

Citrix Location
4988 Great America Pkwy
Santa Clara


Monday, November 1, 2010 from 5:30 PM to 7:00 PM (PDT)
Add to my calendar
Organizer
Silicon Valley OD Network
Our mission is to connect the people and wisdom of Silicon Valley's OD community.