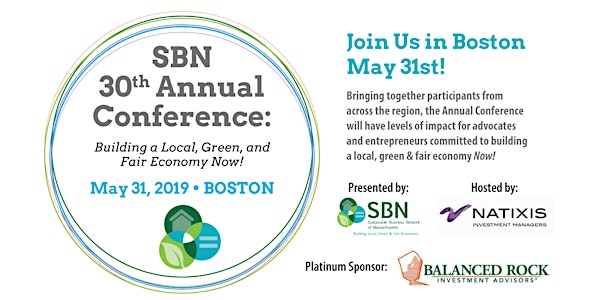 SBN's 30th Annual Conference: Building a Local, Green, & Fair Economy Now!
Location
Natixis Investment Management
888 Boylston Street
Boston, 02199
Refund policy
Refunds up to 30 days before event
Description
For the 30th time, Sustainable Business Network of Massachusetts (SBN) invites businesses, community leaders, and nonprofit organizations to share ideas and make plans for how we can take the next concrete steps to create a more just and sustainable Massachusetts.
It's an opportunity to join SBN and like-minded allies in a collaborative effort to make practical and positive changes in our community and local economy. We believe that all of us are stronger through partnerships and collaborations! Please join us for a day of conversations leading to action!
This year's theme is Building a Local, Green, and Fair Economy Now!
The Conference includes keynote speakers, breakout sessions, ignite- five minute presentations, networking, catered lunch (as part of the cost of the Conference), and a tour of one of the greenest buildings in Massachusetts.
Keynote Speakers:
• Nicola Williams, founder and owner, The Williams Agency
"Why an Ownership Economy is Essential for Sustainable Communities?"
• Glynn Lloyd, co-founder, BECMA
"Three `Must Do's' for Economic Inclusion to Have Traction in Greater Boston and MA"
• Daniel M. Flannery, CFA, Balanced Rock Investment Advisors
"How to Leverage Your Personal Investments to Build a Local, Green and Fair Economy"
• Segun Idowu, Executive Director for BECMA
"Can't We Do Better Than 1%? Achieving True Equity in City of Boston Contracting"
• Kristin Kelleher, Programs Director for Climate Action Business Association
"Pricing Carbon: the Cutting Edge Approach to Climate Action"
• Karen Spiller, Principal, KAS Consulting
"Racial Equity and Sustainability in Action: What Does Food Have to Do with it?"

Speakers Include:
• Tim Cronin, Policy & Partnerships Manager, Climate Action Business Association, Co-facilitating workshop with Kristin Kelleher
• Edward Dugger III, President, Chief Executive Officer, UNC Partners Inc., Co-facilitating workshop with Glen Lloyd
• Myrna Greenfield, Founder of Good Egg Marketing
• Laury Hammel, Executive Director of Sustainable Business Network of Massachusetts and CEO of Longfellow Health Clubs, Master of Ceremonies
• Jim Roach, Senior Vice President of Retirement Strategies for Natixis Investment Managers
Agenda for Collaboration and Action:
8:00 Check In
8:30 Keynote Speakers – Nicola Williams, Glynn Lloyd, Daniel Flannery
9:00 Break
9:10 Breakout sessions
10:00 Break
10:10 Keynote Speakers – Segun Idowu, Kristin Kelleher, Karen Spiller
11:00 Break
11:10 Breakout Sessions
12:00 Lunch
12:40 Call to Action Ignite Sessions – Eight six-minute presentations
1:35 Closing Process
2:00 Adjourn

2:00 Building Tour Begins
2:30 Tour Ends
Speaker Bios:
Tim Cronin, Policy & Partnerships Manager, Climate Action Business Association

Tim manages CABA's policy program by analyzing climate & energy policies, developing legislative strategies, and engaging member businesses in the policymaking process. He is also founding author of the weekly 'Massachusetts Policy Roundup' newsletter, assists in CABA member business recruitment, and co-chairs the grassroots committee for the Massachusetts carbon pricing coalition. A life-long resident of Weymouth Massachusetts, Tim is a member of Weymouth Rotary, his local Eagles chapter, and the Weymouth Energy Advisory Committee. He also serves on the MetroCommon Scenario Advisory Committee, which is helping to develop MAPC's 2050 regional plan. Tim has a B.A. in Economics from Stonehill College and spent his junior year of undergraduate studies at Oxford University.
Ed Dugger, President, Reinventure Capital

As a prominent business and civic leader, Ed served as a director and member of the Executive Committee of the Federal Reserve Bank of Boston and is currently a Director and Member of the Executive Committee of Boston Community Capital, one of the largest regulated Community Development Finance Institutions (CDFIs) in the United States. He is the Chair of the Board of Boston Community Ventures and serves on the Executive Committee of the Massachusetts Business Roundtable. Most recently, he has guided growth companies to launch initiatives that: 1) anticipate the impact on business of rapid demographic and environmental changes in the United States and 2) develop new business models transforming these changes into competitive advantages for businesses. Based in Boston, Ed is a graduate of Harvard College and Princeton University (MPA-UP, Woodrow Wilson School of Public and International Affairs).
Dan Flannery, CFA - President and Founder, Balanced Rock Investment Advisors
Dan is a lifelong investor and founder of SBN member company Balanced Rock Investment Advisors. Balanced Rock's mission is to make personalized fee-only advice and values-based investing affordable and accessible to everyone, no matter their net worth. In particular, Dan has made local investing in positive social and environmental opportunities a priority for the firm and their clients. Prior to founding Balanced Rock, Dan spent more than eight years with Cargill Investment Group Ltd., an asset manager of private tax credit real estate equity funds for institutional investors. In his spare time, Dan serves on the Steering/Finance Committees of JP Local First, Roslindale Porch Fest, Roslindale Village Main Streets and volunteers at the local Mozart Elementary School. He lives and works in Roslindale with his wife Meredith, their 6-year-old son Alden and 1-year-old daughter Sienna.
Myrna Greenfield, President and 'Top Egg', Good Egg Marketing

Myrna Greenfield has worked in the food and beverage, marketing, health care, and hi-tech industries. Greenfield was employee #1 at Equal Exchange, a Fair Trade coffee and food cooperative. She's the former director of Communications and Campaigns at Oxfam America and served at many other non-profits, including the Unitarian Universalist Service Committee, Fenway Community Health, and the Child Care Resource Center. Greenfield is also a frequent speaker and trainer at conferences, events, and meetings. She's presented for a wide variety of groups, including Jamaica Plain business owners, Cambridge corner stores and restaurant owners, Boston area non-profits, New England farmers and food producers, and business trainers. Her topics include product development, branding, sales and marketing strategies, website, and social media.
Laury Hammel, Executive Director of SBN and CEO of Longfellow Health Clubs

Laury founded the Sustainable Business Network (SBN was originally New England Business Association for Social Responsibility (NEBASR)) in 1988, and has been leading the sustainable business movement in Massachusetts ever since. He is the owner and president of Longfellow Health Clubs – a group of health and recreation clubs in the Greater Boston area- considered to be among the greenest health clubs in the U.S. Laury has been the Executive Director of SBN since 2008 and provides overall leadership and visioning for the organization and its programs. Laury has been instrumental in founding numerous additional regional and national networks including Business for Social Responsibility (BSR) and the Business Alliance for Local Living Economies (BALLE).

Segun Idowu, Executive Director, Black Economic Council of Massachusetts, Inc.

A lifelong resident of Boston, Segun is a proud product of the Boston Public Schools. Following his graduation from Boston Latin Academy, he earned his Bachelor of Arts in History at Morehouse College in Atlanta, Georgia and honors from the Phi Beta Kappa and Golden Key Societies. In 2018, Segun was elected to serve as the 1st Vice President for the Boston chapter of the National Association for the Advancement of Colored People (NAACP), the first chapter of the oldest civil rights advocacy organization in the nation. In this role, Segun managed the much heralded and research intensive report card project that assessed the city's efforts and results in addressing systemic racial disparities. Segun was recently recognized as an "Influential Millennial of Color" in the city of Boston, and currently serves as the Executive Director for the Black Economic Council of Massachusetts, Inc. (BECMA).

Kristin Kelleher, Programs Director, Climate Action Business Association

Watching sea level rise affect her hometown of Newburyport inspired Kristin on her journey in the environmental field. She knows communication is key in adapting to our changing climate, and so she is always working to develop strong and reliable communication channels with CABA's member businesses, with key stakeholders in our legislature, and within vulnerable communities. Kristin enjoys adding new skills to her arsenal and her ultimate passion is to act as an advocate for businesses, ensuring they have the tools to be resilient and sustainable. Kristin is the lead author of the Businesses Acting on Rising Seas Report. She also serves on the Steering Committee for the Updated Climate Change and Sea Level Rise Projections for Metro Boston Project, she is an Agenda Setter for the Climigration Network, and she serves on the American Society of Adaptation Professionals Registry Project Working Group. Kristin has a B.A. in International Affairs from George Washington University and an M.A. in Environment, Politics, & Globalization from King's College London.

Glynn Lloyd, Executive Director, Foundation for Business Equity

Glynn Lloyd has been a pioneer in the field of transformative urban economic development for over 25 years. He is the President and Founder of City Fresh Foods and is currently the Executive Director of the Foundation for Business Equity. The Foundation's first Initiative: The Business Equity Initiative has designed and is executing a unique approach to truly scaling up our local Black and Latino enterprises in Eastern MA. Glynn has extensive experience assisting some of region's prominent nonprofits, including the transition of Commonwealth Kitchen to new leadership. As previous board chair of Sportsmen's Tennis Club, Glynn assisted in the transition of leadership at both the board and management level, at a critical time of this African-American led community institution's life cycle. He was also selected and appointed by Governor Deval Patrick to serve as a Trustee for Roxbury Community College, as part of the college's pivot into its best possible future. Most recently, he helped found the Black Economic Council of Massachusetts, a coalition of black business, community, religious and labor leaders working together to improve economic indicators in the Black community.

Jim Roach, Senior Vice President of Retirement Strategies for Natixis Investment Managers

In this role, he represents Natixis Sustainable Future Funds®, the first and only open-ended mutual fund target date offerings that are broadly ESG in the marketplace. Mr. Roach has over 17 years of investment industry experience and has spent the majority of his career in sales leadership roles. He served most recently as Head of Sales for Natixis Canada and previously as Sales Desk Manager at Natixis US headquarters in Boston, Massachusetts. Mr. Roach holds an undergraduate degree in accounting from the University of Connecticut.

Karen Spiller, Principal, KAS Consulting

Karen Spiller is dedicated to supporting the sustained health and equity of our communities. As Principal of KAS Consulting, she provides mission-based consulting with a focus on resource matching, board development and strategic planning for health and equity-focused initiatives. Karen works with diverse stakeholders, including community residents and businesses, state and local agencies, policy makers, corporations, foundations, community-based organizations and healthcare providers.She serves on national and regional committees and leads teams committed to creating equitable public health and sustainable food systems. Karen's current board member contributions include Boston Food Forest Coalition, Northeast Sustainable Agriculture Working Group and Sustainable Business Network of Massachusetts. Involved in state-wide and regional food system work, Karen is an engaged process team member of the Food Solutions New England network. She serves as its Massachusetts Ambassador making connections between FSNE's New England Food Vision and its racial equity commitment leading to action and movement building across the New England states. Karen is a Thomas W. Haas Professor in Sustainable Food Systems at University of New Hampshire, Durham NH.

Nicola Williams, Founder and Owner, The Williams Agency

Nicola Williams is founder and owner of The Williams Agency she founded 24 years ago to focus on social issues and causes. She is an entrepreneur, activist, organizer, localvore, environmentalist, and a passionate gardener who lives in Cambridge. She is a Jamaican immigrant, who relocated to Cambridge via Brooklyn for its livability, history, culture and diversity. The Williams Agency offers marketing, communications, and strategic planning services and have won local and national awards for her work. Nicola's commitment to community is demonstrated in her company's values that include sustainability, diversity, localism, and respect for the people and the environment. Nicola currently serves on the board of directors of three non-profit organizations including Sustainable Business Network, and Community Art Center and Harvard Square Neighborhood Association and has led the organizing of the Cambridge Carnival for 26 years and the Boston Local Food Festival since 2013. She was recognized as a 2015 Cambridge Food Hero for her work with sustainable food. Prior to The Williams Agency, she served as a consultant for Cambridge Business Development, whose mission was to assist businesses stages through start-up, development, and growth.

Please contact us for Conference Sponsorship Opportunities at info@sbnmass.org.
Thank you to our host Natixis Investment Management.
Thank you to our Platinum Sponsor, Balanced Rock Investment Advisors.
Thank you to our Silver Sponsor, Massachusetts Health Connector.
Thank you to our co-sponsors Black Economic Council of Massachusetts, Climate Action Business Association, Business Equity Initiative, and Food Solutions New England, Boston UJIMA Project, The Williams Agency, Longfellow Health Clubs and Air Graphics.