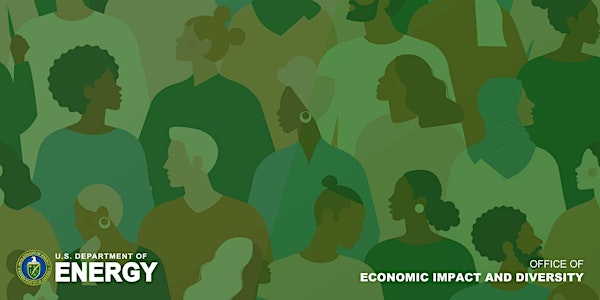 SBIR/STTR Informational Webinar
This webinar geared towards innovative entrepreneurs provides information about DOE's SBIR/STTR program, resource, and grant opportunities.
About this event
Hello Entrepreneurs!
Are you an innovator with an early-stage technology that has commercial potential? Please join U.S. Department of Energy (DOE) Office of Economic Impact and Diversity for a free webinar with SBIR/STTR Outreach Program Manager, Dr. Eileen Chant, Wednesday, August 17th at 3pm EST. This will be an opportunity to learn about the DOE's SBIR/STTR Programs, and how to evaluate whether you are a good fit.
DOE SBIR/STTR provides early-stage, nondilutive research and development grants to small businesses developing and commercializing their technology. Come learn about the surprising breadth of topics funded by DOE SBIR/STTR! Additionally, we will provide information on accessing DOE SBIR/STTR application assistance programs. The presentation will be followed by Q&A from the audience as time permits.
Join Us !
Please take a moment to review these key details about DOE SBIR/STTR:
DOE Mission
• Leadership in clean energy technologies
• Leadership in basic science and engineering in the physical sciences
• Enhancement of nuclear security
DOE SBIR/STTR Funds Topics in Research Areas which align with its mission, examples include (but are not limited to):
• Renewable energy, energy efficiency, grid modernization, advanced fossil fuel technologies, nuclear energy, fusion energy, carbon capture and storage, biofuels
• Advanced scientific instrumentation in the physical sciences, advanced computing, atmospheric and environmental monitoring, accelerator technology
• Nuclear nonproliferation, environmental remediation and clean up
• Recent thrust areas: artificial intelligence, quantum information sciences
• More details: https://science.osti.gov/sbir/Research-Areas-and-Impact
Overview of the Phase I Funding Opportunities
• Topics are released in July and November, https://science.osti.gov/sbir/Funding-Opportunities
• Focused, mission-aligned topics. Small businesses are encouraged to go now and review FY22 Release 1 and Release 2 topics on the Funding Opportunities page to get an idea of the flavor of our topics. Note that each release will have new topics, some will be same/similar as past topics and others will be new/different. Other topics will disappear.
• $200,000/$250,000 grants
• 6-12 months duration
• 350-400 awards per year
Overview of the Phase II Funding Opportunities
• 40% of Phase II applicants receive funding
• Focus is prototype development and technology demonstration
• $1,100,000/$1,600,000 grants
• 24 months duration
• 150 awards per year
Applicant Resources not to be missed!
• Phase 0 Application Assistance program for first time DOE SBIR/STTR applicants, https://www.dawnbreaker.com/doephase0
• Check out our new partnering page, https://science.osti.gov/sbir/Partnering-Resources. Feel free to reach out to Carol Rabke to discuss your partnering needs, carol.rabke@science.doe.gov.
Reach out to the DOE Office of SBIR/STTR Programs with questions!
• DOE SBIR/STTR Website: https://science.osti.gov/sbir ( You can join our mailing list on our homepage)
• Email: sbir-sttr@science.doe.gov
• Stay connected! ________________________________________