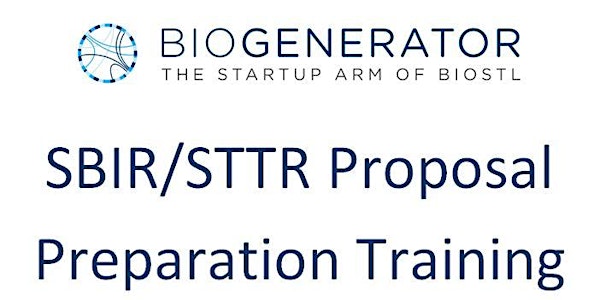 SBIR STTR Training Seminar
SBIR STTR Training Seminar
About this event
BioGenerator SBIR/STTR Proposal Preparation Workshop
January 18-19, 2023
Time: 9:00 a.m. – 2:45 p.m.
Location: The training will be conducted virtual. Details will be emailed to those who register.
Agenda – download
BioGenerator and BBCetc bring this workshop to cover all aspects of writing an SBIR/STTR proposal focused on life science technologies. After an introduction of the BioGenerator program, this day and a half training will begin by reviewing the SBIR/STTR program basics including what they fund, which federal agencies participate, how the money can be used and the differences between the SBIR and STTR programs. The first session will conclude with an overview of NSF and NIH specifics to help guide your project planning. Then we will take a deep dive into NIH proposal preparation with a detailed explanation of each section of your proposal.
Day two begins with developing the key components of a commercialization plan with emphasis on NIH requirements. The final session of the day will be a review of the NIH Assistance programs and ending with how to construct a strong budget.
The workshop will be conducted by Shannon Bass and Becky Aistrup from BBC Entrepreneurial Training & Consulting (BBCetc - www.bbcetc.com), which is nationally recognized for its expertise in helping emerging companies win federal funding through the SBIR and STTR programs. Shannon Bass is an NIH SBIR/STTR expert and Senior Principal Consultant at BBCetc with a background of management in the biotechnology industry. Shannon has assisted numerous start-ups in developing competitive NIH grant submissions, post-award management, commercialization, and project management. Becky Aistrup is BBCetc Managing Partner and co-owner of BBCetc. She is a well-known SBIR/STTR program expert, regularly speaking at national conferences and frequently serving on proposal review panels for NSF, DOE and USDA. As a previous VP and Corporate Officer for a successful SBIR firm, Becky is uniquely able to relate to the issues faced by SBIR/STTR applicants. Her professional background includes over 30 years of experience working within the medical, biotech, advanced materials and electronics industries helping companies successfully win SBIR/STTR funding. Becky also served as SBIR/STTR Program Director for the state of Minnesota. She holds a BA in Chemistry, an MBA in Marketing Management and a Master's Certification in Interactive Marketing.
Over the week following the workshop, 1-on-1 assessments will occur through videoconference allowing competitive applications to receive free support for an April 5 submission. If you have an idea you would like to share with us during such an assessment, please fill out the assessment form by January 19 and list BioGenerator in the referral box for proper consideration.
"Great overview with highly relevant guidance on key sections to focus on and nice breakdown of important aspects within each section. Really helpful 2 days!" - PhD Scientist from Pharma Industry
"Great information, appreciate your efforts to help St. Louis move forward with grant submissions and funding needs." - Medical Device Company Co-Founder
"Fantastic session. Even though I've been writing grants (successfully) for 30+ years, I still learned a great deal." - Audiology Company Founder
This seminar is presented three times a year. Future dates are May 17-18, 2023, and September 20-21, 2023.