Description
Hosted by Oregon BEST
in partnership with Portland State University Tech Transfer
& Business Oregon
---
The SBIR Road Tour is a national initiative to promote the Small Business Innovation Research (SBIR) and Small Business Technology Transfer (STTR) programs, which provide $2.5 billion annually in funding to small advanced technology firms to spur new technological discoveries and facilitate the commercialization of innovations.
These events provide an exceptional opportunity to meet directly with over 25 program managers from the 12 Federal agencies with SBIR/STTR programs.
This is a rare opportunity - the last NW visit for the Road Tour was 2015!

Your registration purchase includes:
Access to main presentations & speakers
Opportunity to meet one-on-one with federal agency program managers*
Refreshments, light breakfast, and lunch
*You will be contacted by a federal representative to schedule your one-on-one meetings following registration.
AGENDA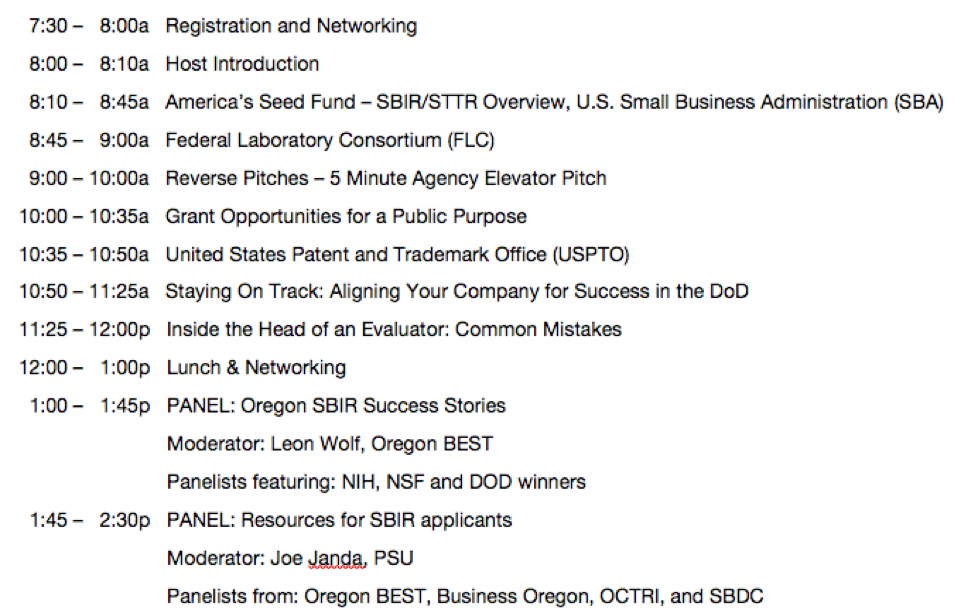 *One-on-One sessions run concurrently (8a-12p) with agency presentations and panels. Agenda subject to change
PARTICIPATING FEDERAL AGENCIES:

Defense Advanced Research Projects Agency (DARPA)

Department of Agriculture (USDA)

National Institute of Standards and Technology (NIST)

National Oceanic and Atmospheric Administration (NOAA)

Chemical and Biological Defense (CBD)

Department of Defense - Missile Defense Agency (MDA)

Department of Defense – Navy

Department of Health and Human Services - National Institutes of Health (NIH)

Department of Homeland Security (DHS)

Federal Laboratory Consortium (FLC)

National Aeronautics and Space Administration (NASA)

National Science Foundation (NSF)

United States Patent and Trademark Office (USPTO)
More detail and other SBIR related events near you can be found by visiting the Oregon BEST SBIR Support Program webpage (click here)
Volunteer Opportunity: We do have a few volunteer opportunities for those who are interested. Contact Tricia with Oregon BEST at tricia.clemans@oregonbest.org - tell us a little about yourself and your interest in the event.
For more information about this National event, go to http://www.sbirroadtour.com