Description
If you are looking to start a food truck, sell homemade cookies and pies or open a brick and mortar restaurant then this is the program for you! This series will take you from creating your concept to starting your business and everything in between. Consider this a crash course on becoming a foodpreneur- get this - at no cost!
This is a hands-on program where participants learn to start their business and use a commercial kitchen space. At the end of the course certified and permitted participants will have the opportunity to sell their products in the courtyard Sunday, June 2nd.
No Cost to Participate in Program
Program Curriculum
Class 1 - Cottage Food, Commercial Kitchen, Food Truck, Brick and Mortar, what is the right choice for me?
Wednesday, May 1st
Class 2 - Building and planning for your Business; Licenses, Permits; Safety & Sanitation
Wednesday, May 8th
Class 3 - Creating, Costing and Pricing your Products
Wednesday, May 15th
Class 4 - Sourcing and Selling your products; Branding, Packaging and Labeling
Wednesday, May 22nd
Graduation Fiesta Sale
Sunday, June 2nd
About the Instructor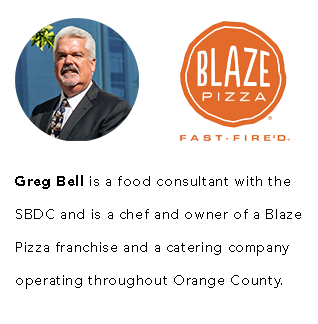 Program Partners
Funded in part through a Cooperative Agreement with the U.S. Small Business Administration. All opinions, conclusions, and/or recommendations expressed herein are those of the author(s) and do not necessarily reflect the views of the SBA. All programs are extended to the public on a nondiscriminatory basis. Reasonable accommodations for persons with disabilities will be made if requested at least two weeks in advance. Please contact Rick Calderon at (657) 278-1801 or via email at ricalderon@fullerton.edu.