SBAC Lawyers' Community Educational Forum for Business Owners
About this Event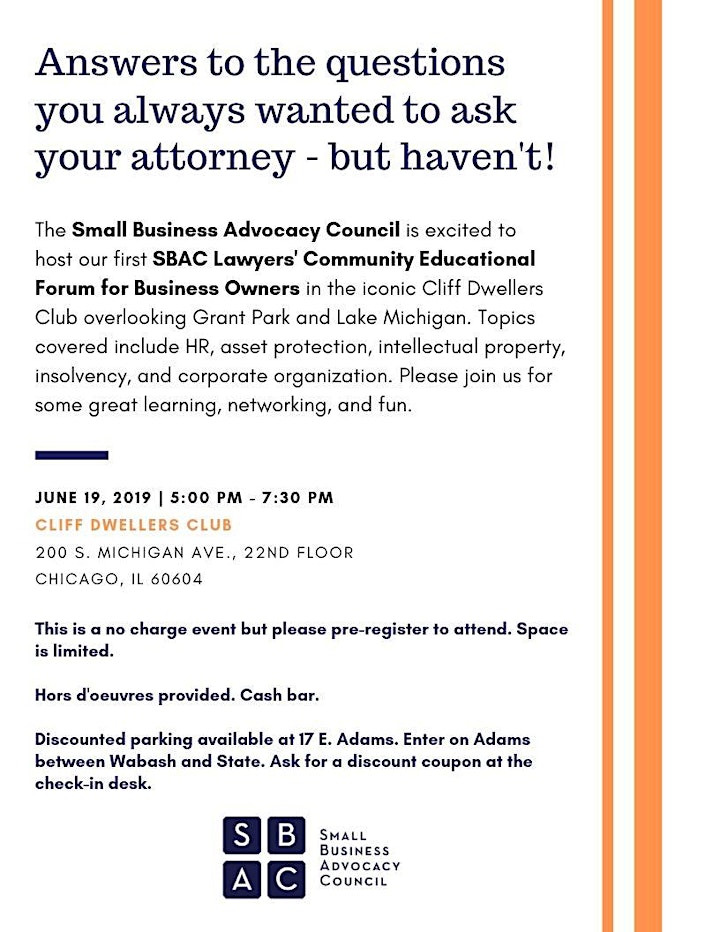 Everything you always wanted to know about owning a business...but were afraid to ask. Business owners are supposed to know the nuts and bolts of everything legal-related to their business...right? Unfortunately, business dips its toes in multiple legal sectors, and it's difficult to know it all.
The Small Business Advocacy Council's Lawyers' Community is unveiling their debut SBAC Lawyers' Community Educational Forum for Business Owners, an educational event for business owners to better understand and augment their knowledge of common business legal areas.
Topics covered in this forum will include asset protection, insolvency, HR, intellectual property, and entity development.
Please note this is a free event with hors d'oeuvres provided. Cash bar.
5:00 pm: Registration & networking
5:30 pm: Presentations
6:30 pm - 7:30 pm: Networking & Q&A
Discounted parking is available at the Adams & Wabash Self Park located at 17 E. Adams St, just a block west of the Cliff Dwellers. Coupons for the reduced rate are available at the club bar or check-in desk upon request.
Additional parking can be found at the Grant Park South Garage located under Michigan Ave. The entrance is at 325 S. Michigan.