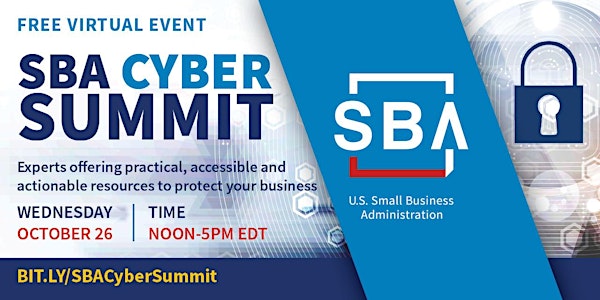 SBA CYBER SUMMIT
SBA will convene Experts from the Cybersecurity and Business Worlds to Share Best Practices and Practical Tools to Help Small Businesses.
About this event
ZoomGov access link - https://www.zoomgov.com/j/1601094876
Administrator Isabella Casillas Guzman, head of the U.S. Small Business Administration (SBA) and voice for America's 33 million small businesses in President Biden's Cabinet, announced that the agency will host a free, virtual National Cyber Summit on Oct. 26, 2022. This cybersecurity forum, a first for the agency, will help introduce American small businesses to tools, tips, and resources to bolster their cybersecurity infrastructure in addition to exploring new trends and challenges entrepreneurs are increasingly facing.
"America's small businesses are pivoting to digital technologies and online strategies at historic rates to reach new customers and improve operational efficiencies, but that pivot has also exposed them to significant new threats from cyberattacks," said SBA Administrator Guzman. "Our SBA team has mobilized to support them against these potentially disruptive threats with cybersecurity resources and trainings across our resource partner networks, as well as through our recently launched Small Business Digital Alliance. Launching the SBA's first annual Cybersecurity Summit will help us build on that work and ensure America's 33 million small businesses and innovative startups can pivot safely online and grow resilient businesses."
AGENDA (all times EDT and tentative)
Noon - Welcome by SBA Administrator
12:10 PM - Small Business Roundtable with Mark Madrid, SBA
12:35 PM - SBA Administrator and Microsoft President Executive Exchange
12:55 PM - Small Business Development Center Directors
1:20 PM - Cyber Attack! What Now? Scenario exercise by Global Cyber Alliance
1:50 PM - Cybersecurity and Infrastructure Security Agency and SBA Chiefs of Staff
2:20 PM - State Government Champions
2:50 PM - Break
3:10 PM - Regional Cyber Hub profile: Georgia Cyber Center
3:30 PM - Cybersecurity for Government Contractors by Department of Air Force
3:50 PM - SBA Leadership Roundtable
4:15 PM - SBA Leadership Roundtable
4:30 PM - Resource Sharing and Closing Session
SPEAKERS
Isabella Casillas Guzman, Administrator, U.S. Small Business Administration
Brad Smith, Vice Chair and President, Microsoft
Kiersten Todt, Chief of Staff, Cybersecurity and Infrastructure Agency (CISA), U.S. Department of Homeland Security
Kimberly Mentzell, Director of Cybersecurity and Aerospace, Maryland Department of Commerce
Jacob Blacksten, Digital Solutions Manager, Delaware Small Business Development Center
Earl Gregorich, Area Manager & Business Consultant, Greenville Area Small Business Development Centers
Joshua Lawton, Director of Engagement (Americas), Global Cyber Alliance
Scott Anderson, Executive Director, Forge Institute
Eric Toler, Executive Director, Georgia Cyber Center
Ashley Podhradsky, Associate Professor of Digital Forensics, Dakota State University
Jennifer Gold, Director of the Board, InfraGard New York Chapter
Arthur Plews, Chief of Staff, U.S. Small Business Administration
Mark Madrid, Associate Administrator, U.S. Small Business Administration, Office of Entrepreneurial Development
Jennifer Kim, Associate Administrator, U.S. Small Business Administration, Office of Field Operations
Tim Green, Deputy Associate Administrator, U.S. Small Business Administration, Office of Veterans Business Development
Bruce Purdy, Associate Administrator, U.S. Small Business Administration, Office of Small Development Centers
Jack Bienko, Senior Innovation Advisor, U.S. Small Business Administration, Office of Entrepreneurial Development
Aikta Marcoulier, Regional Administrator – Rocky Mountain region, U.S. Small Business Administration, Office of Field Operations
See bit.ly/SBACyberSummit