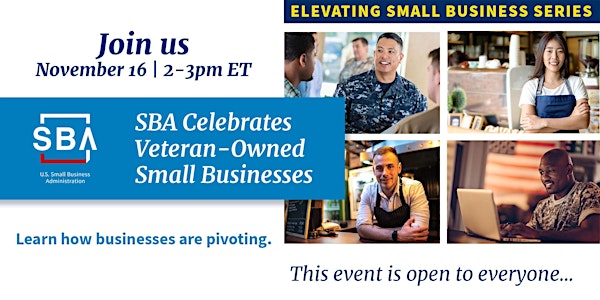 SBA Celebrates Veteran-Owned Small Businesses
Join the U.S. Small Business Administration (SBA) for a panel discussion with veteran and military spouse business owners.
About this event
Join the U.S. Small Business Administration (SBA) for a panel discussion with veteran and military spouse business owners as they share their small business success stories, how they pivoted during the pandemic, and what SBA resources they used to start and grow their businesses.
This online event will be recorded.
All SBA programs and services are extended to the public on a nondiscriminatory basis. SBA's support of or participation in this event is not an endorsement of any product, service, or entity. Reasonable accommodations for persons with disabilities will be made if requested at least 2 days in advance of this event; please send an email to reasonableaccommodation@sba.gov with the subject header "ACCOMMODATION REQUEST".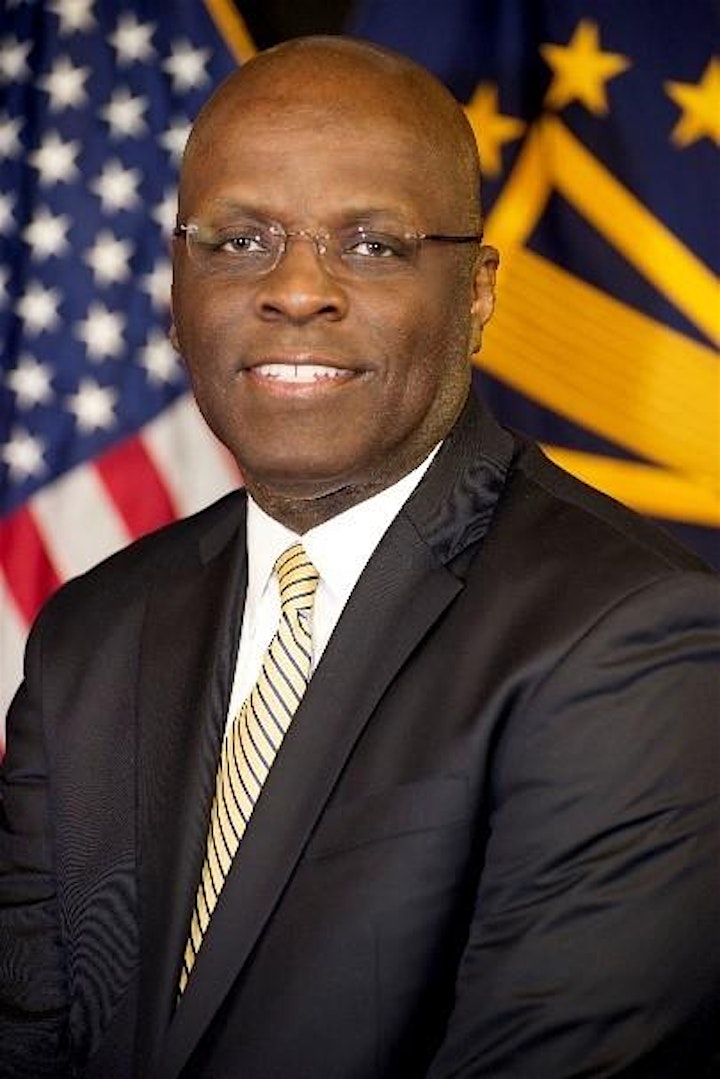 Guest Speaker
Larry Stubblefield | Associate Administrator | SBA's Office of Veterans Business Development
Mr. Larry Stubblefield is the Associate Administrator for the Office of Veterans Business Development (OVBD) at the U.S. Small Business Administration (SBA). In this role, Mr. Stubblefield oversees the OVBD team in developing and implementing policies and programs that equip veterans, service members (active duty, National Guard, Reserve), and military spouse-owned small businesses with counseling and education, access to capital, and contracting opportunities.
Mr. Stubblefield joined the SBA in 2016, serving as the Assistant Administrator for the Office of Diversity, Inclusion and Civil Rights, and most recently as the Acting Associate Administrator for OVBD. Prior to the SBA, he held numerous leadership positions with the US Army, including Deputy Assistant Secretary of the Army for Diversity and Leadership.
Mr. Stubblefield has first-hand military experience, having served 30 years as an enlisted soldier and active duty officer in the US Army. In 2005, he retired from the military as a Colonel and was appointed to the Senior Executive Service. Mr. Stubblefield is the recipient of the Distinguished Presidential Rank Award, holds an MBA from the University of Tennessee and a BS in Business Management from Embry Riddle Aeronautical University.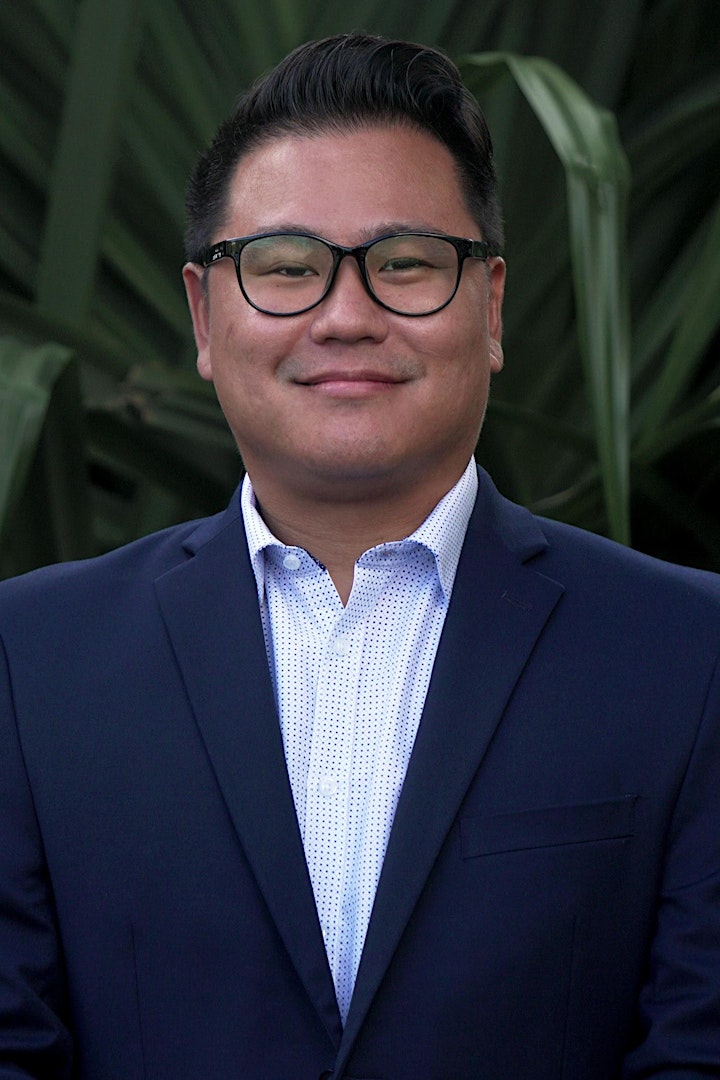 Moderator
Dennis Kwak | Director | SBA's Veterans Business Outreach Center (VBOC) of the Pacific
Dennis is the director of the Veterans Business Outreach Center of the Pacific. His passion is assisting small business owners as they start and thrive in their industries. Prior to joining the VBOC of the Pacific, Dennis was a Senior Business Advisor with the Hawaii SBDC where he was the Hawaii State Star recipient in 2015. His other experiences include international trade, light manufacturing, and investment banking. Additionally, he is a certified Marketing Management Professional by American Marketing Association (PCM).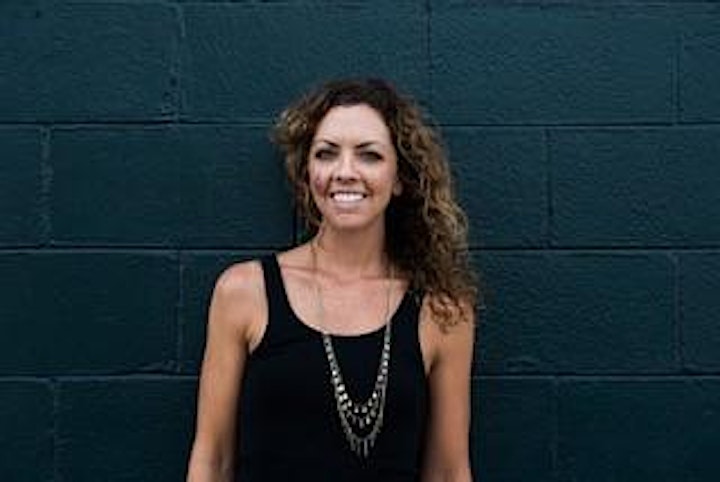 Panelist
Kate Reimann | CEO | Rogue Wave | Kailua, Hawaii
Kate is the founder of Rogue Wave. Rogue Wave is bringing a 100% plant-based, compostable alternative to petroleum-based plastics to the mainstream market, starting at the beach with Rogue Wave's compostable beach toys. Inspired by the idea that when we know better, we must do better, she spent 18 months in R&D and eventually formulated the perfect plastic alternative. She taught herself to 3D print beach toy prototypes, took the products for a test run, and built an active wait-list for her toys. Kate is an Air Force spouse.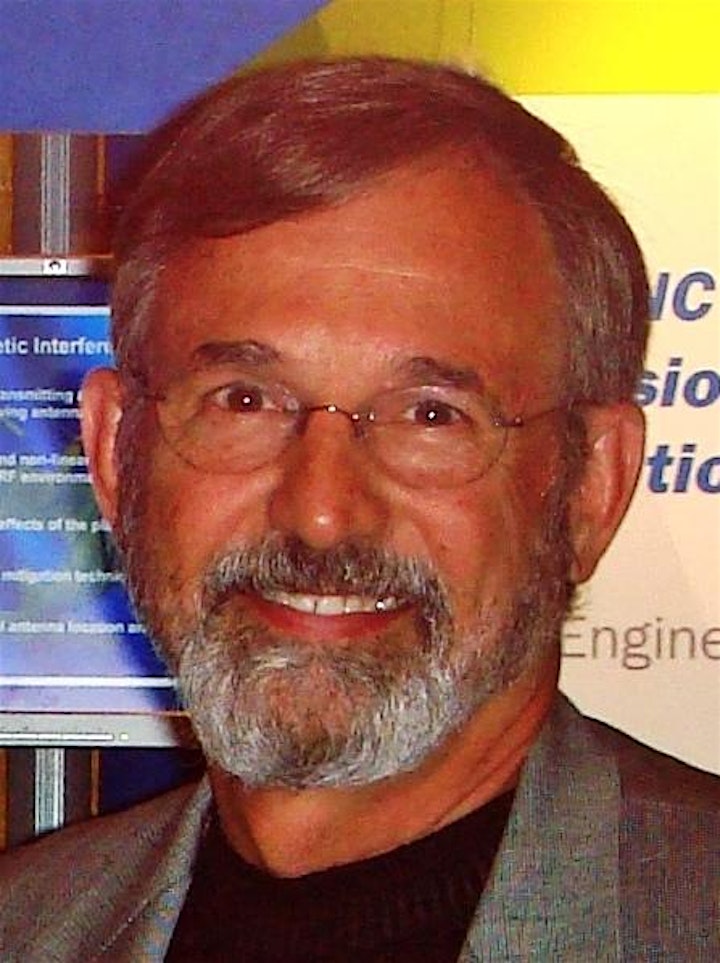 Panelist
Randall Shepard | Founder and CEO | RSAE Labs Inc. | Panama City, Florida
Randall Shepard is an accomplished technologist and seasoned corporate executive. He has worked with advanced technologies throughout his career. As RSAE Labs CEO, he is responsible for corporate management, advanced research, technology licensing and global sales. In this capacity, he has overseen the successful development and deployment of advanced technologies, products and services incorporating cyber-secure global communications, advanced "smart" sensors, and wireless mesh protocol supporting the Internet of Things (IOT).