Description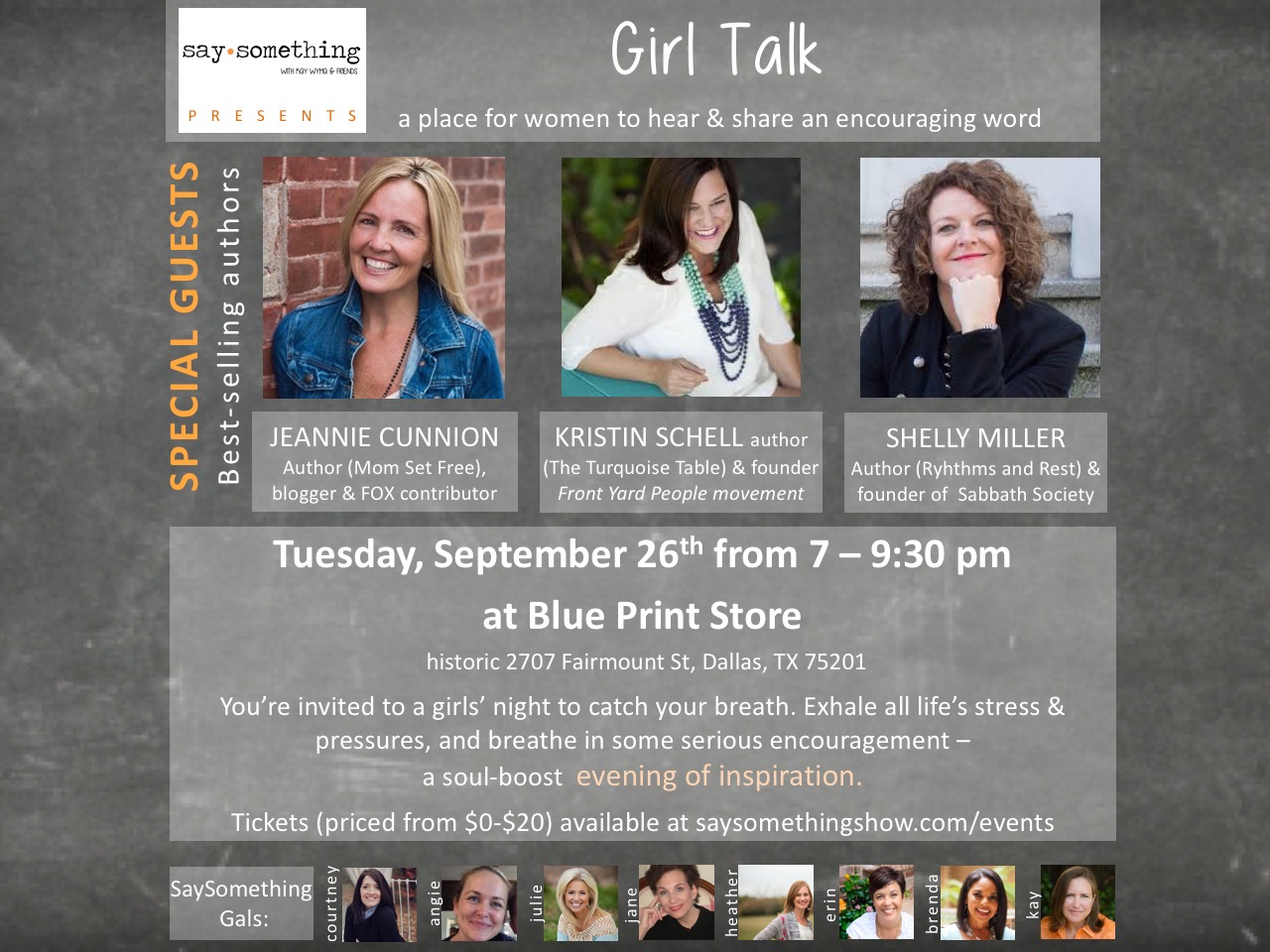 Have performance or perfection pressures ever weighed you down? Does a vacation sound good right about now? Do you sometimes get so caught up in life, you lose sight of the people walking right next to you? It's a sure guess that we've ALL been there.
Come enjoy an evening of encouragment with cup-filling-to-overflowing words of Truth about FREEDOM & ABUNDANCE in the midst at SaySomething's Girl Talk (a laid-back, fun time to connect with women). We'll have bites, beverages and time to get know each other and our authors as well as time to linger in the lovely Blue Print Store, a little taste of art/antique/gifts heaven.

Format: Ted Talk style chats followed by a 30-minute panel discussion emceed by Brenda Teele with Jeannie, Kristin & a surprise special guest as well as SaySomething hosts Courtney DeFeo, Heather McFadyen & Kay Wyma
Ticket Info: Space is limited, reserve your spot with a $20 ticket. [sidenote: donations have been made to cover the cost for anyone who needs a $-boost to come get a soul-boost. We never want cost to be an issue.]
Valet parking provided.
Visit saysomethingshow.com for more info. saysomethingshow.com a-come-as-you-are vodcast for walking life's roads (relationships, friendship, parenting, hardship, laughter ,…) TOGETHER.
---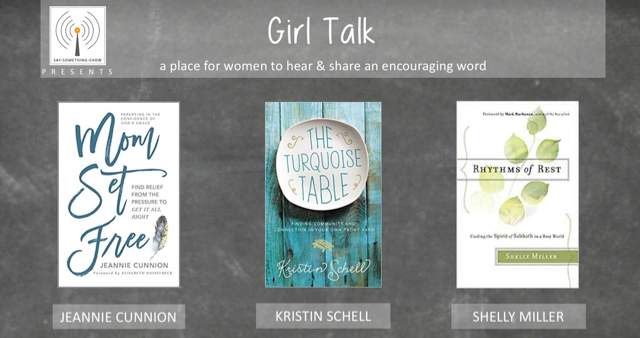 (books will be available at the event or now at you local bookseller or Amazon & other on-line retailers)

Authors:
Jeannie Cunnion is the author of the popular Parenting the Wholehearted Child and her NEW BOOK: Mom Set Free (Howard Books, 8/2017). Jeannie is a frequent speaker at women's conferences and parenting events around the country. She holds a master's degree in social work, and her writing has been featured on outlets such as The Today Show, Fox News, The 700 Club, and Focus on the Family. Jeannie lives in New York with her husband and four boys.
Kristin Schell is an author of a NEW BOOK: The Turquoise Table (Thomas Nelson (5/17), speaker & blogger on the subjects of food, faith, and hospitality. Passionate about community, she has served at every level, from grassroots-level work in church and local nonprofits as well our nation's capital. As founder of the Turquoise Table and Front Yard People movement, Kristin travels the country speaking at conferences and events with an encouraging word on how to open our lives and homes to others. She lives in Austin, Texas, with her husband, Tony, and their four kids.
Shelly Miller is a veteran ministry leader and sought-after mentor on making rest a rhythm of life. She leads the Sabbath Society, an online community of people who want to make rest a priority. Her first book, Rhythms of Rest: Finding the Spirit of Sabbath in a Busy World, released with Bethany House Publishers in the fall of 2016 and , and her writing has been featured in publications internationally. Shelly has appeared multiple times on Premier Christian Radio with the Thought For the Day and speaks at venues around the U.S. and UK. She is married to H, an Anglican minister who resources church planting in the UK and they have 2 kids.
Panel Discussion Hosts:
(Emcee) Brenda Teele is an award-winning journalist and tv personality. Brenda anchored the weather at CBS11, News at NBC5, and was co-host of Good aMorning Texas at WFAA and maintains an on-air presence as a featured judge on CMT's, Making the Team and on CBS 11's Focus on Health. She is a featured speaker for the non-profit, Just Say Yes and is passionate about helping women overcome disappointments to live a maximized life.
Courtney DeFeo is a popular speaker, blogger and author of In This House, We Will Giggle. She is also the creator of ABC Scripture Cards (featured on "The View"), Conversation Cups and Light 'Em Up. She is a graduate of Auburn University and has worked in marketing for Chick-fil-A. Courtney and her husband, Ron, are the parents of two girls. To connect with Courtney, visit CourtneyDeFeo.com.
Heather McFadyen hosts a weekly podcast – God Centered Mom – interviewing fellow journeyers about motherhood. On social media she chronicles the messy journey of "relentlessly replacing 'me' with 'He'" — sharing the daily struggle of remaining God-centered while mothering four wild-at-heart, energetic, and often stubborn boys. Her heart is for moms to know God's great delight over them. And how He sees the unseen eternal work they do every day. Heather is married to Bruce and mom to 4 boys.

Kay Wills Wyma, former White House staffer, international banker, and entrepreneur, is a mom of five who writes about seeing beyond life's pressures in order to navigate life and thrive together. She is the author of two books and blogs at the popular themoatblog.com. She has been featured on the TODAY Show, CNN, Focus on the Family and has contributed to the Huffington Post, NYT Motherlode, DMagazine, Thriving Families, and more.