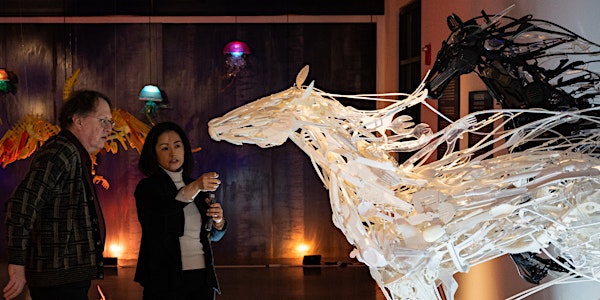 Multiple dates
Sayaka Ganz: Reclaimed Creations Exhibition
Reclaimed Creations will be displayed from January 18, 2023 - May 6th, 2023, in the Liberty Hall Academic Center Gallery.
Date and time
March 2 · 10am - May 6 · 4pm EST
Location
Liberty Hall Academic Center 1003 Morris Avenue #2 Union, NJ 07083
About this event
About the Exhibition
Produced by David J. Wagner, L.L.C., David J. Wagner, Ph.D.,
Curator/Tour Director
Contemporary artist, Sayaka Ganz, utilizes reclaimed plastic objects such as discarded utensils, like brush strokes which appear visibly unified at a distance though separated at close proximity, in the exhibition Reclaimed Creations. Featured in the Liberty Hall Academic Center Gallery at Kean University, this exhibition blends together "art and sustainability," the Galleries at Kean artistic theme for the 2022-2023 academic year. Ganz describes her style as "3D impressionism."
Sculptures in the exhibition include recent installations of animals in motion which are rich in color and energy and create an illusion of form. "My work is about perceiving harmony, even in situations that appear chaotic from the inside. When observing my sculptures up close, one might see gaps, holes and items being held on only by small points; step away, however, and the sculptures reveal the harmony created when the objects are aligned to the same general (but not identical) direction. Similarly, it is important to gain perspective by stepping back from current problems and look at the larger picture. Then one can perceive the beauty and patterns that exist," states Ganza.
"Reclaimed Creations embodies the rich beauty of nature through the use of reused materials. The Galleries at Kean are honored to host this exhibition by Ganz to raise awareness of climate change, and connect the community to the importance of sustainability," said Lynette Zimmerman, executive director of the Liberty Hall Academic Center and the Galleries at Kean.
About the organizer
We believe that art can be an impactful vehicle for social change by building awareness of critical global issues. Exhibitions are carefully curated to integrate the visual arts with academic and outreach programs. We present art for life's sake.