About this Event
Global Wellness Day is an entirely not-for-profit day, a social project dedicated to living well. The purpose of Global Wellness Day is to ask the question, even if for just one day, "How can I live a healthier and better life?", to direct the thoughts of both individuals and society towards "living well" and to raise awareness.
Join the VeraVia Health and Wellness Retreat team and the Park Hyatt Aviara team to celebrate the 2019 Global Wellness Day Focus – Happiness.
The most common disease and health problem is unhappiness and June 8th is all about your journey and self-discovery to living a happier, healthier life!
Schedule:
8:00 am - Happy Arrival & Light Breakfast
Check-in and meet VeraVia founder Wyatt Chapman to hear about factors we can control that impact our happiness!
8: 30 am - Re-Defining Happiness Through Better Health, by Dr. Derek Lawrence ND
The impact of our digestive system, also known as gut health, can lead to poor health and is a direct connection to the brain which effects our mood and overall health. Learn the basics of functional medicine and how you can shift your gut health to support your wellness goals.
9:30 am - Inner Wisdom: The Mind Body Connection, by Natasha Edwina
Our drive and focus to get things done can throw our life off balance and shift us away from living each day mindfully. Using guided imagery, explore and create your space to feel at peace.
10:30 am - Energy Break, by the VeraVia Team
Grab a snack and have our VeraVia fitness instructor lead you through a stretch!
11:00 am - Habits for Happiness - Small Steps to the Best You, by Laurie Rein – Health Coach
How to overcome challenging habits and behaviors and learn how to make good choices that lead to your health and happiness.
12:15 pm - Fitness Class, Choice Of:
HIIT Circuit Training, by Joana Kezas - HIIT Outdoor Circuit Interval bootcamp outdoors in the ocean breeze! Challenge your fitness to the next level with 10+ stations using agility ladder, battle ropes, slosh pipes and more! Great strength, agility, and cardio workout. All stations can be modified to your fitness level.
Pilates Sculpt, by Sonya Lyth - Strengthen and lengthen every inch of your body as we blend traditional Pilates movements with elements of yoga and other functional fitness exercises.
1:15 pm - Lunch and Learn - Happy Foods: Improve Your Mood and Boost Your Energy Level, by Cat Dillon RHN, FDN
Enjoy a healthy box lunch and learn 10 tips of healthy eating to nourish your body and mind and keep your energy throughout the day!
*All activities end at 2:00 p.m.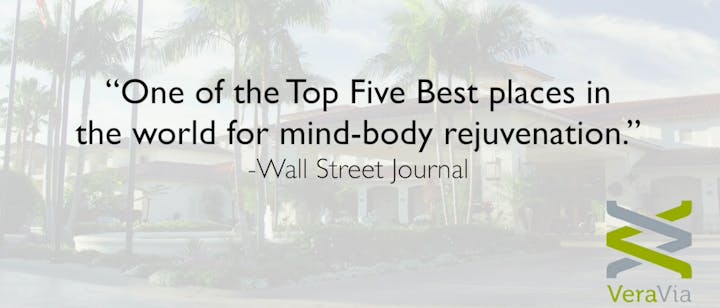 Your day of happiness also includes a VeraVia journal, handouts, and recipes.
Location: All activities are located at the Park Hyatt Aviara Resort, Golf Club & Spa at 7100 Aviara Resort Drive, Carlsbad, CA 92011.
Arrival meeting space and all wellness presentations are located in the Laviana ballroom. Fitness classes will be outside in the Palm Courtyard.
RSVP/Booking: Reservations and payment are made through Eventbrite. Deadline for RSVP is June 6th, 2019.
For any questions call VeraVia at 800-527-1936 or email Info@veraviafit.com.
Capacity: The maximum number of attendees is 50 participants.
Extend your Global Wellness Day experience and book one or two nights at the "AAA Five-Diamond" and "Forbes Five-Star" Park Hyatt Aviara Resort, Golf Club & Spa. Call Sherri Singleton at 760-603-6826 or email at sherri.singleton@hyatt.com for room reservations.