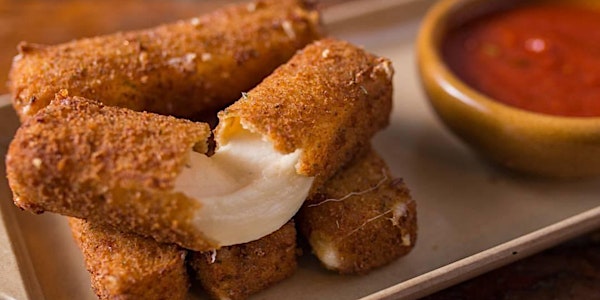 Say Cheese Fest 2018
When and where
Location
Concord FiftyFive 1355 West Concord Place Chicago, IL 60642
Description
Due to popular demand, we added a Spring version of our cheesiest festival.
Say Cheese Fest presented by Social Power Hour is a social event that highlights restaurants and retailers that serve the cheesiest products.
General admission tickets receive tastes from numerous cheese vendors and 5 sponsored drink tickets for either the sesson 1 (11am-1pm), session 2 (1pm-3pm) or session 3 (2:30pm-4:30pm).
Our event benefits local charity partners. #SayCheeseFest with your favorite cheesy eats!
Gayle's Best Ever Grilled Cheese
*Subject to change at anytime.
Frequently Asked Questions
What restaurants are participating?
Each year, our participating restaurants change. We'll add participants to this page and/or social media, as we receive them. Please take a look at our past participants and types of food to give you a sense of the event.
2018 vendors include (subject to change with or without notice):
Gayle's Best Ever Grilled Cheese
What types of food are served?
Say Cheese Fest is a social event that samples bites that include cheese or pair well with cheese. There may or may not be vegetarian options. As a social event, we anticipate people will network, take selfies with their eats and "Say Cheese" with friends and cheesy bites. Past samples include Mac & Cheese, Buffalo Chicken Mac & Cheese, Bacon Mac & Cheese, Cheesy Potatoes, Philly Cheesesteaks, Cheese Pizza, Sausage Pizza, Crostini, Gouda, Eli's Cheesecake, Cheese Quesadillas, Bacon Sausage Queso Dip and more!
What types of alcohol beverage are served?
Barefoot Wines is our 2018 sponsor and guests will receive samples from various wine products.
In the past, we've partner with different brands for various events but have worked with many brands including Pabst, Deep Eddy Vodka, Miller Lite and Coors Lite that provide serving sizes based on local liquor laws.
How many samples will I receive?
You'll receive one sample ticket for each food vendor. We typically host between 8-10 food and drink vendors, as our goal is for you to experience each vendor at our event to discover something new opposed to picking and choosing from a food court or indulging or deciding what to eat at an all-you-can-eat buffet.
What's the difference between session 1, 2 and 3?
Typically, none. Occasionally, vendors will only participate in one session.
We don't guarantee seating because our goal is for the event to be interactive.
What's the refund policy?
How can I contact the organizer with further questions?