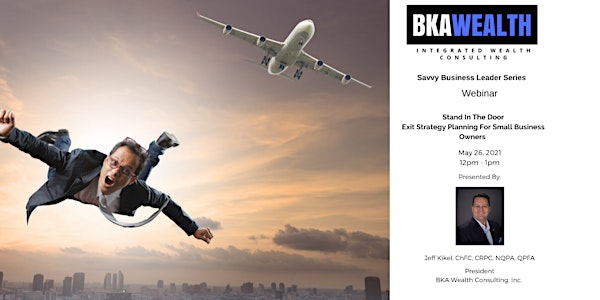 Savvy Business Owner Series: Stand in the Door: Planning Your Business Exit
In this webinar, we discuss what it takes to plan your exit from your business.
About this event
As a business owner do you dream about selling your business? Can you sell your business? In this webinar we will discuss:
Whether your business is saleable or not
How buyers will value your company
How to build an Exit Strategy Team
How to get your mind ready for retirement
The "Five Pillars" of Business Value
In the end, you will have a good basic understanding of how to begin to think with the end in mind. The exit from your business is a journey that should be the light at the end of a tunnel, not an oncoming train.
The webinar will be presented by Jeff Kikel, President of BKA Wealth Consulting and BKA Benefits. WIth over 25 years of experience in Wealth Management, Business Consulting, and Benefits Planning, Jeff works with his business owner clients to help them craft their exits. . Jeff is a Chartered Financial Consultant (ChFC), Certified Retirement Planning Consultant (CRPC), Non Qualified Plan Advisor (NQPA), and Certified Plan Fiduciary Advisor (CPFA).
Jeff is the Author of 6 books on investing, personal finance, identity theft, and Non Qualified plans. Jeff's book, "The Business Owner's Toolkit: Guide to Non-Qualified Plans for Small Business" covers many of the topics we discuss today.