Description
Happy Healthy Women in partnership with Laura-Jean Bernhardson of Fresh Collective, is so excited to be launching HHW Education with The Savvy Biz Workshop Series!
These workshops are designed to give newer entrepreneurs solid know-how while injecting joy into overcoming day-to-day business challenges.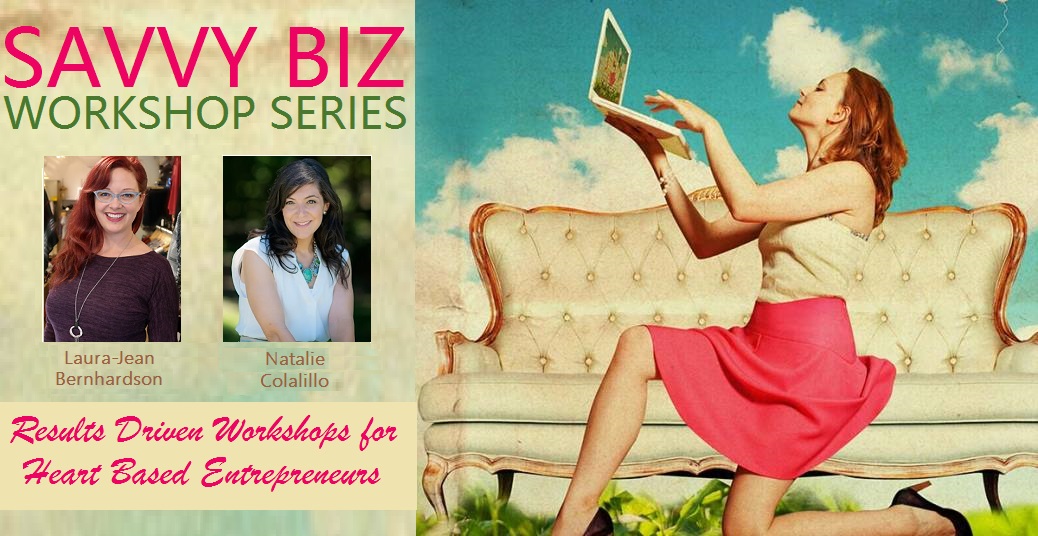 **We highly recommend registering ASAP for these as there are limited spots available**
Designed specifically for heart-centered women in business, co-founders Laura-Jean Bernhardson (Founder of Fresh Collective) and Natalie Colalillo (Founder of Happy Healthy Women) have experience and passion for helping other women build the business of their dreams, fueling it with creativity, joy and community. They have done it, and they are excited to show other women how to do it too!
Whether you want to take the spark of an idea and get into action making it a business, or you're already running your business and striving for the next level, these workshops are for you!
WHAT TO EXPECT
Group Trainings and Interaction

One-on-one coaching and advice

Real talk with real issues and Zero B.S. - We tell it like it is

NOT theoretical learning - We will give real examples and help you take real action


Accountability

PROGRESS
Bring in your problems and obstacles and you will leave with new possibilities and perspective!
WHEN & WHERE
First series: 5 Weeks, Every Wednesday, Starting Jan 4th

Price: $59 each or all 5 workshops for $250 (save $45)
Place: Fresh Collective ~ 401 Roncesvalles Ave.
WORKSHOPS

Becoming an Entrepreneur - Wednesday January 4th, 7 pm

This is all about what to do first - or next. Making decisions at any stage of the game can be challenging when there are so many unknowns. Many entrepreneurs stop themselves while trying to figure out if this is the RIGHT thing to do. In this workshop we go over how to go from the little twinkle of an idea in your mind to taking action, whatever step you're on in your business.
What will be covered:

Prioritizing: What to do first
The Entrepreneurs Mindset
Setting up a plan

Time management
2. Crafting your Brand and Vision - Wednesday January 11th, 7 pm

Many business owners find it hard to choose their focus and then communicate that effectively. They have a lot of interests and want to appeal to a lot of people, and this results in a wishy-washy brand and pitch. If you sense that nobody's sure of what you're doing (least of all YOU) this workshop is for you. We'll explore what you do and why, and help you choose a focus that will keep you on course and resonate with people more powerfully.
What will be covered:

Finding a WHY that makes you work

Finding your voice

Differentiating your brand

Inspired action VS. doing things you think you have to do
3. Finding your Tribe and Building Your Audience - Wednesday January 18th, 7 pm

Ok, so you're clear on your brand and your message, now how do you find your people and what the heck do you talk to them about? An engaged audience is the most important thing when building a business from scratch. Every entrepreneur needs a "funnel" for their business!
What will be covered:
Finding the right people/your target market

How to make connections and what to say to them
4. Free Marketing - How to Spread the Word like a Rock Star (on a budget) - Wednesday January 25th, 7 pm

Once your business is set up, you know who to talk to, where to find them, and why...you need to find a way to keep it all going while keeping your costs as low as possible.
What will be covered:
Making the most of Social Media

Crafting Effective Newsletters

Face to face marketing

Networking
5. Oh YES! You CAN be great at Sales! - Wednesday February 1st, 7 pm

We are going to completely shift your thinking from fearing the sleazy sales guy approach, to LOVING the fun, heart centered approach to making sales in your business. Not only will you be SO great at it by the end of this workshop, but you'll be able to ask for the money you deserve!
What will be covered:
Flipping the "Selling" Mentality to one of Excitement and Joy

Making the ask

Receiving what you're worth

Sales Funnel: From top to bottom

ABOUT LAURA-JEAN BERNHARDSON

Laura-Jean Bernhardson is the CEO and founder of Fresh Collective which has three locations in Toronto and an online store. Fresh Collective is a fashion retail company specializing in Canadian designers. She is also the co-owner of Rowanwood Daycare.
Over her 20+ year career as an entrepreneur, Laura-Jean has also been a fashion and jewellery designer, produced and sold a DVD called How to Knit with Laura-Jean, co-hosted a TV show about entrepreneurship on TVO called $tarting Up, and worked closely with over 200 emerging designers through her business Fresh Collective.
She has a deep passion for entrepreneurship and for what good systems do for a small business. As a business coach, she draws on her wealth of experience from running her various businesses, and has a great understanding of the entrepreneurial personality. She loves to combine the art and science of business- matching the passion entrepreneurs bring to their businesses with the structures and systems that allow that passion to shine through in a thriving business.
One of her favourite things in the whole world is talking to other entrepreneurs about business, and she has a talent for seeing possibilities where others may not.
Aside from running her businesses and her business coaching practice, Laura-Jean is active in fundraising to bring various Syrian refugee families to Canada, and is known as the founder of The Clothing Drive for Syrian in Toronto. She is also on the board of Fashion Group International.
With all that going on, she still has weekends off with her family.
How is this possible?
She has learned how to create, implement and monitor systems in her businesses so that all areas are running smoothly.
And that understanding is what she brings to her coaching clients.
"I absolutely love having my own businesses! It has allowed me to live a completely created life, always being able to fill my days doing things I love. I get to be endlessly creative and continue to learn and master new skills. I've also weathered dark times and been challenged to my very core.
I find business coaching very inspiring and fulfilling as I get to connect with fellow entrepreneurs and help them with whatever's in the way as they move their business to the next level. All my hard won lessons can help someone else quickly get on the right path to success and peace of mind as they build the business of their dreams."
ABOUT NATALIE COLALILLO

Natalie Colalillo is an Entrepreneur, Health Advocate, Community Builder, Team Leader, Public Speaker and Lover of all things perfectly imperfect. Natalie ownes multiple businesses, and is most known for being the founder of Happy Healthy Women, an Empowering Women's Collective based in health, wellness & success, and poised for nation wide growth in 2017.
"The life of an entrepreneur is about ups, downs, twists, turns and speed bumps! There is no smooth path to success, but it can absolutely be an exciting one if you are leading with passion, purpose and service of others!"
Natalie has dedicated her life to being happy, healthy, and inspiring others to do the same while achieving success. She helps women take their life, DESIGN it and LIVE it while being in the right mind, health and abundance to do so. Together with her collective, she promotes a healthy harmony as a way of life, rather than the "All work, no play" mentality that so many women are stuck with.
"This big beautiful thing we call life? We only get one. I intend to make it count."
**We highly recommend registering ASAP for these as there are limited spots available**
Save
Save
Save
Save