| | |
| --- | --- |
| Savoy Faire by Ridge Light Opera - April 21 at 2 PM | |
Event Details
Farmstead Arts' presents  Savoy Faire, a concert of Gilbert & Sullivan favorites by Ridge Light Opera on  April  21, 2013 at 2 PM.  
The very talented and entertaining cast of Ridge Light Opera will present Savoy Faire, a celebration of Gilbert and Sullivan at the Farmstead on Sunday, April 21 at 2 PM.
Tickets are $15/$10 for students and seniors and may be purchased on this site or by sending a check for the ticket price (no surcharge if paid  by mail or in person) to Farmstead Arts, PO Box 155, Basking Ridge, NJ  07920.  Make checks payable to Friends of the KMS Farmstead, and indicate the number and type of tickets you want along with your email or other way to contact you.  Tickets may also be available at the door if not sold out in advance.   Space is limited to 35 seats in this intimate venue to allow all to have great seats. 
"Savoy Faire" is a Gilbert & Sullivan ensemble of featured artists from Ridge Light Opera of New Jersey, who are focused on community outreach. The primary goal of Savoy Faire is to educate and enlighten audiences of all ages while providing top-notch entertainment. Ridge Light Opera is artist in residence at St. Mark's Episcopal Church in Basking Ridge, where we present an eclectic variety of musical offerings throughout the year ranging from Opera to Broadway to A Cappella.
 This program will feature highlights from several operettas by William S. Gilbert and Sir Arthur Sullivan. This English duo wrote 14 operettas over a span of 25 years beginning in 1871. Gilbert & Sullivan operettas are light comic operas featuring fanciful, topsy-turvy worlds. Imagine a world where fairies rub elbows with British lords, flirting is a capital offense, gondoliers ascend to the monarchy, and pirates turn out to be noblemen who have gone wrong!
Laura Zupa D'Avela – Soprano
Lauran Fulton Corson – Soprano
Joanna Hoty Russell – Mezzo Soprano
Alex Corson – Tenor
Thomas Donelan – Baritone
David Cantor – Comic Baritone
Greg Voinier – Bass
Lois Buesser – Accompaniment
Bill Corson – Producer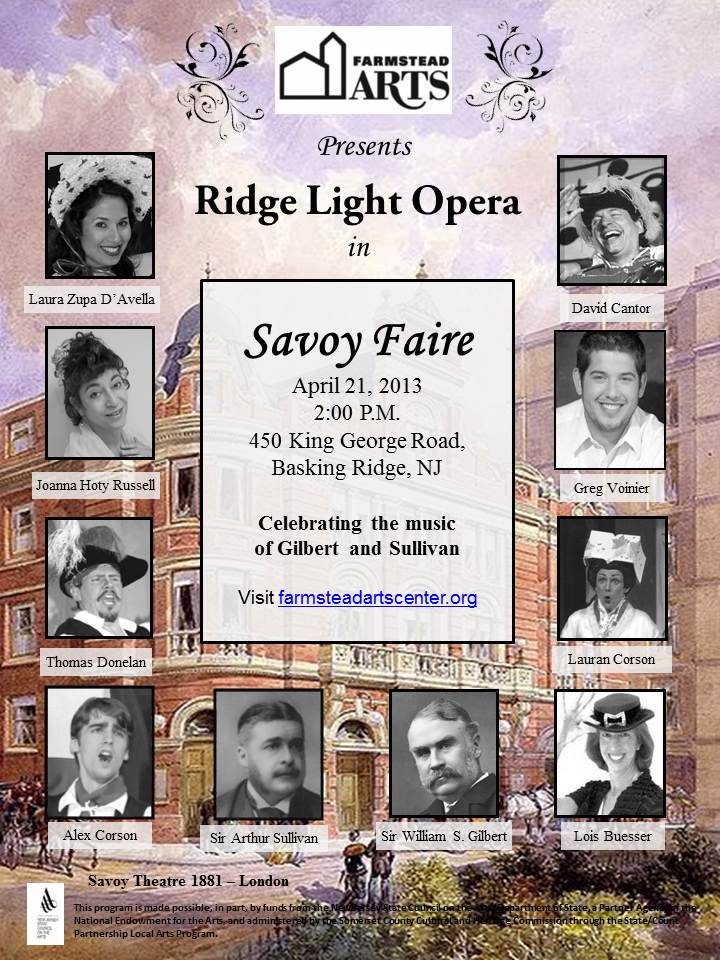 Where

Farmstead Arts
450 King George Rd
Basking Ridge, NJ 07920


Organizer
Farmstead Arts
Farmstead Arts is a not for profit arts center located at 450 King George Road in Basking Ridge, NJ at the historic Kennedy Martin Stelle Farmstead. The center offers  classes, art shows, concerts and workshops by professional and emerging artists in the performing, visual and practical arts. The farmhouse, which dates back to the 1700's, is listed on the National and State Historic Registers, along with the English barn and other outbuildings. The center sits on  four acres overlooking the banks of the Passiac River surrounded by 40 acres of parkland. Farmstead Arts (through the Friends of the KMS Farmstead, Inc.) is a not for profit 501c3 organization. Phone: 347-927-8748 (347-9ARTS4U).  Website: www.farmsteadartscenter.org 
Savoy Faire by Ridge Light Opera - April 21 at 2 PM