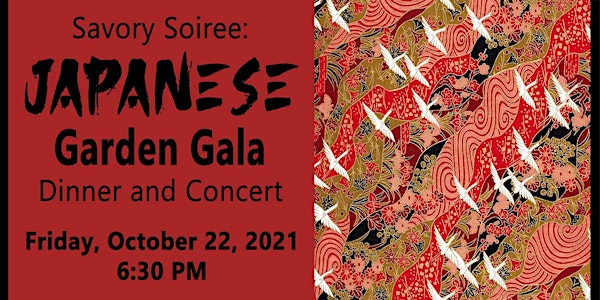 Savory Soiree: Japanese Garden Gala Dinner & Concert
Location
The Rectory on Princess Street
711 Princess Street
Alexandria, VA 22314
Refund policy
Contact the organizer to request a refund.
Eventbrite's fee is nonrefundable.
An unforgettable Japanese gala dinner & concert in support artists and concerts in the Secret Garden
About this event
Presented by Musical Movements for Change
Performances by Musicians of the National Symphony
& Cultural Demonstrations of Ikebana, Calligraphy, Origami, Koto, and More
In honor of the second anniversary of the enthronement of the Japanese Emperor Naruhito - an avid viola player – don your silks and pearls for a cocktail attire Gala Dinner and Concert in support of concerts and artists in the Secret Garden.
Support artists and concerts in the Secret Garden for an unforgettable fundraising event, featuring musical selections performed by National Symphony violists Tsuna Sakamoto and Mahoko Eguchi and violinist Marina Aikawa, and acclaimed pianist Ryo Yanagitani.
After entering the Secret Garden and sampling Japanese green tea, enjoy illuminating demonstrations of ikebana flower arrangement and the traditional koto musical instrument, and a hands-on demonstration of origami throughout the historic Rectory.
Then take your seat in the transformed Secret Garden for alternating courses of delectable Japanese cuisine by Chef Thongsuk (Zento Japanese Restaurant) and virtuosic musical selections, performed by musicians from the NSO. Following dessert and Japanese whiskey, the celebration continues with an elegant After-Party in the Rectory's beautiful glass-enclosed Atrium.
A significant portion of your ticket cost will be tax-deductible through Musical Movements for Change a 501(c)(3) organization.
A limited, sake and concert-only program is also presented at 5pm. Please click here for details and tickets.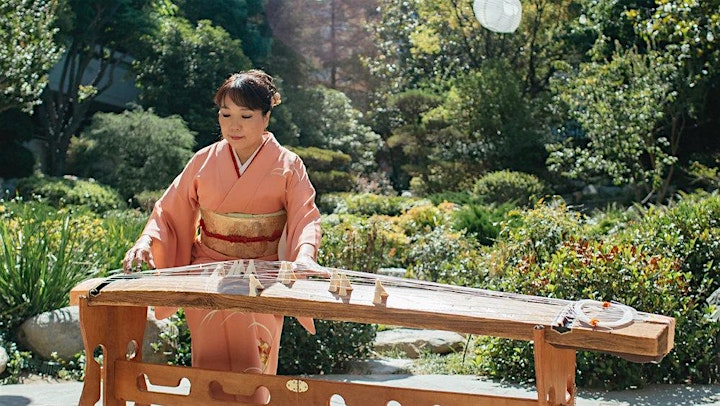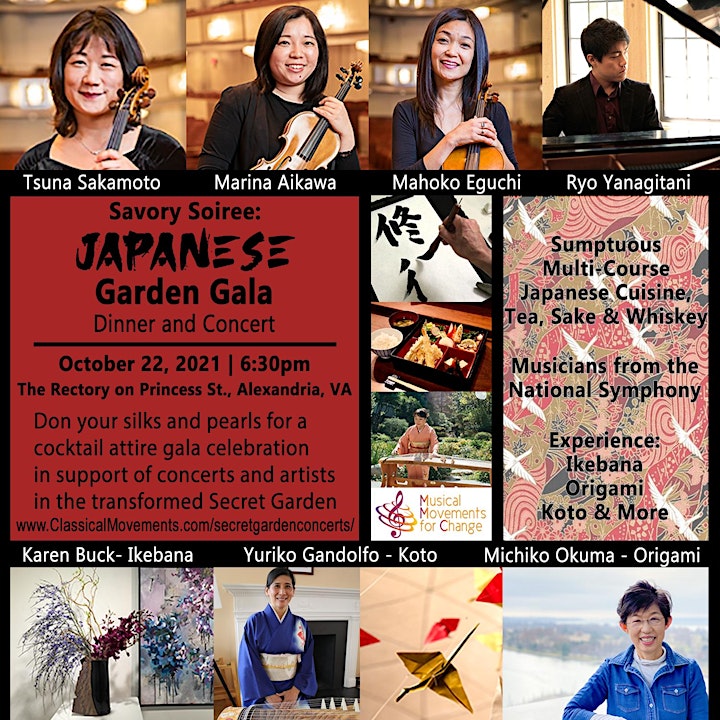 Karen Buck - Ikebana Specalist
A trip to Kyoto Japan, inspired Ms. Buck's appreciation of the Ikebana art form. She began her Ikebana studies (in the USA and in Kyoto) over 10 years ago. Ms. Buck chose to study Sogestu, one of many styles of Ikebana. Karen is also a master gardener and Ikebana allows her to combine the love of flowers with design. Ms. Buck recently completed her studies and is awaiting a teacher certification from Tokyo. Ms. Buck is a member of Ikebana International, D.C. chapter.
Yuriko Gandolfo - Koto Specalist
In 1988, Yuriko Magori Gandolfo began studying koto and shamisen under Mrs. Kyoko Okamoto, Lecturer at University of Maryland and Director of Music at Washington Toho Koto Society (WTKS). Since then, she has performed at Kennedy Center Millennium Stage, Kennedy Center Terrace Theater, the Embassy of Japan, the Japan-America Society of Washington DC events and annual dinners, the National Gallery of Art, the National Endowment for Arts and various schools, libraries and festivals.
She is currently the Assistant Music Director of the WTKS working closely with Mrs. Okamoto. Responsibilities include substitute teaching koto at University of Maryland, producing annual spring concerts at the University, as well as guiding new members of the WTKS.
While growing up in Japan, she learned western musical instruments including piano, clarinet, and flute. When a shakuhachi player is not available, she performs flute to accompany koto music. Recently, she has been collaborating with a Japanese soprano to incorporate traditional koto music into children's musical activities and other performing art events.
A native of Japan, she now lives in Bethesda, Maryland, a suburb of Washington, D.C.
Michiko Okuma - Origami Specalist
Michiko has been teaching origami for a few years and joined Taro's Origami studio in NY as a junior instructor. Origami has always been in her life since she was a child, Decorating her room with origami projects is a hobby. Enjoy this demonstration and create your own origami to take home.
Download this image to share with other friends who may be interested in this event.
Classical Movements will take precautions to limit the risk as much as within our power and requests the cooperation of the audience in these preventative measures. This event will take place indoors and outdoors at the Rectory. Proof of vaccination will be required. Audience members are required to wear masks except when seated for dining. Staff and musicians will wear masks when not performing.
Event take place rain or shine, but in case of severe weather, the rain date will be Sunday, October 24.
Due to COVID, guests are strongly encouraged to avoid using public restrooms. If needed, restrooms will be available upon request.
Please note: Seating will be provided, with chairs wiped down and disinfected between dinners. Tables will have at least six feet among them. To maximize social distancing, seating will be assigned by the presenters.
Vegetarian or gluten-free meals will be available upon request in advance. For special requests and wheelchair accessibility; please contact: Alessandra@ClassicalMovements.com or call (703) 683-6040 x203.
Tickets are non-refundable.
We discourage you from using the on-street parking. To ensure legal parking, read all posted signs before parking.
Limited off-street private parking is available on a first-come-first-serve basis at the following locations:
Classical Movements, 711 Princess Street, Alexandria, VA 22314
Fitness Together Alexandria's main entrance, 300 N Washington Street building, Alexandria, VA 22314
Seasons Culinary Services, 715 Princess Street, Alexandria, VA 22314
About the Rectory
Built in 1785 and the home of Classical Movements' offices since 2014, the building formerly served as the rectory of the nearby historic Christ Church, once the church of George Washington. Since then, it has been owned by several distinguished Virginians and has been a commercial space since the 1960's.
Located in the heart of beautiful Old Town Alexandria at 711 Princess Street, the Rectory is minutes away from the shops and restaurants of bustling King Street and is easily accessible by bus and metro.
Like and follow the Rectory on Facebook