Description
Savor Santa Ana is a fun night of friends and food in DTSA.
Here's how it works: $10 gets you five tasting tickets to use at your choice of around 40 distinctive restaurants and artisanal food producers across downtown Santa Ana! Grab your tickets and maps at one of two booth locations, then start exploring.
Savor Santa Ana is a walking event: your tastings will occur at many different restaurants that you will walk around to. If you want to be whisked to the next location, hop on to our free historic trolley for a tasty trip to your next destination.

We will be publishing menu items and food pics as the event gets closer. Learn more on Downtown Inc.'s Facebook/Instagram and at downtown-santaana.com.
2017 RESTAURANTS ANNOUNCED SOON.

2016 RESTAURANTS & MAKERS
3 Pugs Bakery
Alta Baja Market
Blackmarket Bakery
C4 Deli
Chapter One: tml
Copper Door
Diego's
Dos Chinos
Downtown Donuts
Front Porch Pops
Irenia
Jinny's Pizzeria
Kitchen DTSA
Kiyomizu
La Rinconada
MAR
Mil Jugos
Native Son Alehouse
Ninjas with Appetite
Portola
Robbins Nest
Sit Low Pho
Starbucks
Stockyard Sandwich Co
Sweet Mission Cookie Co
Taquerias Guadaljara
Terra
The Good Beer Co
Velvet Lounge
Wursthaus
Yojie Japanese Fondue

EVENT FEATURES

-- Restaurant Tastings and East End Incubator Kitchen Tastings
-- Old Fashioned Trolley
-- Music, Exploring and Hanging Out!
-- Cool craft beer and cocktails for the adults!

TICKETS

You get a set of 5 tasting tickets for $10. Use your senses (or our handy map!) to guide yourself around downtown Santa Ana.
BUY TICKETS ONLINE and pick up your tickets at our 2 TICKET LOCATIONS: SPURGEON PROMENADE (located on Spurgeon between 3rd and 4th Streets) or WEST END (located at 4th and Broadway).
TICKET BOOTHS OPEN AT 5:00 PM. Tastings available 5pm - 9:30pm.
PARKING & GETTING HERE
Downtown Santa Ana is centrally located off the 5, 55, and 22 freeways. We have large parking structures within 1-2 blocks of each ticket booth. For details, visit: http://www.savorsantaana.com/experience.html

ABOUT Downtown Santa Ana

Downtown Santa Ana is a vibrant historic center for Orange County where visitors and locals enjoy a blend of old historic and cutting edge, including emerging arts and restaurants, desserts, craft beer and cocktail scenes.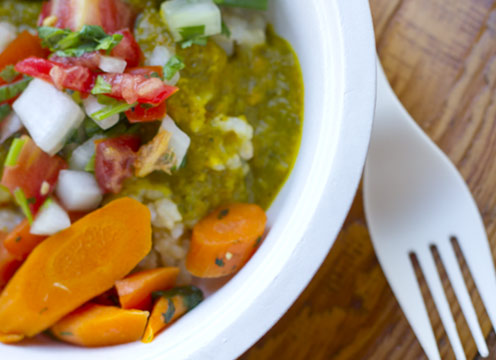 Savor Santa Ana is produced by Downtown Incorporated with the DTSA Restaurant Association in partnership with the Santa Ana Business Council. Thank you to our sponsors, supporters and partners including The City of Santa Ana, Yelp OC and the Santa Ana Chamber of Commerce.