Description

...for Boomers, Seniors & Their Loved Ones
Are You...
a senior looking for resources to help you maintain your lifestyle?

taking care of your spouse who depends on you for daily assistance?

helping your parents on a regular basis with chores or taking them to doctors or checking on them just to make sure they are okay?

part of the sandwich generation balancing between taking care of your children, parents or grandparents and you?
You'll find answers here! Event kicks off Own Your Future Minnesota: Planning for long-term care. Lori
La Bey, radio show host and #1 influencer Online for Alzheimer's, will follow with her compassionate stories of shifting caregiving from crisis to comfort.. Panelists and professionals at the resource tables will answer your questions and provide information and options available for you and your loved ones.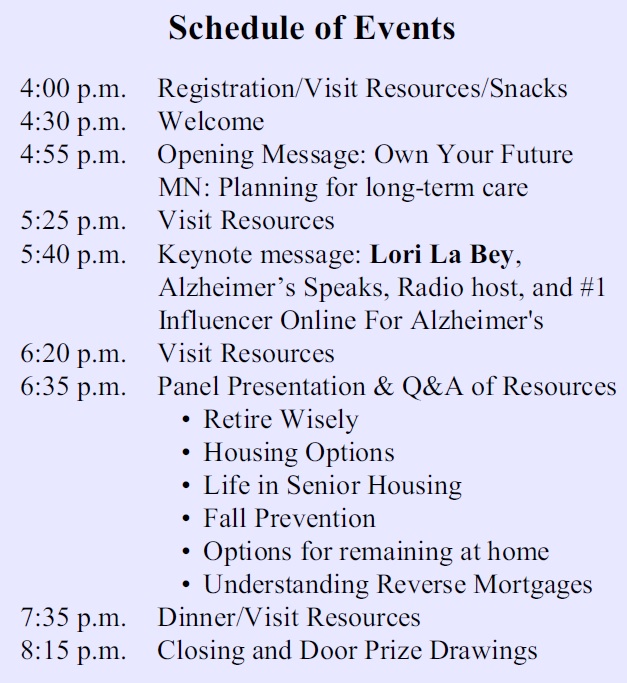 Keynote Message:
Shifting Caregiving from Crisis
to Comfort

Cost: $10
(includes meal and a copy of The Savvy Senior Sources Guide
[a $15.95 value])

Walk-ins are welcome; pay at the door.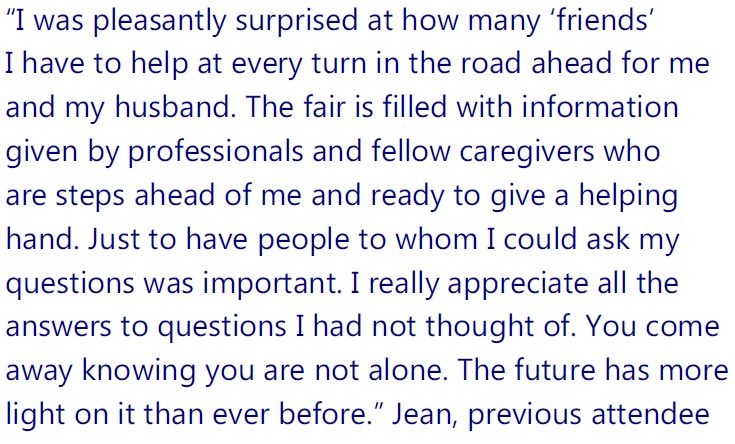 For more information call 651-770-8462
www.SavvySeniorSources.com

Certificates for Attendance will be provided for 2 hours
for Social Workers and Nurses CEUs.
Silver: Silver: Silver:

Silver:


Savvy Senior Sources Planning Committee Sponsors:
Organizer of Savor Life Educational and Resource Fair by Savvy Senior Sources, LLC
Savvy Senior Sources, LLC is a company with a mission to make information available to assist Minnesota Seniors, Boomers, their families, and advisers with the resources for planning, the ability to stay in their homes and remain independent or where to turn to decide if and when to move as well as resources for the transition. 
To accomplish the mission of Savvy Senior Sources and to benefit seniors and boomers in the community we are offering educational fairs throughout the Twin Cities metro.