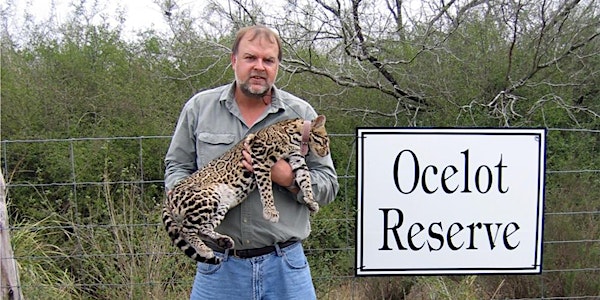 Saving the Texas Ocelot: The Yturria Family Ranch and Wildlife Preservation
Dr. Michael Tewes will host a presentation on this conservation project, the Yturria involvement, and how people can get involved.
Date and time
Thursday, June 1 · 5 - 6pm CDT
Location
Lark Mason Gallery 210 W. Mill St. New Braunfels, TX 78130
About this event
Saving the Texas Ocelot: The Yturria Family Ranch and Wildlife Preserve
Presented by Dr. Michael E. Tewes
THURSDAY, JUNE 1, 2023
5:00–6:00 PM
LIMITED SEATING - RSVP REQUIRED
LARK MASON GALLERY
210 W. Mill St., New Braunfels, TX 78130
About Dr. Michael E. Tewes
Regents Professor and Frank Daniel Yturria Endowed Chair for Wild Cat Studies of the Caesar Kleberg Wildlife Research Institute
Michael Tewes majored in wildlife science at Texas A&M University (B.S., M.S.) and at the Hornocker Wildlife Institute at the University of Idaho (Ph.D.). In 1981 Dr. Tewes began working at Texas A&M University-Kingsville as a Research Associate; he joined the faculty in 1986 and currently teaches Conservation Biology and conducts research in Feline Ecology.
His childhood interest in nature and his educational background have enabled him to observe and study the wildlife of southern Texas for most of his life, including ocelot, bobcat, and mountain lion. Dr. Tewes also conducts wild cat research around the world: jaguarundi, margay, and jaguar in Mexico; clouded leopard, golden cat, and marbled cat in Thailand; four species of civet cat in Taiwan; leopard and African wild cat in Botswana; and jungle cat in northern Israel. His research is featured in the documentary, American Ocelot, which PBS Nature released world-wide on November 9th, 2022 and is available to stream on Amazon Prime. 
About the organizer
Lark Mason Associates is a full-service auction house, with locations in New York City and New Braunfels, Texas, specializing in fine and decorative works of art with an emphasis on Asian art. Founded in 2003, this international auction house has a wide array of sales, highly specialized experts, and clients in the United States, Europe, and Asia.

Lark Mason Associates
210 W. Mill Street, New Braunfels, TX 78130
229 East 120th Street, New York, NY 10035
212-289-5524