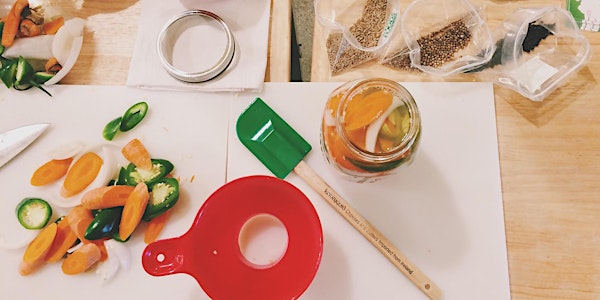 Saving the Season: Summer's fresh and fermented pickles
When and where
Location
Eden East 755 Springdale Rd. Austin, TX 78702
Description
In this interactive class you'll learn about both methods of pickling, fresh and fermented pickling. Pickling with vinegar allows us to preserve local produce for pantry storage to enjoy pickled snacks and appetizers all year long. You will also learn the basics of fermentation (salt brining) as a form of food preservation. Lacto-fermented foods provide numerous health benefits using naturally occurring lactic and acetic acid to preserve food as opposed to adding vinegar. We'll discuss how fermentation works, why it's safe and your own successful, small-scale fermented pickling project you'll complete.
In addition to understanding common safety concerns with food preservation for both methods of pickling we'll discuss the different types of pickles within the larger two categories. We will be working with okra and peppers and other summer produce. Projects and recipes are flexible based on the tastes of each student.
Participants will take home veggies from the farm for each project and a starter jar of either project to finish at home as well as a recipe packet and tip sheet.