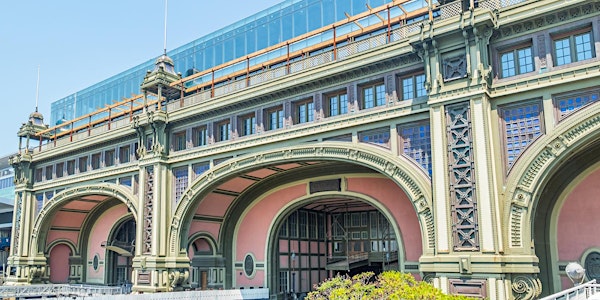 Saving the Battery Maritime Building
The story of the restoration of the 1909 Battery Maritime Building, once a jewel of the NYC Waterfront, now restored to its former glory.
Refund Policy
Contact the organizer to request a refund.
Eventbrite's fee is nonrefundable.
About this event
LABOR, LITERATURE AND LANDMARK LECTURE SERIES
FALL 2020
Saving the Battery Maritime Building
Tim Fryatt, Director, Marvel Architects
In partnership with The New York Landmarks Conservancy
This will be an Online Lecture on Tuesday, November 24th at 6pm
The 1909 Battery Maritime Building ("BMB") was once the crown jewel of the New York City Waterfront, but over time became vacant, neglected, and was crumbling into the East River. The effort to save the BMB is 18 years in the making, and nearing completion.
In this lecture, Tim Fryatt, Director of Marvel Architects will discuss the project and during his presentation will offer a visual tour of the building through time, highlighting challenges in adaptive reuse along the way. Working with NYC Economic Development Corporation and the developer Midtown Equities, Marvel Architects identified unique needs to satisfy modern safety standards and new building uses, to ensure the buildings historic legacy is preserved. Strategies included techniques in preservation, restoration, and reconstruction, which varied in scale from holistic design approaches to creative technical detailing.
Through a careful process the team has crafted an elegantly modern and historically sensitive redevelopment, a cornerstone to the city's broad-based goals of transforming Lower Manhattan into a vibrant mixed-use community and revitalizing the waterfront for the 21st century.
Tim Fryatt, AIA is Director at Marvel Architects with 22 years of experience leading complex projects in across a wide range of scales and sectors. Known as a prolific designer and a creative catalyst, he is dedicated to developing meaningful places that leverage latent value, behave naturally, and inspire delight. Presently Mr. Fryatt is lead Architect overseeing over 1 million square feet of development across 3 boroughs of New York City. A registered architect, and a member of the Maplewood NJ Township Planning Board, Tim Fryatt's work has been widely awarded, published, and exhibited, including in the New York Times and Museum Of Modern Art.
Marvel Architects PLLC is an integrated architecture, landscape architecture, urban design and master-planning practice with offices New York and San Juan. The company's designs inspire users to celebrate history, activate the present and plan for future growth. With an international staff, they are dedicated to building equity and inspiring community in the many diverse neighborhoods in which we work. From affordable housing and cultural institutions to high-end residential and hospitality, Marvel sees every project as an opportunity to create spaces of engagement. For 20+ years, Marvel has earned a reputation for design excellence at the intersection of public and private space, and has pioneered an entrepreneurial approach to architecture and place-making that has been recognized by over 125 industry design awards including the AIA's highest honors. For more information on Marvel Architects, please click here.
Suggested donation:
$15 General Admission; $10 General Society Members, New York Landmark Conservancy Members and Senior Citizens; $5 Students.
Advance registration is required to receive the link to the zoom webinar platform.
www.generalsociety.org