Saving Abel with Special Guests Blacklite District and 3 Years Hollow

Tuesday, February 25, 2014 at 7:00 PM

-

Wednesday, February 26, 2014 at 1:00 AM (CST)

Overland Park, KS
Who's Going
Loading your connections...
Event Details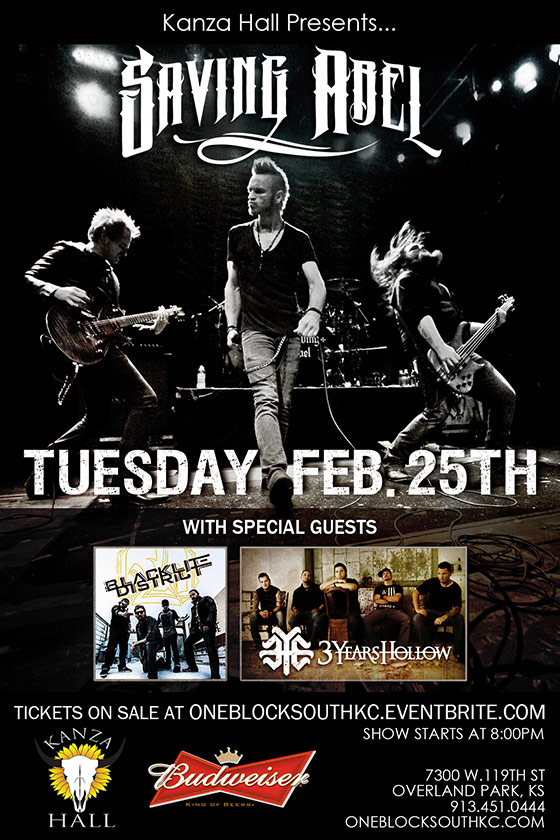 Jared Weeks – Lead Vocals
Jason Null – Guitar, Backing Vocals
Scott Bartlett – Guitar, Backing Vocals
Eric Taylor – Bass, Backing Vocals
Michael McManus – Drums
When you think of Saving Abel, words like foot stomping southern rockers, down home boys with charm, no frills and whiskey drinking' ways are some things that come to mind.
Their southern rock hooks, contagious melodies and dominating guitar solos have been burning up the charts since their debut "Self Titled" LP in 2008. Reaching top 40 and charting number one on several charts with their debut single "Addicted", these boys have been a force to be reckoned with ever since. The platinum selling single helped
sell over 750,000 copies of their first record and also charted 2 more top 10 hits with the emotional military dedicated "18 Days" and the fast track rock song "Drowning (Face Down)".
Their second album, Miss America also topped the Active Rock and Hard Rock charts and stuck out again to every listener and fan, with the infectious melodies delivered. The principal single "Stupid Girl (Only in Hollywood) showing the darker side of fame started the charting machine all over again. The raw and catchy, "The Sex is Good" charted top 10 on several charts, followed by the heartfelt explosive title track "Miss America" once again showing their military support rounded up this sophomore record, showing that the sophomore jinx never hit this hard working band.
Eagerly wanting to take it back to their roots of front porch jams and backyard gatherings, Saving Abel couldn't wait to get back into the studio with Grammy winner and long time producer Skidd Mills of Skiddco Music (12 Stones, ZZ Top and Saliva) and do it all over again. Hoping for that trifecta, exploring new depths of their sound and bringing in "what they know best", those old country roots, Jason, Jared and Skidd left no mandolin, banjo, water jug or jaw harp unturned. Accomplishing what they set out to do, their 3rd record "Bringing Down The Giant" is a perfect mix of old school country reminiscent of old Johnny Cash and Hank Williams, while still demonstrating these boys are deeply rooted in their rock n' roll ways. Giving Saving Abel fans a plethora of emotions and showcasing their talent in songs like "Me and You", "Michael Jackson's Jacket" and "Pictures of Elvis".The incomparable powerhouse that is Jared Weeks' raspy voice and unparalleled rock driven sound played by guitarists Jason Null and Scott Bartlett, bassist Eric Taylor and drummer Michael McManus Saving Abel have cemented themselves in their generation of music.
Even with charting hits one right after another, turmoil doesn't escape the band who within 2 years got a new drummer, left a major label to sign with an indie, left long time managers, just to leave the indie label not even a year after inking a deal.
"Everyone was working for themselves, not for the better of the band anymore and thankfully that's when we teamed up with Jeff", Jared Weeks says, referring to Jeff Hanson of JHMP (Creed, Paramore and Sevendust). With a new team behind them and motivation increased, Saving Abel sets out to do things on their own terms.
Releasing a new EP, Crackin' The Safe on their own label Hell No Pickin', just proves, once again, their hard working ways. "We're a hard working band, because we don't know any better. This is how our Dad's raised us." says Jared, "We're a blue collar band, that won't stop working for what we want. "We wanted to release this EP on our own. Give it a test run, so to speak", explains Jason Null. "You kind of get sick of people saying what they can do and having no follow through", agrees Jared. Once more sparking that flame of country meets rock, this EP is only short in length and not lacking anything musically. "Secrets" demonstrating that hard hitting rock sound that they have perfected, with again finding the fun with the catchy rhythmic "Summer in The Sun", these southern boys know no boundaries. "Down in Flames" displays that smooth grit in Weeks' voice while the crunch of that metal guitar plays seamlessly through the song. "Mystify" is the lead single and the EP ended up having two fantastic versions that although the same in song, differ in feeling, the rock version forever establishing that guitars drive their sound. The acoustic version shows that Saving Abel can break it all down and still bring it, like they did the first few months of 2013 on the fully acoustic tour "Front Porch Stomp". "Take Me Home" rounds out the EP with what was established on their last record, that Saving Abel knows how to mix their love for country music with the prominent rock sound they have come to own over these last 5 years.
"I want to be able to grow with my music and continue to do what I love" states Jared, "We don't plan on going anywhere". And they have the drive to do just that. This band has rolled with the punches and grown closer together. "We're incredibly tight now, it's like we have this awesome fresh start and we're excited" continued Weeks.
Hoping to release a full length record at the beginning of the year, the band plans on getting back into the studio as soon as they have some time off. With the perseverance and incredible talent that Saving Abel has, this EP should just be a glimpse of what they can accomplish by themselves.
When & Where


Kanza Hall
7300 West 119th Street


Overland Park

,

KS

66213


Tuesday, February 25, 2014 at 7:00 PM

-

Wednesday, February 26, 2014 at 1:00 AM (CST)
Add to my calendar