Description

World Humanitarian Day (WHD) is held every year on 19 August to pay tribute to aid workers who risk their lives in humanitarian service, to rally support for people affected by crises around the world, and to mobilize people to advocate for a more humane world.

This World Humanitarian Day United Nations continue to bring attention to the millions of civilians affected by armed conflict every day. People in cities and towns struggle to find food, water, and safe shelter, while fighting drives millions from their homes. Children are recruited and used to fight, and their schools are destroyed. Women are abused and humiliated. As humanitarian workers deliver aid, and medical workers treat the wounded and sick, they are directly targeted, treated as threats, and prevented from bringing relief and care to those in desperate need.
The humanitarian concerns described here can't possibly capture the lives of all those affected by conflict around the world. From people with disabilities, to the elderly, migrants, and journalists, all civilians caught in conflict need to be protected.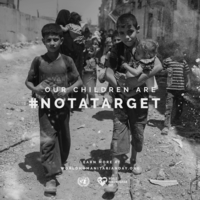 Join the #NotATarget movement and demand world leaders to do everything in their power to protect all civilians in conflict.
Background
On 19 August 2003, a terrorist attack hit the United Nations headquarters in Baghdad, killing 22 people. Among those who lost their lives was Sergio Vieira de Mello, the UN's top representative in Iraq.
Five years later, the General Assembly adopted a resolution designating 19 August as World Humanitarian Day. Every year since then, the humanitarian community has organized global campaigns to commemorate WHD, advocating for the safety and security of humanitarian aid workers, and for the survival, well-being and dignity of people affected by crises.
What can you do?

WHD is a day for everyone to come together and take action for a safer and more humane world for the communities affected by crisis and the people who devote their lives to helping them.
Here are a few ways you can get involved:
Learn about the Agenda for Humanity and the five core responsibilities.

Use the #NotATarget hashtag to demand world leaders to do everything in their power to protect all civilians in conflict.

Attend or organize a WHD event on 19 August.

Savera Humanitarian Award:

We strive to give recognition to people, who work and dedicate his/her life for the betterment of humanity. He/she could be anyone from any kind of profession, from all age, and from any state of India. May it be an ordinary man/female or a nation leader. We value hard works labored for peace and humanity, reaching hunger souls crying for help.
The Awards are presented in a ceremony on the auspicious occasion of World Humanitarian Day,19th August, every year at our office premises. The Award ceremony will be covered by leading Newspapers.
Our Objective is to promote humanitarian issues and inspire others.May all the good works spread around the globe and become both a living sample and inspiration to others.
We receive submissions from all over India.
CAAL FOR ENTRIES:

Are you a humanitarian hero?
Are you a Journalist/ Philosopher/ Poet/ Educationist/ Social Activist etc. inspiring ordinary people who work for humanity?
Do you know leaders in India, or anyone who humbly deserve recognition for their act of humanity?
Spread the words and let them become an inspiration!
#NotATarget #WorldHumanitarianDay #SaveraHumanitarianAward
The applications are open :

You can submit yourself, or people you know, living or dead.
Send your or his/her CV to our
email: ngosavera@gmail.com
OR
To our office: 'Savera Society for Human Initiatives' 10, Revti Kunj, Railway Road, Hapur, Uttar Pradesh -245101. INDIA
State your name and your relation to the person you suggest. Send with CV, other supported documentation or related information like photos, news papers, clipping etc.
Deadline : 16th August, 2018

Visit us at http://savera.ngo/
Facebook.com/saverango
Twitter.com/saverango
linkedin.com/company/saverango