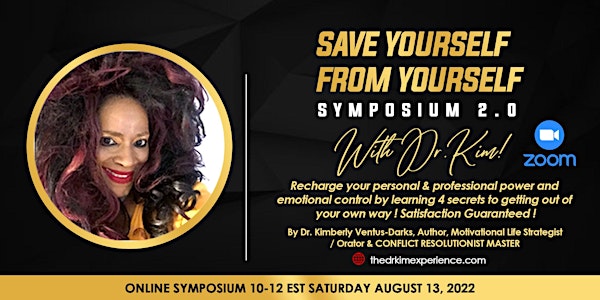 SAVE YOURSELF FROM YOURSELF! SYMPOSIUM 2.0
Recharge your personal and professional power and emotional control by learning 4 secrets to getting out of your own way!
About this event
"When a person feels entitled they will never be grateful! Dr. Kim "
LETS GET REAL!
Our reality is changing, people are increasing in anger, violence and a very destructive self absorbed mentality. Find out secrets of how to learn how to guard your heart and mind from this new level of world chaos!
Quickly learn how to measure a persons value so that you know when you are putting too much energy, thought and anger in your relationship!
Learn some quick and power verbal comebacks to get the victimizer off your back forever!
Find out how to decrease the drama and chaos in your life based on who you have become, what you have been through and the unused power inside of you!
Learn how to maintain complete emotional control and strength when you are being challenged, disrespected and treated unfairly?
Discover new ways to let go of shame and guilt when saying no!
"We will have an Intimate question and answer session to address your personal challenges !"
Who Is Dr. Kim!
Dr. Kim is a highly sought-after international motivator who has traveled to more than 15 cities per month speaking on her DR. KIM'S TOUR. As an Orator, Professor and Conflict-Revolutionist, she also has her 3rd newly published book through TBN / TRILOGY PUBLISHINGS entitled: "SPIRITUALLY EXHAUSTED"!!! Her other books coming out this year is STOP MAKING RACISM YOUR GOD & I CANT FIX WHAT IS MISSING IN YOUR LIFE!
In addition to having other motivational CDs, books and audiobooks she has ghostwritten over 14 books for clients.
Email all inquiries to: drkim@thedrkimexperience.com
WEBSITE: Thedrkimexperience.com
Price $47
There will be no refunds for this event. Unused money can be used for a different symposium in the future.
Dr Kim's Additional Books and Cd's