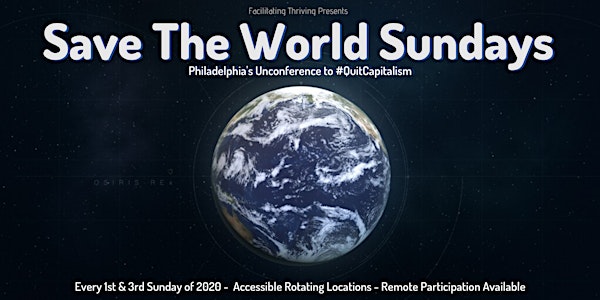 Save The World Sundays
Description
Do you want to help save the world?
Do the world's systemic problems feel overwhelmingly big & complicated?
Has it been hard to find a way to invest your existing interests and skillsets to contribute to solving those systemic problems with your available resources?
Are you tired of oppression?



---
Facilitating Thriving is a group of everyday people who want to create an independent, cooperative ecosystem & Solidarity Economy that can support & empower Philadelphia's collective liberation from capitalist oppression.

Save the World Sundays is our year-long Unconference to define our collective needs to be liberated from exploitation, addressing the realities of the systemic problems we face in liberating ourselves, & researching practical solutions with the existing resources in our own communities. We define success as a core group of participants developing solidarity among existing organizations & individuals, envisioning practical alternatives to our current systems of oppresion & planning an equitable, ethical solidarity economy that can provide:
Thriving livelihoods

Universal Basic Provisions

Sovereign autonomy
Skills of all natures & from every discipline are needed in this collective effort & all participants are given the opportunity to develop and invest their existing skills and passions in community with others. Each session will be held in an community space accessible to registered participants, with remote participation being an integral component of each one.

Come & Go as you need, participate silently from home through collaborative document development, or add your thoughts after the sessions!
---
Upcoming Session:
March 29th, 2020 9am-5pm EST - How can we bring people to the table to combine efforts?

Agenda report: Bit.ly/3bte9ii
Meeting: Bit.ly/2QUl6kA
Previous Sessions:
March 1st, 2020 - Who needs to be at the table for this to be successful?
January 5th, 2020 - How do we want to engage each other during this series?



---
Sunday Agendas:
Each session will be addressing a problem chosen through consensus by community participants.
9 AM - 9:30 AM ( EST ) ; 4 AM - 4:30 AM ( UTC )
Address participant's needs and requirements to be fully present and engaged.
This includes food and refreshments, preparing resources for stimming, mitigating disruptive / overwhelming environmental stimuli, & guided meditative physical activities for in person attendees.
Facilitators will troubleshoot any emergent technical issues to ensure equitable remote participation.
9:30 AM -10 AM ( EST ) ; 4:30 AM - 5 AM ( UTC )
Review Code of Engagement and develop a Working Alignment for the day's session.
Identify potential risks of violation and opportunities to mitigate them.
Distribute roles necessary to support participants in running the session effectively.
10 AM - 11 AM ( EST ) ; 5 AM - 6 AM ( UTC )
Identify, contextualize, and scope the problem being addressed this session.
Review critical considerations, complicating factors, and confounding problems.
Collectively define the terms in use

11 AM - 11:30 AM ( EST ) ; 6 AM - 6:30 AM ( UTC )
Independently inventorying participants collective knowledge, experience, resources, and network available to contribute to solution building.
Researching and aggregating relevant citations, resources, and existing strategies to address the problem at hand.
11:30 AM - 12 PM ( EST ) ; 6:30 AM - 7 AM ( UTC )
Self organizing into smaller working groups by interest / discipline \ area of approach.
12 PM - 1 PM ( EST ) ; 7 AM - 8 AM ( UTC )
Refreshment and reflection. Lunch will be provided to in-person attendees.
Working groups have an opportunity to get acquainted.
Overstimulated individuals can take time to get some relief in preparation for the afternoon.
1 PM - 3 PM ( EST ) ; 8 AM - 10 AM ( UTC )
Working groups will research tools, strategies, partnerships, and methods of addressing the problem at hand with the starting resources identified by individual members.
Participants will be asked to provide ongoing documentation and research citations so a Facilitator can identify effort duplications and opportunities for collaboration between working groups.
3:00 PM - 4:30 PM ( EST ) ; 11 AM - 11:30 AM ( UTC )
Participants will reconvene and working group representatives will present solutions.
The group at large will provide constructive cross examination by submitting questions, critical considerations, needed resources for execution, and potential problems with the proposed solutions
4:30 - 5 PM ( EST ) ; 11:30 AM - 12 PM ( UTC )
Define measures of accountability in addressing submitting questions, critical considerations, needed resources for execution, and potential problems with the proposed solutions by the group as a whole.
5 PM - 6PM ( EST ) ; 12 PM - 1 PM ( UTC )
Informal community building and networking. Dinner will be provided to in person attendees.

---
Registration for this event is FREE for community members. If you would like to be a Community Sponsor of the event with a contribution of any size, you can use the Community Sponsor registration instead of standard.
---