Save The Waves Film Festival - Virginia Beach, VA @ Wave Riding Vehicles
Description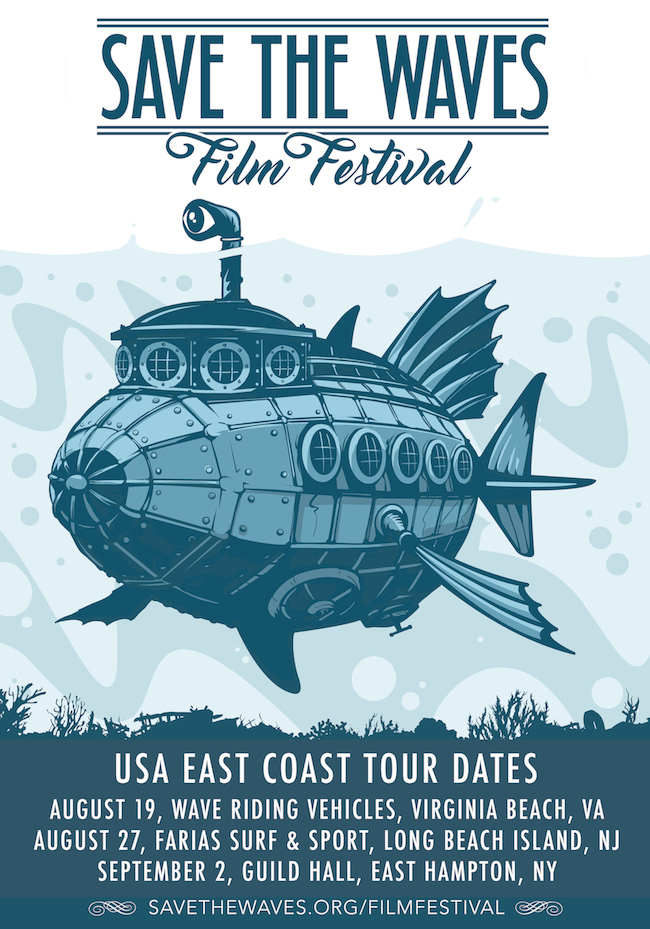 The 8th annual Save The Waves Film Festival presented by Pacifico will kick off its 2016 east coast tour with an epic evening of live music and international surf films at Wave Riding Vehicles in Virginia Beach on Friday, August 19th. The evening will begin at 6pm with an exclusive VIP reception featuring complimentary Pacifico beers, Suerte Tequila Margarita's, Tito's Handmade Vodka cocktails, and top shelf catering from Waterman's Surfside Grill. Purchase your VIP tickets early, as quantities are limited and will sell out.
The night's festivities will feature world premieres of surf, adventure, and documentary films, a fantastic raffle with prizes from our sponsors, and an intermission with the sounds of the talented Bennet Wales on guitar. The Save The Waves Film Festival is a fundraiser for the Save The Waves Coalition and World Surfing Reserves, and all proceeds support their international coastal conservation programs.
This event will have a cash bar with offerings from Pacifico Beer, Tito's Vodka, and Suerte Tequila. To make our film festival more eco-responsible, we have eliminated single-use plastic cups at our bars. We will be selling stainless steel pint cups for $10 (one free beer with purchase!) or feel free to bring your own reusable cup. Thanks for helping us make this year's film festival the greenest yet!
**this is an all ages show**
EVENING SCHEDULE
6pm - VIP pre-party and filmmaker reception with catering from Waterman's Surfside Grill.
7pm - doors open
7:30pm - short films program
9:00pm - intermission, raffle, live music from Bennet Wales.
9:45pm - feature films program
Films program and more info: savethewaves.org/filmfestival
General Admission and VIP tickets on sale now! The 2016 East Coast STWFF will also be visiting Farias Surf & Sport on Long Beach Island, New Jersey (8/27), and the Guild Hall, in Montauk, NY on 9/2 - please tell your friends!