Save The Last Dance for Me

Saturday, December 2, 2017 from 4:00 PM to 6:30 PM (CST)
Event Details
Once in a blue moon a show appears that is too provocative & powerful to miss. A show that explores race relations in America & the fever of an extramarital affair. "Save The Last Dance for Me" Part 1 is an episodic powerhouse that will tease and leave you on the edge of your seat begging for more...
The play highlights a sizzling extramarital affair between Dina Speight (LaSheda Wallace) and Perry Dupree (Eric Epps). The highly charged affair thrives on shouting matches which often leaves Dina and Perry unhappy and bitter. The play also brought the issue of interracial relationships to the forefront. Perry's opinions about Dina's multi-ethnic marriage leaves her torn and on the defense about why she married outside of her race.
Throughout the play, Perry pressures Dina to leave her white husband, hoping that the murders of Trayvon Martin and Laquan McDonald would hit home. The salty, gritty, discourse carried on between Dina and Perry, reveals Dina's mistrust and fear, which are all linked to an abandoned childhood.
"The motivation behind the play is to bring men and women together," said Eugene Dillanado, executive producer of "Save the Last Dance for Me." "In relationships, we have to do things in teams. There are a lot of things that prevent us from doing that, but "Save the Last Dance for Me" explores a lot of gaps that keeps Black men and women from working as a team."
#play #Chicago #showcase #drama #relationships #romance #stageplay #black #live #BPSTLDFM #interracial
---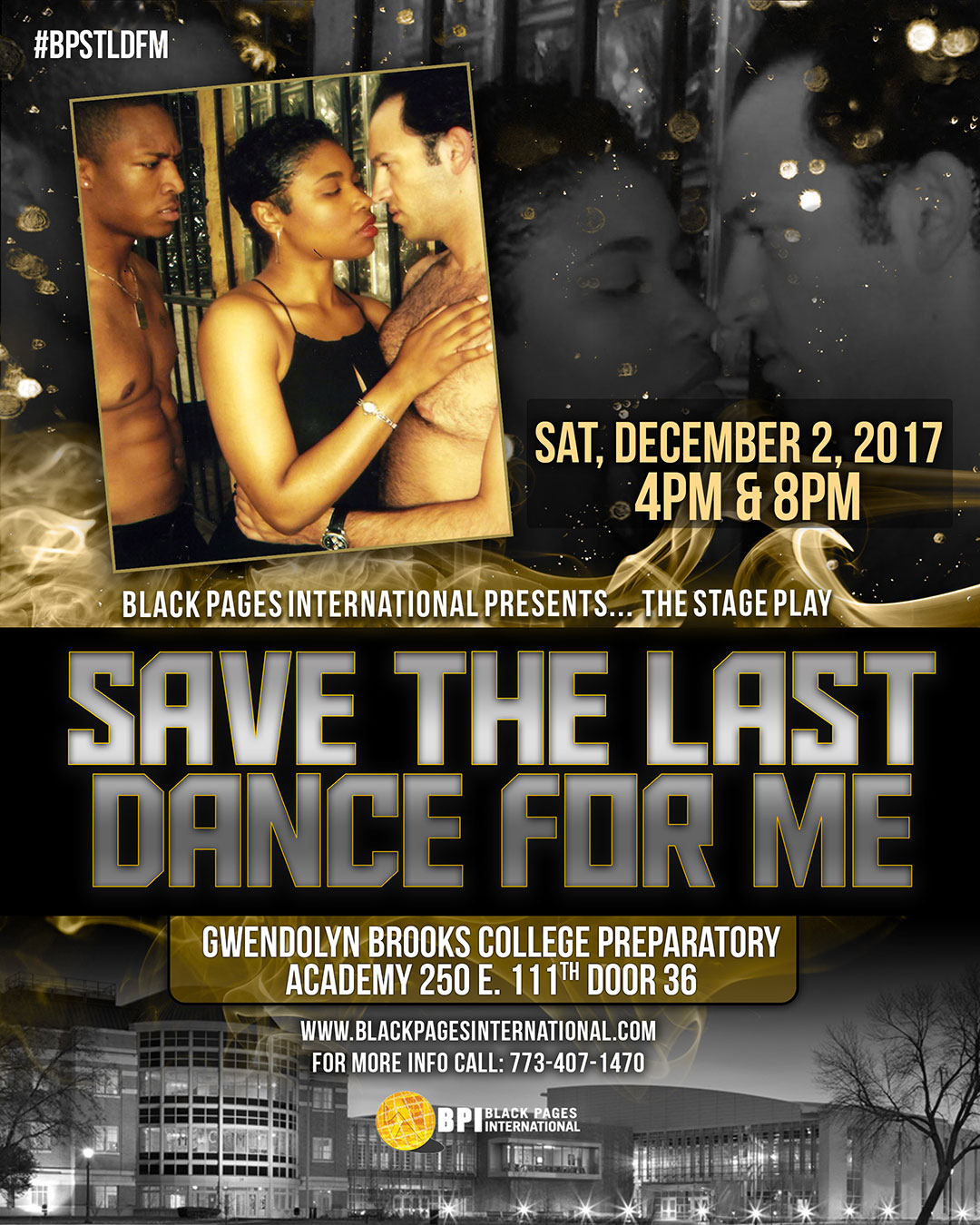 When & Where

Gwendolyn Brooks College Preparatory Academy 250 East 111th Street Chicago, Illinois 60628
250 East 111th Street
Chicago, IL 60628


Saturday, December 2, 2017 from 4:00 PM to 6:30 PM (CST)
Add to my calendar
Organizer
Black Pages International has teamed up with Director Cassandra Bell to bring this muscial that centers on the music of the 60's and family values to the stage and screen.