Description
Save the date of August 18th for the long awaited book launch of Tatreez & Tea: Embroidery and Storytelling in the Palestinian Diaspora! Brooklyn-based author and artist Wafa Ghnaim debuts the expanded, printed, second edition of Tatreez & Tea on June 30, 2018, and the official launch party will bring together a diverse crowd to celebrate the long awaited self-published project. The evening will be hosted by BLUE: The Tatter Textile Library. BLUE is an interactive, ongoing art-installation as well as academic research library that celebrates the global history, traditions, makers, craft and beauty of textiles.
Guests will enjoy a book reading with the author, an opportunity to purchase a signed copy, a viewing of BLUE, tea and hor d'oeuvres. The book is sold exclusively on Amazon, however there will be a limited quantity available for purchase at the book launch.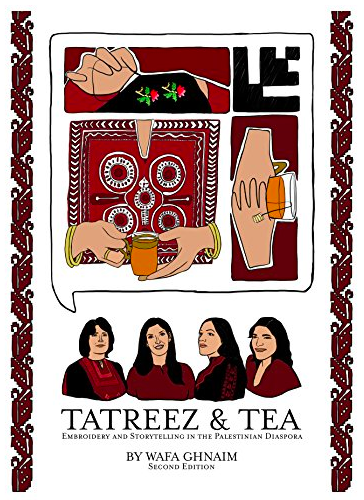 Palestinian tatreez embroidery is a centuries-old folk art, traditionally passed from mother to daughter over a cup of tea. In Tatreez & Tea: Embroidery and Storytelling in the Palestinian Diaspora, Wafa Ghnaim brings traditional Palestinian embroidery to life by resuscitating its roots as a powerful, provocative, and profound storytelling tool used by Palestinian women for hundreds of years to document their stories, observations, and experiences -- including those by her mother, Feryal Abbasi-Ghnaim. With dozens of design patterns; six complete sets of thobe patterns; tea, coffee and quince recipes; detailed traditional Palestinian embroidery techniques and rare northern Palestinian Arabic craft terminology -- each design history and meaning is documented and preserved. Tatreez & Tea is far more than a book about traditional Palestinian embroidery -- it's a resurrection of tatreez as a source of identity, one that guided Wafa as she created a home in the Palestinian diaspora.
Tatreez & Tea has been funded by the Brooklyn Arts Council for numerous years and through the generous donors who have supported the mission ot preserve Palestinian embroidery in the diaspora. Most recently, Feryal was awarded the National Endowment of the Arts (NEA) National Heritage Fellowship for her artistic excellence and contributions to Palestinian embroidery education in the United States. This lifetime achievement award is a prestigious honor that recognizes the nation's master folk and traditional artists, and is only given to an artist once in their lifetime. Feryal is the first Palestinian woman to earn this pinnacle career achievement as an NEA National Heritage Fellow in the 35-year history of the award.