SAVE THE DATE: STLwinegirl Biz Bday 2013

Thursday, January 17, 2013 at 12:00 AM (CST)
Event Details
The date is set.
Monday February 25 = STLwinegirl Biz Bday 2013

Details are starting to come together so stay tuned. I will be releasing them as they finalize.
(ooooh, the anticipation....)

But for now, here's the deal.
There will only be a limited number of tickets available to this year's party and considering we exceeded that number last year, I decided to launch a "FIRST ACCESS" program. Basically, just get your name on this list and you will be notified via email when tickets have officially gone live and you will have up to four hours to reserve yours BEFORE everyone else. Only 50 names will make this list (you only need to register one name on First Access and then you can snag as many tickets as you want) so hurry hurry!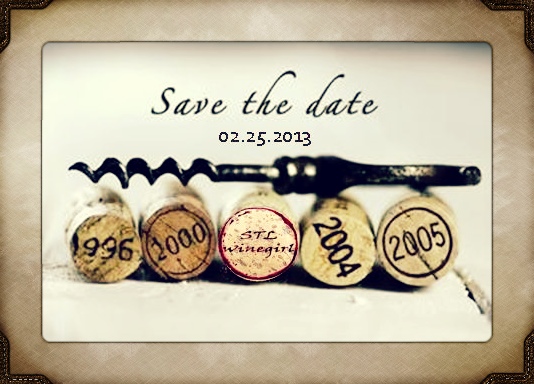 Reserving this "ticket" guarantees you the sneak peek announcement
and the first chance opportunity to snag spots to the 2013 STLwinegirl Biz Bday
party on Monday February 25. Location and details will be revealed
to "First Access" holders via email and those guests will be
able to reserve tickets hours before the general public.
Being on the "First Access" list does NOT guarantee you tickets
to the actual event. Those MUST be reserved when the event
goes live next week.
Only 100 tickets will be available for the actual event,
and only 50 "First Access" spots are up for grabs.

Last year's Happy Hour saw almost 150 RSVPs/attendees
so don't delay, get your spots before they sell out!

*Spoiler Alert*
I could NOT be more excited about this EXCLUSIVE location
as well as some of the "extras" that will be taking place throughout the evening.
Don't worry, you'll know more as soon as we've got it all worked out.
AAANNNDDD we will be raising some money for a good cause while we're at it!