Description
Many more speakers TBA.
16633 Dallas Pkwy Addison TX 75001 - One Hanover Park on the 8th FL 10:00 am.
https://monicajohnson-let-it-go.eventbrite.com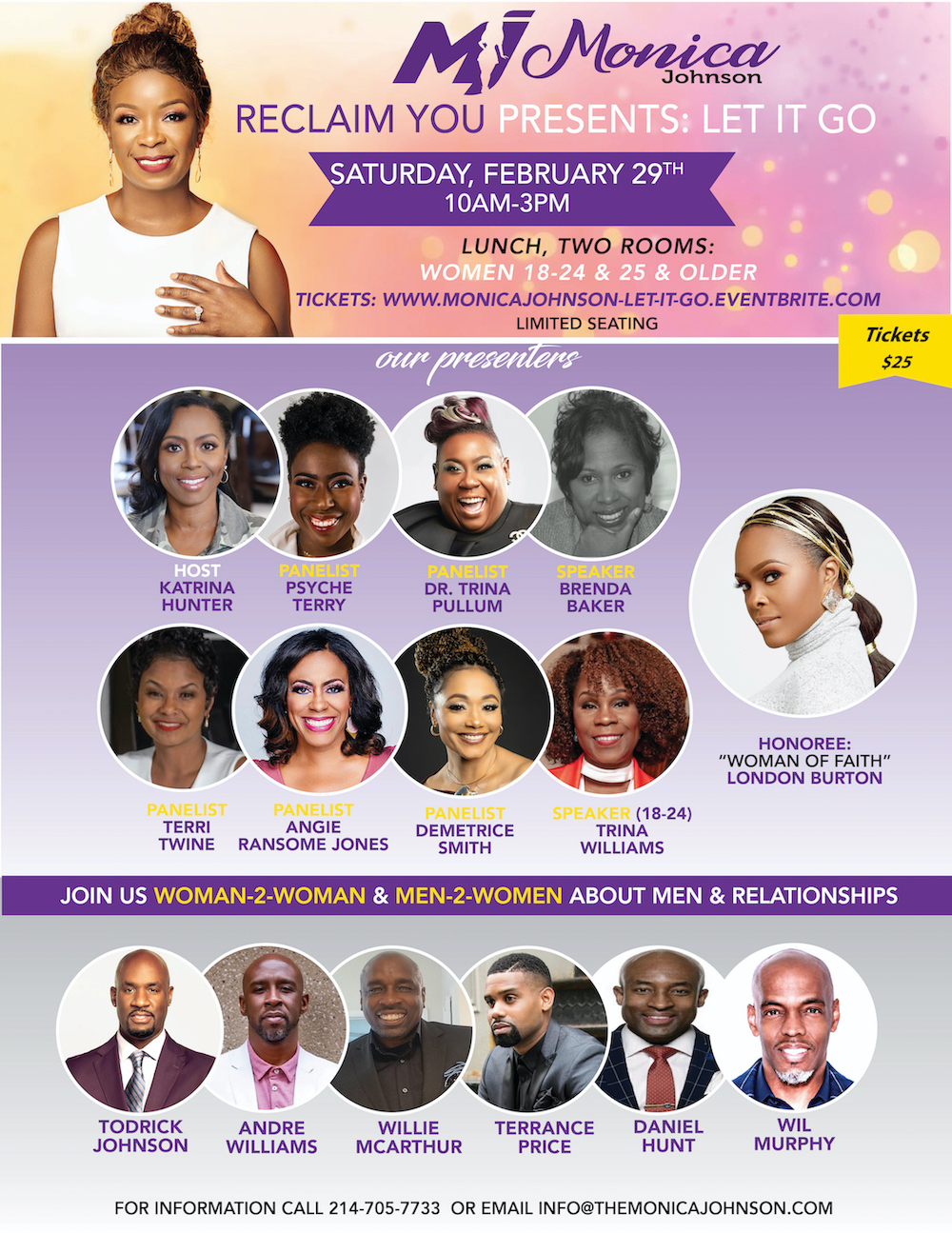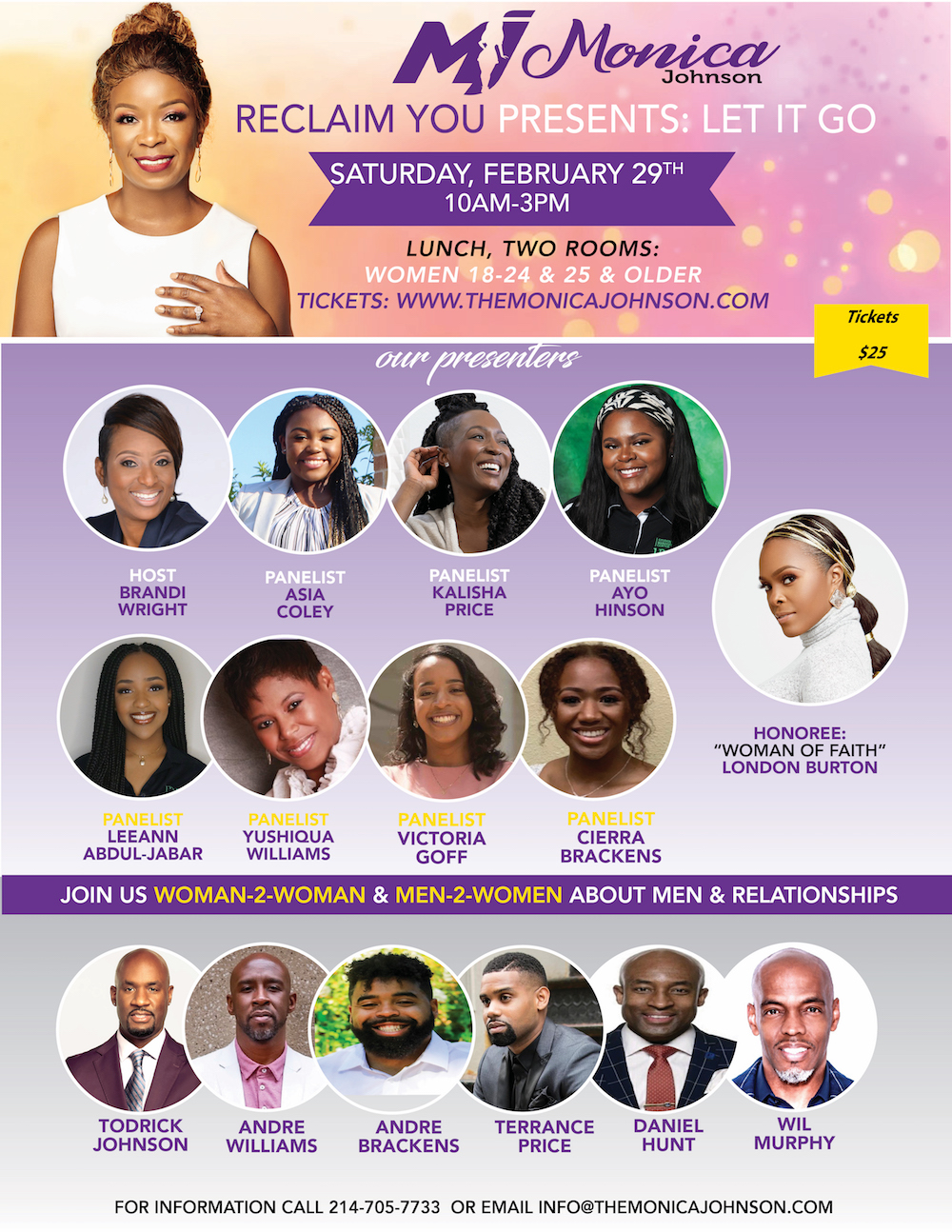 Contact: Monica Johnson 214-704-7733 or info@thatgirlissmart.com to donate.
Organizer of Save the Date and Register February 29th, Monica Johnson Presents...Reclaim You...LET IT GO!
When you love what you do, you're destined to reach your highest potential — and help others achieve the same. No one knows this more than Monica Johnson. She has many passions, but the one she feels most strongly about is empowering people, particularly women and young girls. She says it is her life's purpose, and it is what makes her sparkle and shine.
"Every woman and girl has the potential to be great in everything she sets her mind to accomplish," Monica says, "To do this, you just have to be SMART." 
Monica has developed her definition of SMART:
Successful
Magnificent
Authentic
Resourceful 
Talented 
MONICA JOHNSON is an author, mentor, educator, motivational speaker, TED presenter, and a business professional with over 27 years of experience in cost, tax and operational management with a Fortune 500 company, United Parcel Service. 
Monica is the author of "Shift from Broken to Breathtaking - Don't Let What Happens to You Break You. Let it Break Open What is in you", which is available at  www.themonicajohnson.com or Amazon. She uses her engaging personality, her contagious energy, her experiences as a professional and personal coach to spur people to action; while inspiring them to reclaim themselves, conquer their problems, pursue their dreams, and find their sparkle and shine. Monica empowers others - especially women and girls - to search within and discover how to reach their highest potential, both personally and professionally.
She is a skilled and credentialed entrepreneur and a highly sought-after speaker. Monica is widely known for her contributions to Epitome Magazine, which is published by her husband, Todrick Johnson. 
Monica believes that to empower today's leaders for tomorrow's leadership challenges effectively, you must shift your mindset to create transformational change, which begins with leading self, leading people, and leading business.
Monica has received countless awards for her community contributions, namely the Genesis Women's Shelter Abigail Award "Courage and Faith;" the Equanimity Excellence Award in Mentorship with That Girl is S.M.A.R.T. She's been featured on ABC's Dallas affiliate WFAA (Channel 8); and in articles published in The Wall Street Journal, Home Depot Online, and The Dallas Morning News, to name a few. 
 Monica serves on the Genesis Women's Shelter Alliance Board, Monica is a CASA Advocate for Collin County, yearly mentorship participation with UNT Denton, Frisco and Dallas ISD. Currently, Monica is enrolled to pursue her Masters in Counseling to obtain her LPC (Licensed Professional Counseling) at Amberton University.
Monica holds a Bachelor of Science degree in Accounting from the University of North Texas.  She holds a Master of Business Administration from the University of Dallas, and a Master of Theological Studies from Dallas Baptist University. 
Monica is Founder, and Chief Executive Officer of Monica Johnson Enterprises LLC, which includes the brands "That Girl is S.M.A.R.T." (www.thatgirlissmart.com), a nonprofit organization for mentoring young girls. She achieves all of this while being a wife and mother.  Monica and her family reside in Frisco, Texas. 
Questions, please call 214-705-7733 or email info@thatgirlissmart.com or monica@themonicajohnson.com

#ThatGirlisSMART 
Instagram @iamthatgirlissmart
Twitter @ThatGirlissmart
Facebook That Girl is SMART
Instagram @imonicajohnson
Twitter @imonicajohnson
Facebook Monica Johnson