Location
Anacostia Arts Center
1231 Good Hope Rd SE
Washington, DC 20020
Description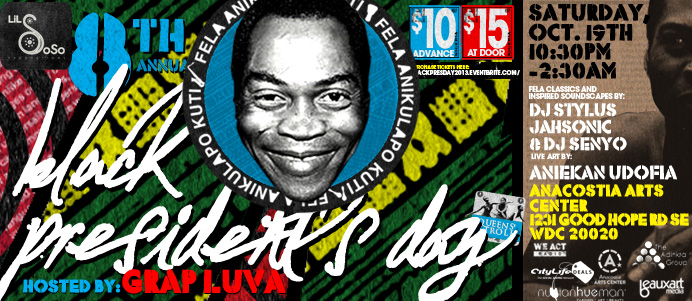 The 8th Annual Black President's Day event returns to mark what would have been Fela Kuti's 75th birthday. We gather with some of our favorite culture supporters and convene once again for a celebration of the legacy of Fela Anikulapo-Kuti- the creator of Afrobeat music. The night will be filled with classic Fela cuts and music inspired by the great artist, projected visuals and pageantry of a fashion forward sort.
$10 (Advance sales end @9PM on Oct. 19th) | $15 (Door)
#BlackPres2013 #Fela75

REWIND: Black President's Day 2012
__

HOSTED BY:
Grap Luva!

SOUNDSCAPES:
DJ Stylus - The Vibe Conductor, Jamil Hamilton aka Jahsonic & DJ Senyo spinning Fela classics and Fela-inspired tunes..

**QUEENS STROLL**
The Goddesses gather to pay tribute to the women of Kalakuta. This year we have a special feature sponsored by Nubian Hueman.

SHOWING:
Music is the Weapon (Fela documentary) in the black box theatre

LIVE PAINTING:
Aniekan Udofia

LIVE BROADCAST:
We Act Radio
EVENT PARTNERS: