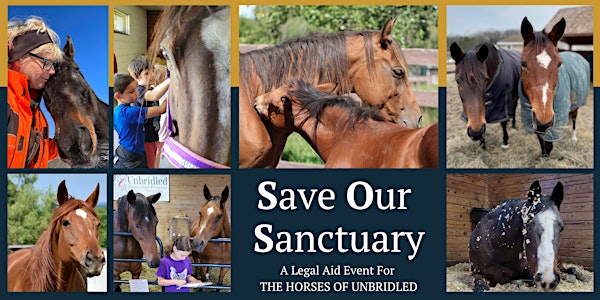 Save Our Sanctuary - A Legal Aid Event for The Horses Of Unbridled
The Horses Of Unbridled need your help! An aggressive lawsuit threatens their home, peace, and safety. #SaveOurSanctuary
By Unbridled Thoroughbred Foundation
Date and time
Saturday, June 10 · 12 - 6pm EDT
Location
Unbridled Thoroughbred Foundation 11 Wood Lane Norton Hill, NY 12083
Refund Policy
Contact the organizer to request a refund.
Eventbrite's fee is nonrefundable.
About this event
Unbridled's life-saving work is under threat and our horses' home is in jeopardy. We need your help to Save Our Sanctuary and protect our beloved horses and their forever home from a cruel lawsuit.
Every ticket sold goes towards defending our cause and safeguarding the future of these precious animals.
Unbridled is a peaceful, non-profit public charity that operates through volunteer efforts. Over the past 19 years, we have rescued hundreds of Thoroughbreds, and devoted ourselves to caring for the most abused, disenfranchised, and endangered members of the equine population. Unbridled Sanctuary is a lifeline and a refuge for special needs and senior horses who have nowhere to call home.  
Unbridled's horses and mission are an integral part of our lovely community. Our programs promote civic involvement, offer direct interaction with the horses, and educate learners of all ages. Our Stable Classroom (TM) improves communication skills, builds empathy, and expands reading comprehension. 
In the fall of 2022, as activity, programs, traffic, and visitors increased on the Sanctuary, Unbridled placed 5-MPH signs on its own driveway, and began using a set of existing gates to protect horses from high speed vehicles on Route 403, and drivers from panicked horses should they become loose. In response to our signage and safety protocols to be kind, drive safely, and SLOW DOWN to protect our horses, volunteers, and youth on our property, Josh and Lara Jayne Wood McAneny, our neighbors blindsided Unbridled with an aggressive lawsuit.
The McAnenys' hold an easement across a 750-ft. span of our driveway (with two blind corners) which gives them the right to ingress and egress to and from the highway to The Aerie (Executive Mansion) on their 22-acre hilltop estate. Instead of being respectful to our requests while crossing our property, they are claiming $500,000 in money damages, citing irreparable harm and seeking punitive damages for interference with their easement rights.
We assert that every New York property owner should unequivocally decide how their property is traversed and used to ensure safety and minimize risk. Our fight is for the right to set our own speed limits, protecting all who cross our land, including drivers. We also stand for the use of automatic gates, crucial to preventing our horses from straying onto highways and shielding drivers from potential accidents.
The expenses and legal fees to defend Unbridled in court are now six figures. They are mounting and causing severe damage. Every day time spent on this lawsuit is a day taken away from saving the lives of horses. 
Despite our repeated attempts to settle, the McAnenys' are unwilling to agree to any fair solution, suggesting that their aim is to increase our legal expenses, tie up our time and resources, and expel us from our home.
Unbridled is represented Chris Fenlon and Stephen D. Rosemarino of https://www.hinckleyallen.com/
With your help, we can protect the future of The Horses Of Unbridled and Save Our Sanctuary. 
Join us for an unforgettable afternoon of hope and compassion, at Unbridled on Saturday, June 10th, 2023.
Enjoy the camaraderie of fellow animal lovers and horse protectors
Nosh on a healthy buffet from local restaurants
Meet and smoozzle with the Horses of Unbridled
Take part in a prayer walk around the property
Bid on silent auction items and enter raffles
Take in a live music performance by Joy Adler & The Souls of Evolution.
Please join us for this important event and help us raise the funds we need to defend Unbridled. Your generosity and support are vital to our survival.
To gain a comprehensive understanding of our efforts and the multitude of lives we impact, please visit our Facebook page: UNBRIDLED THOROUGHBRED FOUNDATION