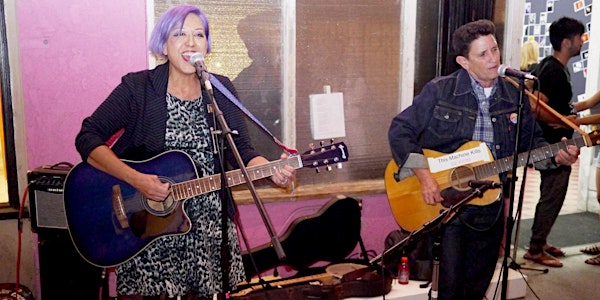 Save Music in Chinatown 14: Mike Watt & The Missingmen, PHAG, Selector Dub Narcotic, Lois Maffeo
When and where
Location
Grand Star Jazz Club 943 Sun Mun Way Los Angeles, CA 90012
Refund Policy
Refunds up to 1 day before event
Description
THE SHOW

This is the fourteenth in a series of fundraising concerts organized to pay for the underfunded music education program at Castelar Elementary School. Established in 1882 and sitting right in the middle of Chinatown, the inner-city public school serves mostly immigrant kids who don't get much exposure to performing arts or creative outlets. Chinatown has an unbeatable musical past (mostly punk) and rad art scene in the present (post punk). Neither subculture crosses paths often with the residents in Chinatown but we're trying to create a bridge for them to help out the local kids.

This lineup will mix up friends from Olympia's International Pop Underground with pals and originators of Los Angeles punk.

• Lois Maffeo - Rare Los Angeles appearance by the beloved Olympia, WA-based K Records artist who has played solo but also been part of The Union Themes, Dub Narcotic Sound System, and Courtney Love (the band).
• Selector Dub Narcotic - The latest project from Calvin Johnson of Beat Happening, Go Team, Halo Benders, Dub Narcotic Sound System, Hive Dwellers, and K Records fame is a bona-fide portable party machine.
• Special set by PHAG, featuring first-wave Los Angeles punk lifers, artists, activists, and ambassadors Phranc and Alice Bag doing their updated and politically charged version of the Smothers Brothers' witty banter and catchy folk combo for the Trump Era.
• Mike Watt & The Missingmen - The universally beloved bass champ from Minutemen, fIREHOSE, DOS, and other L.A. punk bands cranks and tweaks old and new faves with his top-shelf combo of Tom Watson (Red Krayola, Slovenly) and Raul Morales (KIller Dreamer, FYP).
• In-between jams courtesy of DJ Baby Tender Love a.k.a. Michelle from Jabberjaw playing hits from 3711 Pico Blvd., the spiritual bridge between Oly's Capitol Theater and Chinatown's old Hong Kong Cafe.

That's a lot of great music for 12 lousy bucks (and maybe some raffle tickets).

SCHEDULE

Subject to change but just to give you an idea of how the day will go:
2:00 Doors
2:30-3:00 Lois
3:15-4:00 Selector Dub Narcotic
4:15-4:45 Alice Bag and Phranc a.k.a. PHAG
5:00-end Mike Watt & The Missingmen

THE RAFFLE

In addition to donating for admission, guests will be able to donate money toward raffle tickets for a chance to score prizes. $1 = 1 ticket. So far, and it's still early, prizes include the following:

• Vinyl from Frontier Records
• Gift certificates from Scoops Chinatown
• Gift certificates from Pho 87
• Gift certificate from Mono Records
• Gift certificate from Vacation Vinyl
• Rock 'n' roll goodies from Berndt Offerings
• Save Music in Chinatown: The Second Two Years zine
• Printed goods from Allister Lee
•
Signed records by The Schizophonics and Woolly Bushmen courtesy of Pig Baby Records
•
Signed CD by Giants in the Trees (featuring Krist from Nirvana)
• Signed books by DH Peligro (Dead Kennedys), Kim Gordon (Sonic Youth), and Al Gore (Former VPOTUS)

• More to come!
Check this site regularly for additions as the show draws nearer, and contact us if you'd like to donate something cool to the cause!

PARKING

There is free metered parking on the streets (try going north on Broadway) and pretty cheap parking on College.

MISC.

All ticket proceeds minus Eventbrite surcharges will be donated directly to FACES (Friends and Alumni of Castelar Elementary School, a registered nonprofit organization) to be applied specifically to the music education program.