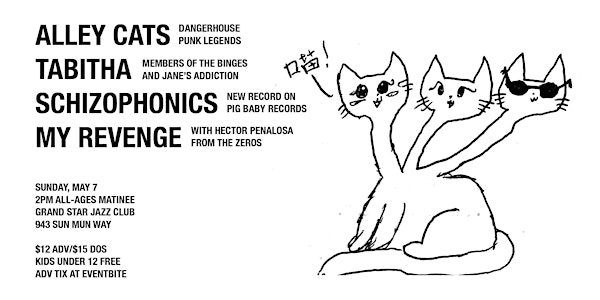 Save Music in Chinatown 12
By Save Music in Chinatown
Date and time
Sunday, May 7, 2017 · 2 - 6pm PDT
Location
Grand Star Jazz Club 943 Sun Mun Way Los Angeles, CA 90012
Refund Policy
Contact the organizer to request a refund.
Description
THE SHOW

This is the twelfth in a series of fundraising concerts organized to pay for the underfunded music education program at Castelar Elementary School. Established in 1882 and sitting right in the middle of Chinatown, the inner-city public school serves mostly immigrant kids who don't get much exposure to performing arts or creative outlets. Chinatown has an unbeatable musical past (mostly punk) and rad art scene in the present (post punk). Neither subculture crosses paths often with the residents in Chinatown but we're trying to create a bridge for them to help out the local kids.

This lineup has a garage rock angle with a special set of high-octane rock 'n' roll.

• Alley Cats - Dangerhouse Records legends who became regulars at the old Hong Kong Cafe and were immortalized in Urgh! A Music War.
• Tabitha - Brand-new instrametal power trio with Mayuko and Tsuzumi from The Binges and Stephen Perkins from Jane's Addition trading freakishly blistering riffs with the heaviest of drums of all.
• The Schizophonics - Unstoppable, sweaty garage punk rock 'n' roll combo from San Diego with a dynamite live show and killer new 10" on Pig Baby Records.
• My Revenge - Featuring Hector Penalosa from The Zeros channeling early Beatles, Chuck Berry, and Johnny Thunders with first-generation punk rock sensibilities.

Plus a special reaching by Alice Bag.
That's a lot of great music for 12 lousy bucks (and maybe some raffle tickets).
Not set in stone but something like this...
2:15 - Reading/acoustic set by Alice Bag
THE RAFFLE

In addition to donating for admission, guests will be able to donate money toward raffle tickets for a chance to score prizes. $1 = 1 ticket. So far, and it's still early, prizes include the following:

• Vinyl from Frontier Records
• Gift certificates from Scoops Chinatown
• Gift certificates from Pho 87
• Rock 'n' roll goodies from Berndt Offerings
• Save Music in Chinatown: The First Two Years zine and bootleg CD
• Print by Krk Dominguez
• More to come!

Check this site regularly for additions as the show draws nearer, and contact us if you'd like to donate something cool to the cause!

PARKING

There is free metered parking on the streets (try going north on Broadway) and pretty cheap parking on College.

MISC.

All ticket proceeds minus Eventbrite surcharges will be donated directly to FACES (Friends and Alumni of Castelar Elementary School, a registered nonprofit organization) to be applied specifically to the music education program.
About the organizer
Wendy Lau and Martin Wong launched Save Music in Chinatown in 2013 when they learned that the music program at their daughter's school had been defunded. All benefit concert proceeds will be forwarded to FACES (Friends and Alumni of Castelar Elementary School), a registered nonprofit group.