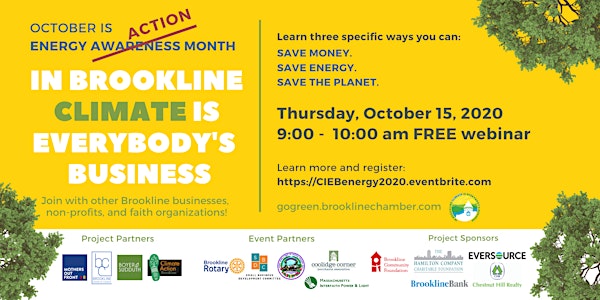 Save Money. Save Energy. Save the Planet. Climate is Everybody's Business
In Brookline, Climate is Everybody's Business. Learn specific ways you can save money, save energy and save the planet on this free webinar.
About this event
The Climate Is Everybody's Business initiative is working to engage Brookline's commercial and nonprofit sectors to reduce the Town's climate impact and accelerate its transition towards a greener community. October marks National Energy Awareness Month! In recognition, we will host a webinar:
"Save Money, Save Energy and Save the Planet"
Thursday, October 15th from 9:00 - 10:00 am
** BONUS "Ask the Experts" Q&A session from 9:45 - 10 am
The free webinar will share practical green solutions with Brookline's businesses, nonprofits, faith organizations, and residents. Our focus will be solutions that provide economic benefits during this challenging time.
Register in advance to receive the Zoom link and instructions.
Comments or questions? Contact Anne Sudduth at anne@boyersudduth.com or info@gogreen.brooklinechamber.com.
See you on October 15 at 9 am.
Learn more at https://gogreen.brooklinechamber.com/
Brookline's Climate is Everybody's Business is a project of Climate Action Brookline in collaboration with Mothers Out Front, the Brookline Chamber of Commerce, the Ad Hoc Committee on Climate Action Business Outreach, and Boyer Sudduth Environmental Consultants and is generously sponsored by The Hamilton Company Charitable Foundation, Eversource, Brookline Bank, Climate Action Brookline, Chestnut Hill Realty, the New England Grassroots Environmental Fund and the Brookline Community Foundation.
Additional partners for Energy Awareness Month include the Brookline Select Board's Climate Action Committee, Small Business Development Committee, the Coolidge Corner Merchants Association, the Brookline Village Business Association, Massachusetts Interfaith Power and Light and Brookline Rotary.