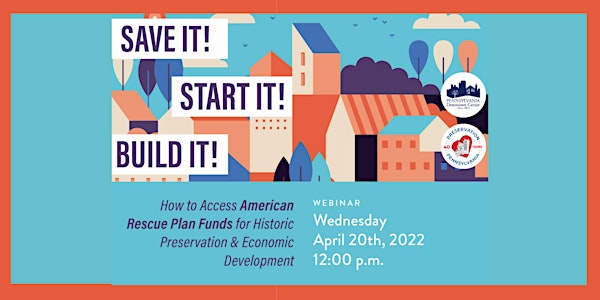 Save it! Start it! Build it!: How to Access American Rescue Plan Funds
How to Access American Rescue Plan Funds for Historic Preservation & Economic Development
About this event
The American Rescue Plan Act (ARPA) offers a historic opportunity for counties and local municipalities to invest in local projects, programs and organizations. This webinar will explain why and how you can find funding for historic preservation and economic redevelopment projects in your community.
Silas Chamberlin, PhD is the Vice President of Economic & Community Development for the York County Economic Alliance. He will provide an overview of ARPA, funding allocations, what type of projects are eligible and how to access funding.
To spark your imagination about putting Rescue Plan funds to work, we'll also hear from Larry Newman, Executive Director of the Diamond City Partnership (Wilkes-Barre) about efforts to access funding at the county and municipal levels; Emily Fetcko from the Erie Downtown Partnership and Melinda Meyer, ARPA administrator for Erie County and a member of the City of Erie Historic Review Commission, will discuss plans for using ARPA funds in Erie to advance the historic preservation mission.
This webinar is co-hosted by the Pennsylvania Downtown Center and Preservation Pennsylvania.
Zoom Webinar feature sponsored by Margaret and Bob Wallis.