A Christmas Fundraiser for The Lyceum Theatre, in Appreciation of Sam Heughan November 12, 2020 - December 12, 2020
About this Event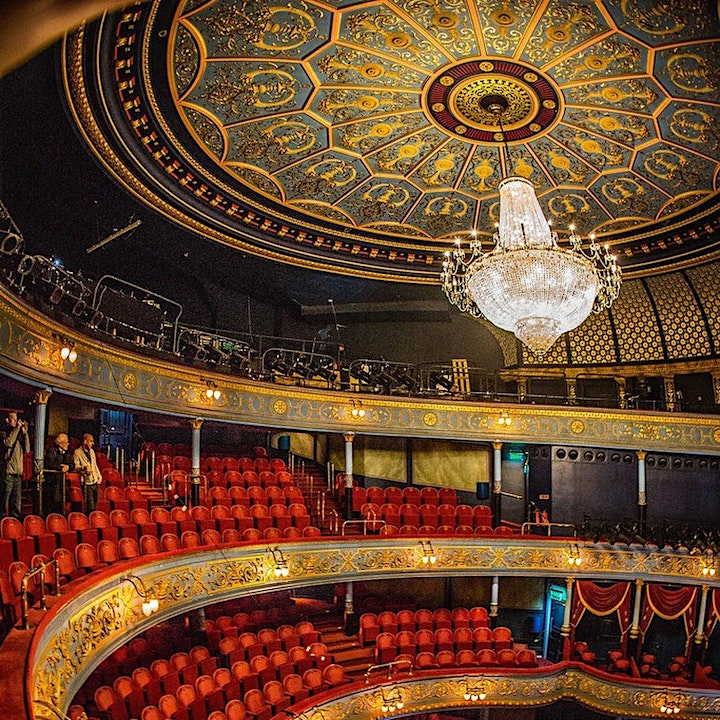 The Arts are facing an unprecedented threat.
COVID-19.
People simply aren't allowed to attend performances.
Theatres, like The Lyceum are struggling.
And we want to help.
We are hosting a Christmas Fundraiser for the Royal Lyceum Theatre Edinburgh, in Appreciation of Sam Heughan. #SaveASeatForSam
But this isn't just a fundraiser.
This is a celebration.
A thank you.
A gift for Sam, from all of us. ❤️
This is something that has been a long time in the making. Little by little. Piece by piece, it's finally coming together.
To say that this has been a difficult year for most of us, would be an understatement. But through it all, we have been there for each other. Sometimes by lending a "virtual" shoulder to cry on, or a sympathetic ear to someone having a rough day.
So, let's acknowledge those moments too!
Let's celebrate the person who brought us all together to share the kindness that we have shown each other over the last year!
(More on that later…)
If you have had the pleasure of reading Sam's letter to The Lyceum or if you religiously read every single tweet he posts, you already know that this theatre is important to him.
So, Let's Save Sam A Seat.
Actually, Let's Save Him A Theatre! 🎭❤️
How you can help:
You will be purchasing a ticket for a "virtual seat" at The Lyceum for $25 per seat
The ticket will reserve your seat for a virtual Christmas Show for December 12, 2020 (Please see the ticket section for show times)
This Christmas Show will feature those who are close to Sam. Friends and colleagues will be sharing some of their experiences and stories about Sam. And maybe a little more…
The #SaveASeatForSam Christmas Fundraiser will begin on November 12, 2020 and end on, December 12, 2020.
The other fun stuff:
Now, we are not going to ask you to give, without giving you something in return... it's the holidays after all!
For the duration of the #SaveASeatForSam Fundraiser, there will be weekly giveaway drawings.
The items include:
One SIGNED copy of Clanlands

[This will be the Signed Bookplate Edition by Sam Heughan & Graham McTavish]
One Clanlands audiobook "gift" from audible.co

[Important note: Rather than a gift voucher that could potentially be used to purchase a different book other than Clanlands. An actual Clandlands audiobook will be gifted to you from an audible account. Because we are doing this for Sam, remember? ]
A complete Season 1 of Men In Kilts, digitally "gifted" to you on iTunes or Amazon -

[Important note: S1 episodes of Men In Kilts will be gifted to you as they are made available] - [Release date for MIK is TBD]
One copy of DaMan magazine's April/May 2020 Issue- featuring Sam Heughan on the cover -

[Still in it's original packaging from Indonesia. An extra one was purchased just for this giveaway]
One copy of Nobleman magazine's Issue No.12- featuring Sam Heughan on the cover
One unsigned copy of Clanlands with the exclusive first print only, US cover
Rules for the weekly giveaway:
Everyone is eligible to participate. There are no restrictions on who is eligible for the weekly giveaways
There is no restriction on the number of tickets you are allowed to purchase
One ticket gets you one entry
You can enter your name as many times as you want for the giveaway
After your ticket(s) purchase, DM the @SaveASeatForSam account on Twitter with your order number. Once the purchase is verified, your name will be entered in for the weekly drawing based on the number of tickets you purchased that day.
Other important details:
All funds raised will go directly to Royal Lyceum Theatre Edinburgh
The Christmas Show will be a closed event
One ticket, equals one seat. One seat, equals one link to the Christmas Show
The links cannot be shared
You will be receiving multiple reminders and instructions for the Show via email, closer to the date of the event
The virtual Christmas Show will be hosted and monitored by yours truly. So please don't hesitate to ask any questions! -Savannah
-Savannah M. & Tash P.