Join us for this free overdose prevention training to learn when and how to give Narcan. Take home a free opioid overdose reversal kit!
About this event
NARCAN (Naloxone) is an opioid medication used for the complete or partial reversal of opioid and herion overdose.
Tennessee has a 22.2% overdose death rate per 100,000 people yearly. At least 3 people die from a drug related overdose daily!
Training is being hosted by Project Love Strong with the sponsorship of Shade Tree Clinic, TN Department of Health, Meherry Vanderbilt Alliance, and Nashville NAACP.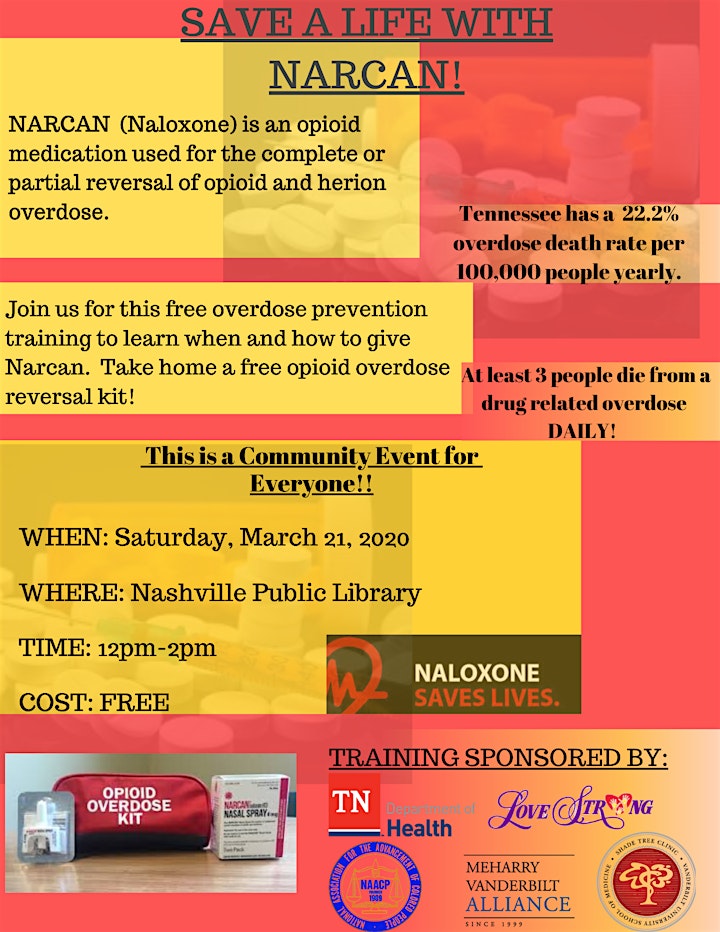 Organizer of SAVE A LIFE WITH NARCAN
A native of Brooklyn, NY I relocated to Nashville, TN to pursue my life with my husband. While transitioning here in Nashville, I couldn't help notice the vast amount of homeless individuals and less fortunate families with such limited resources. Unsettled with the knowledge of knowing that the resources were a lot less than she imagined she began a Community Project "Love Strong".This project exists to unite communities to ASSIST those within their community and surrounding communities who are in need,`without criticism of their current state of being. 
Love Strongs Vision is to show continuous selfless LOVE and support to those in need without pre-judgment. "Where there is Love there is Life"…Love Strong
To learn more about project  
"Love Strong" 
and how you could be involved, please follow us on Instagram and Facebook @Projectlovestrong. You can also email us at Projectlovestrong@yahoo.com