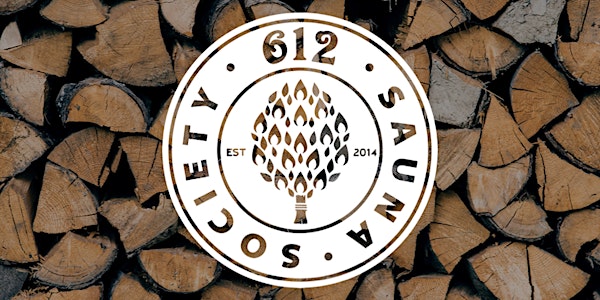 Sauna Reservations for Week 5 (December 7 - 10) @Landscape Love
When and where
Location
Landscape Love 4355 Nicollet Avenue Minneapolis, MN 55409
Description
Join the Members of the 612 Sauna Society Cooperative for the fifth week of Sauna reservations at Landscape Love.
It's a special treat for the 612 Sauna Society to be invited back to the Kingfield neighborhood where we'll be teaming up with Landscape Love (4355 Nicollet Ave) to create the Twin Cities's next hot spot—and your holiday oasis of heat!

A FEW THINGS TO KNOW FOR BENCHTIME WITH THE 612 SAUNA SOCIETY
- The Member-Owner discount applies to the Member's reservation only. Please select Full Price for all non-member guests.
- Your reservation is valid for up to 2 hours of benchtime
- Bathing suit (required)
- Water bottle (non-metal)
- Towels (an extra towel for final round and rinse is recommended)
- Potluck Sauna snacks to share (optional)
- Alcohol is not permitted.
- All members and guests are expected to abide by the Sauna Society Code: http://612saunasociety.com/code/
SAUNA TIPS
Please arrive hydrated so you can enjoy the full benefits of your time on the bench.
Sauna promotes healthy blood flow by activation of the thermoregulatory system. Practicing full "rounds" will provide the full health benefits. A round consists of 10-20 mins in the hot room (your body will tell you when your time is up), followed by a cool-down period outside. Letting your body cool down between rounds by relaxing and cooling off at the rinse station will increase your circulation and provide the full physical and mental benefit of the experience. A typical sauna session consists of 3-4 rounds of this hot-cold treatment.

Learn more about the health benfits of Sauna here.

AND MORE
** No refunds. Sorry, we are a small staff and simply do not have the bandwidth at this time to process refunds. We're putting all our bandwidth into creating a superb Sauna experience. We hope you take this as extra incentive to show up and enjoy it! **
The Sauna will be hosted by a trained member of our Stoker Trainee team at all times. If you have further questions about Sauna, The Forge or the 612 Sauna Society, please ask a member of the Stoker Team, or email us at volunteer@612saunasociety.com.