Sales Have Ended
Ticket sales have ended
Online sales have ended. Tickets available at the door! Cash and card accepted.
Sales Have Ended
Ticket sales have ended
Online sales have ended. Tickets available at the door! Cash and card accepted.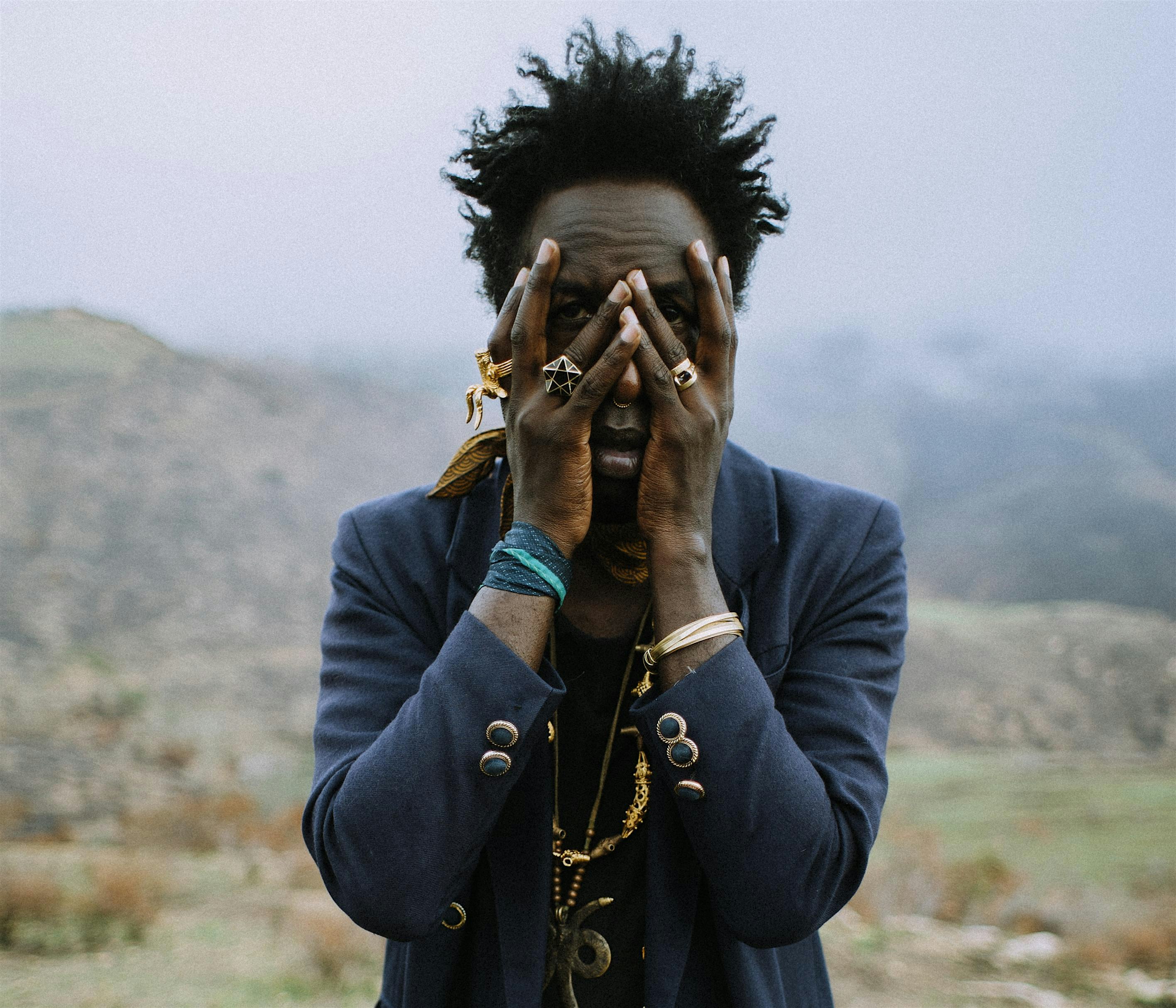 About this Event
Doors open at 7:30 PM. Show starts at 8:30 PM.
This show is fully seated. Each seating section is general admission. Please refer to your ticket's noted seating section.
For ADA inquiries and ticketing questions, please e-mail info@noisepop.com
Saul Williams (Special Live Music Performance!)
MartyrLoserKing has just tagged his screen name onto the White House lawn via remote drone. He's working from a remote e-waste camp in Burundi, Central Africa, neighboring the more well-known Rwanda, with equipment scrapped together from our old Dell PC towers and Sidekick IIs. Homeland Security, the NSA, and the CIA are tracing his signal back to a place that isn't on the map or on the grid, and the alert level rises when he hacks NASA just to show he can do it.
At least, that's what Saul Williams will tell you when you ask about his upcoming album and the story it's inspired. Written and recorded between Senegal, Reunion Island, Paris, Haiti, and New Orleans and New York, 'Martyr Loser King' is a multimedia project that engages the digital dialogue between the First and Third Worlds, and the global street sounds that yoke the two. "In Senegal, I was buying iPhones for $20, Beats for $10, because they get all the influx from China, with no regulation," Williams explains. "So everyone's online. Everyone's high tech." He sights Beyoncé, Fredo Santana, and Haitian field recordings as musical inspirations for his self-produced sixth album, straining trap hi-hats and mbira strokes together for a nuanced, entirely original sound. "I'm just letting you know what I'm reading and seeing while I'm writing. When I'm writing, the music leads."
Williams has been breaking ground since his debut album, 'Amethyst Rock Star,' was released in 2001 and executive produced by Rick Rubin. After gaining global fame for his poetry and writings at the turn of the century, Williams has performed in over 30 countries and read in over 300 universities, with invitations that have spanned from the White House, the Sydney Opera House, Lincoln Center, The Louvre, The Getty Center, Queen Elizabeth Hall, to countless villages, townships, community centers, and prisons across the world. The Newburgh, New York native gained a BA from Morehouse and an MFA from Tisch, and has gone on to record with Nine Inch Nails and Allen Ginsburg, as well as countless film and television appearances.
The announcement of 'MartyrLoserKing' follows a new world tour and to-be-announced collaborations with several artists, producers and writers. It's slated for release this summer 2015.
And special guest: Lonnie Holley
Lonnie Holley was born on February 10, 1950 in Birmingham, Alabama. From the age of five, Holley worked various jobs: picking up trash at a drive-in movie theatre, washing dishes, and cooking. He lived in a whiskey house, on the state fairgrounds, and in several foster homes. His early life was chaotic and Holley was never afforded the pleasure of a real childhood.
Since 1979, Holley has devoted his life to the practice of improvisational creativity. His art and music, born out of struggle, hardship, but perhaps more importantly, out of furious curiosity and biological necessity, has manifested itself in drawing, painting, sculpture, photography, performance, and sound. Holley's sculptures are constructed from found materials in the oldest tradition of African American sculpture. Objects, already imbued with cultural and artistic metaphor, are combined into narrative sculptures that commemorate places, people, and events. His work is now in collections of major museums throughout the country, on permanent display in the United Nations, and been displayed in the White House Rose Garden. In January of 2014, Holley completed a one-month artist-in-residence with the Robert Rauschenberg Foundation in Captiva Island, Florida, site of the acclaimed artist's studio.
Performers
Date and Time
Location
Refund Policy