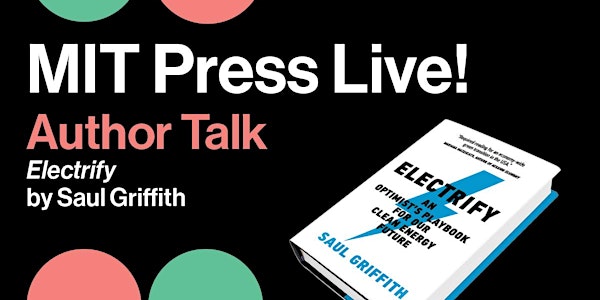 Saul Griffith, Author of Electrify, with Sam Calisch and Shuguang Zhang
MIT Press Live! presents a talk with Saul Griffith, author of Electrify, in conversation with Sam Calisch and Shuguang Zhang
About this event
Join author Saul Griffith in conversation with engineer Sam Calisch and biochemist Shuguang Zhang on Griffith's new book, Electrify.
Climate change is a planetary emergency. We have to do something now—but what? Saul Griffith has a plan. In Electrify, Griffith lays out a detailed blueprint—optimistic but feasible—for fighting climate change while creating millions of new jobs and a healthier environment. Griffith's plan can be summed up simply: electrify everything. He explains exactly what it would take to transform our infrastructure, update our grid, and adapt our households to make this possible. Billionaires may contemplate escaping our worn-out planet on a private rocket ship to Mars, but the rest of us, Griffith says, will stay and fight for the future.
Learn more about Electrify: An Optimist's Playbook for Our Clean Energy Future.
About the speakers:
Saul Griffith, inventor, entrepreneur, and engineer, is founder of Rewiring America, a nonprofit dedicated to decarbonizing America by electrifying everything, and founder and chief scientist at Otherlab. He was a recipient of a MacArthur "genius grant" in 2007.
Sam Calisch is an engineer and scientist focused on electrification. He runs research at Rewiring America, lately working to design, model, and advocate for federal policies. He is also the founder of Elmworks, a startup developing advanced manufacturing of electromagnetics for next-generation electric machines.
Shuguang Zhang is at the MIT Media Lab. He received his BS from Sichuan University, China and PhD in biochemistry and molecular biology from the University of California at Santa Barbara, USA. He was an American Cancer Society Postdoctoral Fellow, a Guggenheim Fellow, and a Whitaker Foundation Investigator at MIT. He was a 2003 fellow of Japan Society for Promotion of Science (JSPS fellow).