Description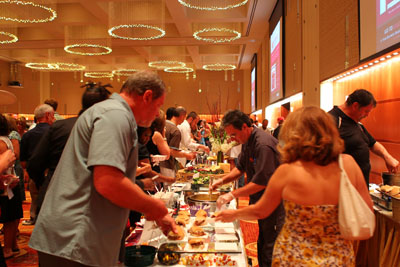 Biggest Sauce Party
of the Year!
Tickets only available at
the door today.

Be the first to know who the "Top Favorites" are in the St. Louis area food scene. Get your own advanced copy of the results at the party, and be the first in town to sneak a peek at the winners of Sauce Magazine's annual Readers' Choice poll before the issue is released on July 1st.
Mingle and taste goodies from your favorite establishments, estimated at 35 top restaurants, wineries and breweries. Tastes are plentiful, complimentary and top-notch.
Some restaurants of note are Farmhaus, Annie Gunn's, Niche, Sidney Street, Pappy's BBQ, Salt, Modesto, Bailey's Choc. Bar, Schlafly, Harvest, Chaumette Vineyards, Prime 1000, Kakao Chocolate, Eleven Eleven and more awesome restaurants!
Excellent live music will be played by the Brian Sullivan Trio, from 5-7:45pm and the ever popular
Javier Mendoza Band will be on the roof-top terrace overlooking the riverfront and Arch from 8pm to 10pm. In case of rain, he will be on the 6th floor.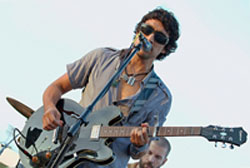 So join us on Sunday, June 26th at the swanky Four Seasons Hotel Grand Ballroom, 6th floor and 8th floor terrace, 5pm-10:00pm. Tastings will be served from 5-7:30pm.

Tickets are $25 in advance/ $30 CASH ONLY at the door. Dress code is business casual exept for -->Cards fans: bring your Sunday game ticket stub with you and get $5 off at the door.
Online tickets have ended.
Note: Doors open at 4:45pm. Rain or Shine
Complimentary tastings include, food, beer, wine. 2 beer tickets good for the following brands (Blue Moon, Sam Adams, NewCastle Brown Ale, Tank Farmhause Ale, MagicHat and Hofbrau) on the roof-top-terrace only with entrance ticket purchase. Cash bar will be available.
twitter tweeps, follow all the crazy, fun food comments at #SAUCYSOIREE or follow Sauce at http://twitter.com/saucemagazine

See you at the party!
Allyson Mace
Publisher and Founder
Sauce Magazine
A special Thank You to our event Sponsors:
Blue Moon, Sam Adams, NewCastle Brown Ale, Tank Farmhause Ale, MagicHat, Hofbrau, Summit Distributing, Falk Harrison, St. Louis Public Radio, The Raymond Experience, The Four Seasons Hotel, Diningcircle.com