Description
Halloween is here! What better way to unleash your alter ego than to get saucy! Join The Alumni Group for a Turn Up Brunch Party guaranteed to have you sauced in the city. What better way to unwind after a strenuous work week than bottomless mimosas, bellinis, sangria, screwdrivers, and even margaritas? Join us and get a free shot if it's your birthday, free shot if you take an Uber, Lyft or taxi to the venue, and even get a shot with a costume. I can't think of any other place that will get you this sauced.
**Brunch is first come first served. Reservations/Accomodations for large parties can only be made before 2pm (Email Host for details)**
***Brunch is to be paid to server upon the conclusion of brunch***
***Strict 2 hour seating limit maybe imposed during brunch***
****Must be 21+ to participate in bottomless brunch****
***Complimentary Shot with Halloween Costume***
***Complimentary Birthday Shot***
***Complimentary SHOT WITH RECEIPT FROM UBER or LYFT or ANY RIDE SHARING APP***
Please use #TAGBrunch when sharing on Social Media
To keep up with similar brunches please follow @QualityFilth on Instagram and Twitter and @The_Alumni_Group on instagram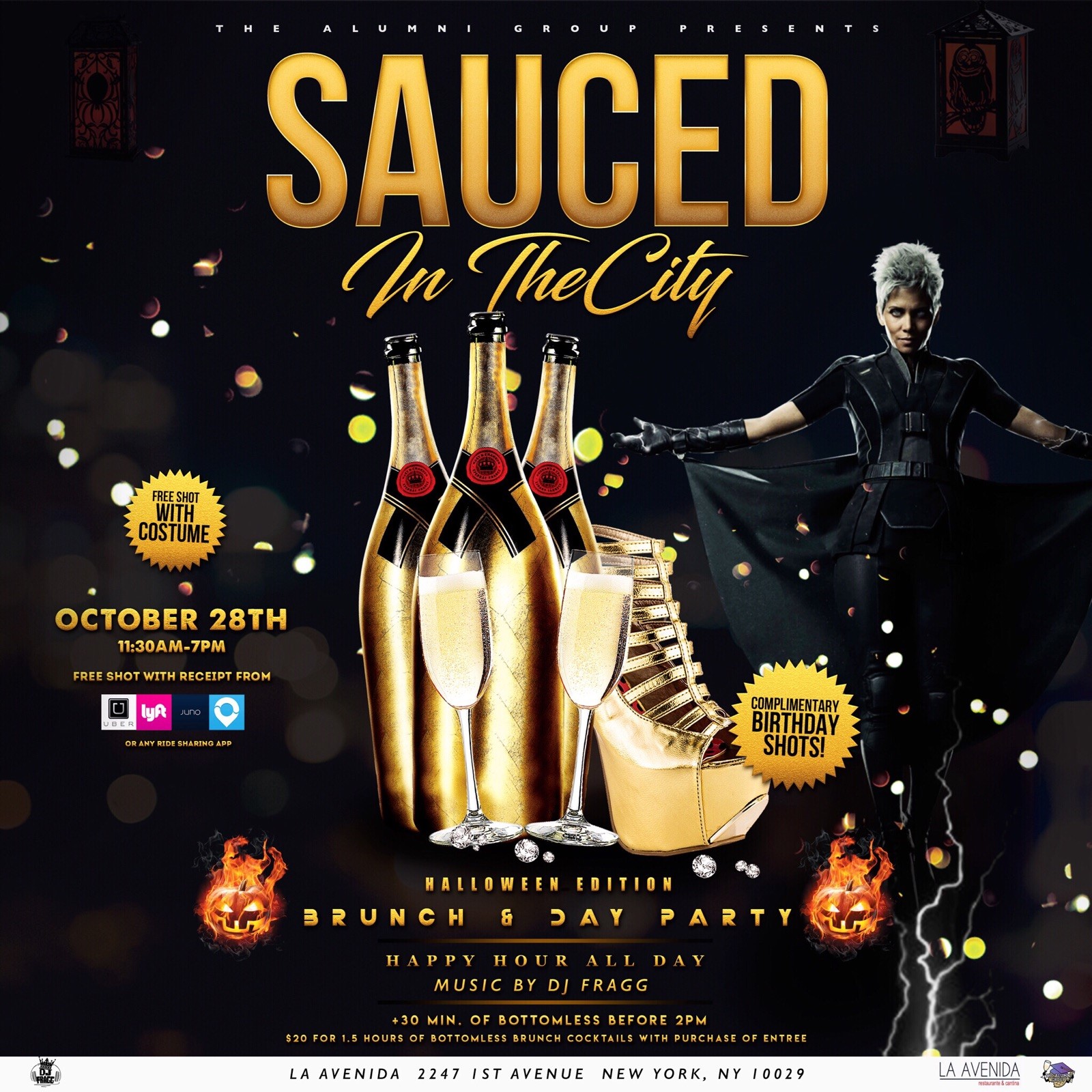 Menu
---
Appetizers
Fresh Guacamole $8
Avocado, tomato, red onion, cilandro, lime juice
Mexican Street Corn $5
Smoke Chipotle Mayo, Queso Fresco, Thyme
Entrees
Omelette $9
Omelette (3 choices of red onion, tomato, pepper jack cheese, red peppers, avocado, pico de gallo), home fries, mixed greens
La Avenida Cheeseburger $9
Ground beef, Tomato, Onion, Jack Cheese, Avocado, Chipotle Aioli, Homefries
Steak & Eggs $11
Grilled Steak, Home Fries, Mixed Greens, PIco De Gallo, Eggs Any Style
Eggs Benedict $9
English Muffin, Poached Eggs, Cheese, Mixed Greens, Poblano Sauce
Chilaquiles $9
Hand cut fried corn tortillas, eggs, jack cheese, green and red salsa, onion
Add Steak $4
Breakfast Burrito $9
Flour Tortilla, scrambled eggs, chorizo, lettuce, jack cheese, pico de gallo, mixed greens
French Toast $9
French Toast, Cinnamon, Rum Dulce De Leche, Fruit
Tacos
Pork Tacos / Tacos Al Pastor
Pork Marinated in guajillo sauce, grilled pineapple, onion, cilantro, green tomatillo sauce
Fish Tacos / Tacos De Pescado Al Gusto!!
Pan Seared Branzino, Chipotle Mayo, Red Onion, Cilantro, Flour Tortilla
Chicken Tacos / Tacos De Pollo
Adobo Chicken Marinated, Coleslaw, Red Onion, Cilantro, Avocado Salsa Verde
Steak Tacos / Tacos De Carne
Guacapico, salsa Verde
Vegetarian Tacos / Tacos De Vegetales (Vegan)
Sauteed Red Onion, Carrot, Green & Yellow Squash, Broccoli, Garlic
Shrimp Tacos / Tacos De Camarones
Pan Seared Shrimp, Sour Cream, Chipotle, Onion Sauce, PIneapple Pico De Gallo
Sides $5
Mashed Potatoes
Brussels Sprouts
Sauteed Veggies
French Fries
Rice & Beans
Dessert
Churros $7
Sprinkle with cinnamon, cajeta & chocolate sauce
Crepas De Cajeta
Cajeta, Vanilla Ice Cream
Banana $7
Blackberry $8
Brunch Cocktails $20 for 1.5 Hours of Bottomless Brunch Cocktails (2 Hours Before 2pm)
Mimosas, Bellinis, Sangria (Red or White), Screw Drivers, Margaritas Frozen or On The Rocks Flavors:Traditional, Coconut, Mango, Strawberry, Passionfruit. Chamelion (Half Frozen Margarita & Half Sangria)
Happy Hour Menu
Cocktails $8
Pimms Cup
Pimms Gin, Pineapple, Cucumber, Mint
Caipirinha
Cachaca, Lime Chunks, Sugar
Pisco Sour
Pisco, Lime Juice, Gomme Syrup, Egg White
Margarita
Tequila, Triple Sec, Lime Juice
Mojito
Santa Teresa Rum, Fresh Mint, Demarara Sugar
Blackberry Gimlet
Vodka, Blackberries, Lime Juice
Wine $6
Beer $5
Food
Papas A La Francesca $4
Hand Cut Potatoes, Chipotle Aioli
Elote $4
Smoke Chipotle Mayo, Queso Fresco, Thyme
Guacamole $6
Avocado, tomato, red onion, lime juice, cilantro
Tacos Al Pastor $6
Pork Marinated in guajillo sauce, grilled pineapple, onion, cilantro, green tomatillo sauce
Nachos $6
Fried Beans, Jack cheese, Pico De Gallo, Crema
Add Chicken $2
Add Steak $3