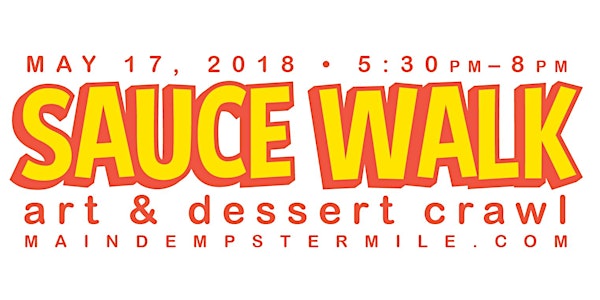 Sauce Walk! A Neighborhood Art & Dessert Crawl
Refund Policy
Refunds up to 7 days before event
Description
TICKETS STILL AVAILABLE AT THE DOOR
Check in or purchase Day of Event Tickets at the following locations:
Board & Brush Evanston, 802 Dempster St
Dozika Pan-Asian, 601 Dempster St
Amanecer Taco Shop, 512 Main St
La Principal, 700 Main St
Firehouse Grill, 750 Chicago Ave
Get saucy! Join us for a celebration of arts and eats on the Main-Dempster Mile! Stroll through Pop-Up Art Galleries located inside the shops of the Mile, and sample delicious dessert bites and beverages along the way.
Artists showing:
Karen Ovington
Jacob Keleher
Karna
List of shops hosting artists:
SOUTH BLVD & CHICAGO
MAIN & CHICAGO
Evanston Stitchworks
Guitar Works Ltd
Cultivate Urban Rainforest & Gallery
D21 Fit Studio
Few Spirits
Plain & Simple Furniture
La Principal - CHECK IN HERE
Follow Your Nose/The Alchemist's Wife
Sketchbook Brewing Co.
Fonseca Martial Arts
Firehouse Grill - CHECK IN HERE
Bentley's Pet Stuff
Ten Thousand Villages
Virag Jewelers
Swantiques Pop-Up Shop
Goods of Evanston
Reprise Roasters
Open Studio Project
Amanecer Taco Shop - CHECK IN HERE
GREENLEAF & CHICAGO
Autobarn Fiat & Alfa Romeo
Oscar Isberian Rugs
MBG Products
DEMPSTER & CHICAGO
Modern Vibe (formerly Trash & Treasures)
French Kiss Cafe
Rainbows for All Children
Board & Brush Creative Studio - CHECK IN HERE
FRiO Gelato
Space 900
Karna Studio
Perspective Gallery
Dozika Pan-Asian- CHECK IN HERE
Cottage Jewelry
Stumble & Relish
Amanda Evanston Freund Studio & Gallery
Secret Treasures
Come join for this neighborhood art and dessert crawl, meet your neighbors, browse some beautiful art, and eat some delicious food.