Description
Saturnalia Festival returns Novemeber 16-18 2018.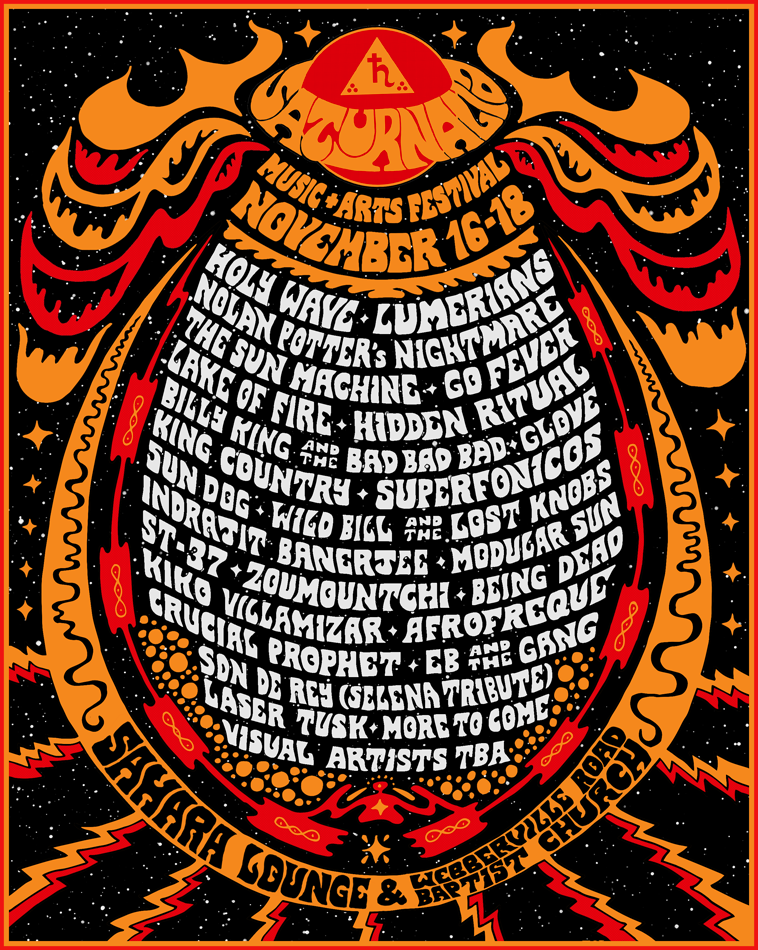 HOLY WAVE - LUMERIANS - THE SUN MACHINE
NOLAN POTTER'S NIGHTMARE BAND - GO FEVER
BILLY KING and the BAD BAD BAD - KING COUNTRY
LAKE OF FIRE - HIDDEN RITUAL - GLOVE - SUN DOG
WILD BILL AND THE LOST KNOBS - INDRAJIT BANARJEE
SUNBUZZED - MODULAR SUN - SUPERFONICOS
BEING DEAD - ZOUMOUNTCHI - LASER TUSK - ST37
SON DE REY (SELENA TRIBUTE) - AFROFREQUE
KIKO VILLAMAZAR - CRUCIAL PROPHET
EB & THE GANG
ETHER WAVE LIGHT SHOW + More TBA
MANY MORE BANDS, ARTISTS and VENDORS to be announced. Stay Tuned.
Curated and organized by musicians and artists Saturnalia brings an immersive experience of sights and sounds to East Austin. The last small and affordable outdoor music festival in Austin; featuring a diverse line up of bands with a strong focus on the psychedelic. Saturnalia proudly promotes love, music and creative exploration for we are all children of one Universe.