Multiple Dates
SATURDAYS: "SPRING FLING" ON THE PIER! VIP "GLASSHOUSES" & OUTDOOR SEATING
SATURDAYS: "SPRING FLING" ON THE PIER! VIP "GLASSHOUSES" & OUTDOOR SEATING AT WATERMARK @ PIER 15!
About this Event
SATURDAYS: "SPRING FLING" ON THE PIER! VIP "GLASSHOUSES" & OUTDOOR SEATINGPRIVATE - WATERFRONT DINING EXPERIENCE!
KIDS ARE WELCOME, FUN FOR THE WHOLE FAMILY!
ENJOY BRUNCH 12-4PM! & SUNSET EVENINGS 4-10PM.
SCROLL DOWN TO SEE OUR AMAZING BIRTHDAY / GROUP PACKAGE!
ALL GUESTS WILL BE SEATED INSIDE OF OUR ENCLOSED "GLASSHOUSES"! SEATING FROM 2-10 GUESTS. SANITIZED BETWEEN SEATINGS OR SIT OUTDOORS AND ENJOY THE OPEN AIR WATERFRONT VIBES!
*WALK IN'S ARE WELCOME OR RESERVE A PRIVATE "GLASSHOUSE" TO ENSURE YOUR PROMPT SEATING AND ENJOY THE WATER VIEWS IN STYLE!
HOW IT WORKS:
PICK A DATE
PICK AN AVAILABLE TIME & RESERVE A GLASSHOUSE (PRICE INCLUDES RENTAL ONLY)
THEN SHOW UP & ORDER OFF THE MENU - YOU CAN ALSO PICK A PACKAGE UPON ARRIVAL. WE HAVE A CHEFS TASTING PACKAGE, JUMBO COCKTAIL CARAFES & (MOST POPULAR) BIRTHDAY / GROUP PACKAGE!
(SCROLL DOWN TO SEE THE MENUS).
Questions? SEND A TEXT MESSAGE ONLY: 917.862.1181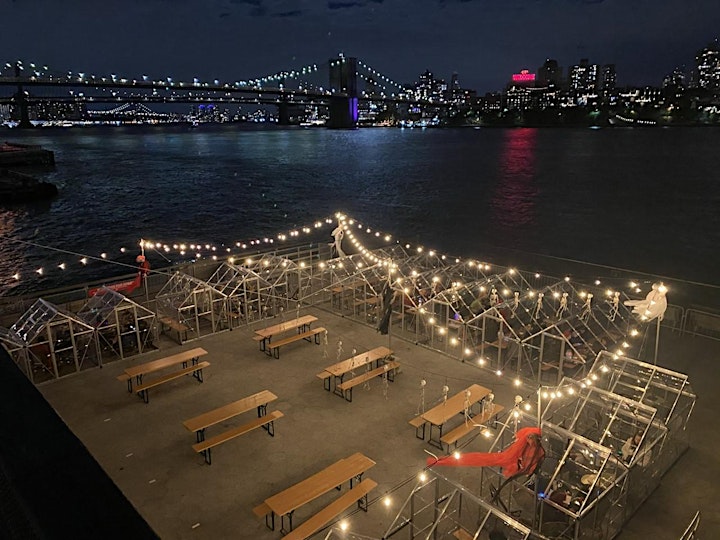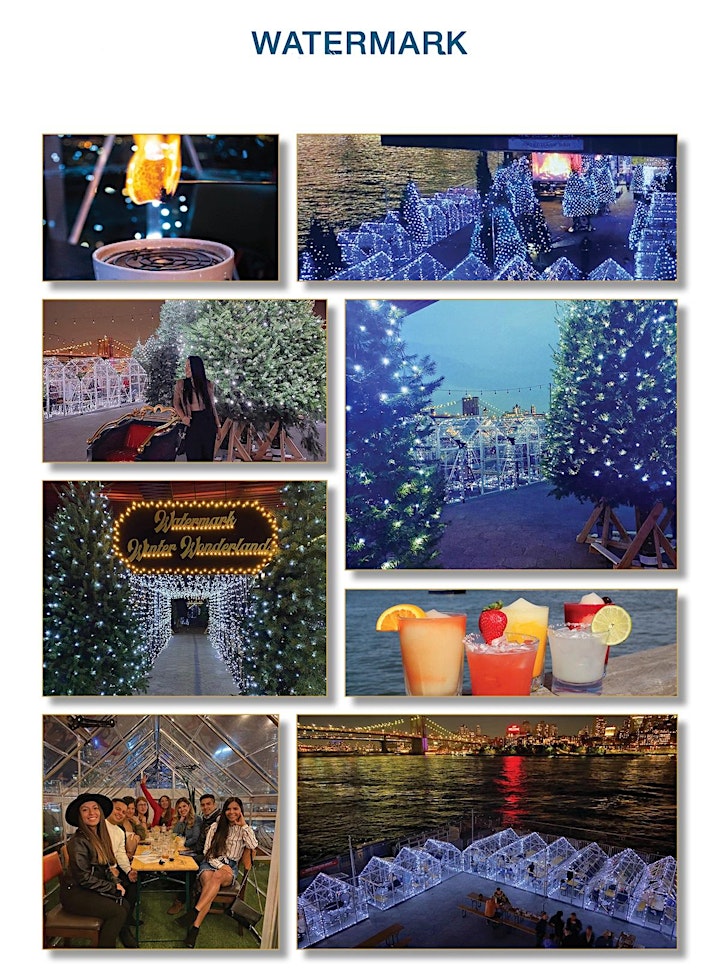 Watermark is TRANSFORMING OUR PIER INTO a fully Immersive & socially distanced DINING experience to enjoy in a safe & fun environment.
Enjoy the sights and sounds at our 4,500 square foot WATERFRONT venue which features amazing views of the Brooklyn and Williamsburg bridges and Brooklyn skyline. FULL BAR AND MENU AVAILABLE. BIRTHDAYS WELCOMED!
ENJOY Sunsets & evenings with CLASSIC MOVIES PLAYING ON OUR NEW JUMBO PROJECTION SCREEN AND GREAT MUSIC PLAYING!
TRY OUR NEW CHEESE FONDUE & S'MORES!
BIRTHDAY & GROUP PACKAGES AVAILABLE
-BIRTHDAY & GROUP PACKAGE INCLUDES:
(MINIMUM OF 2 GUESTS) - CAN BE ENJOYED BY ALL GROUP SIZES FOR ANY OCCASION.
CHEFS TASTING MENU FOR ALL TO SHARE FAMILY STYLE
JUMBO COCKTAIL CARAFES FOR EVERYONE TO SAMPLE & SHARE!
COMPLIMENTARY BOTTLE OF BUBBLY TO CELEBRATE YOUR SPECIAL OCCASION OR NIGHT OUT!
PRICE: $75/Per Person & CAN BE REQUESTED UPON ARRIVAL AT THE VENUE, NO NEED TO PREBOOK!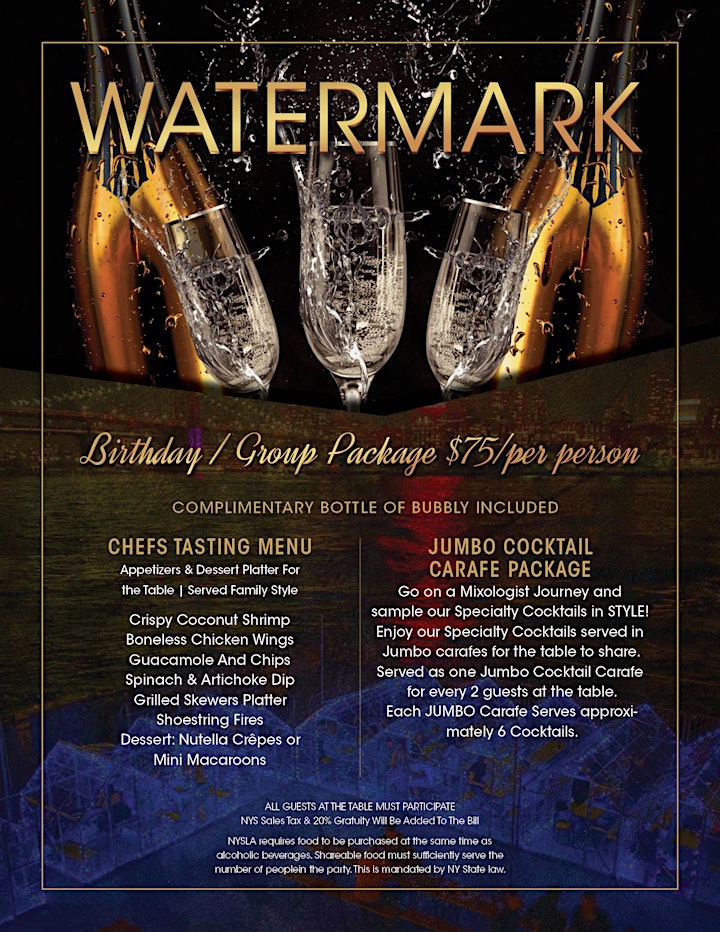 ENJOY BRUNCH, DINNER, OR CRAFT COCKTAILS IN A "GLASSHOUSE" ON THE WATER WITH AMAZING VIEWS! DONT FORGET OUR CLASSIC MOVIE SHOWINGS ON OUR JUMBO SCREEN!