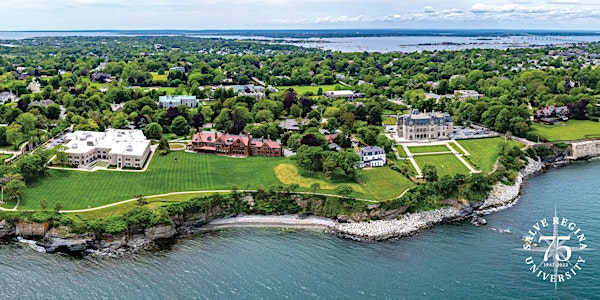 Saturday Seminars: Salve and Our Mercy Mission
Be part of Salve Regina University's 75th Kickoff Celebration!
When and where
Location
O'Hare Academic Center Shepard Avenue Newport, RI 02840
About this event
University faculty will host seminars offering a glimpse of the Salve academic experience, in two morning sessions, with topics including the Critical Concerns of the Sisters of Mercy, the University mission, and the history of Salve Regina University. Breakfast will be available from 9 - 11 a.m.
OHA 103 - The Extraordinary Mercy Mission of Salve Regina University: Carrying our legacy forward
Dr. Myra Edelstein, Dr. Arlene Nicholas, Dr. Sean O'Callaghan
This interactive seminar will explore Salve Regina University's Mercy Mission and how we bring it to life. By the end of this session, participants will understand our Mercy mission; recognize the many ways that the mission is brought to life through academics and student activities; and appreciate the fascinating history behind the university's mission and the ways we carry this legacy forward.
OHA 106 - Sport in Newport
Dr. Timothy Neary
The City of Newport served as a playground for the wealthy during the Gilded Age. Drawing on Salve's "Sport in America" course, we will discuss the many firsts in U.S. sports that took place in Newport --from tennis and sailing to polo and golf. In addition, we will examine how athletics and student activities at Salve Regina University continue the legacy of sports and leisure in Newport.
Session 2: 11 a.m. - 12 p.m.
OHA 103 - The Mercy Mission in Salve's Business and Economics Courses
Dr. Adam Witham, Teaching through the Critical Concerns of Mercy
Salve Regina faculty members aim to connect the Mercy Mission to course content in all academic disciplines. In this talk, we will focus especially on the overlap between the "Introductory Macroeconomics" curriculum and the Critical Concerns of Mercy. How can this overlap help students come to a better understanding of both the course objectives and Salve's Mercy Mission?
Mr. Samuel Sacco, Doing Good by Doing Well: Using Investment Tools to Generate Funds for Charitable Donations
Today's Salve students will be tomorrow's 401(k) and IRA investors. Financial gains are important, but they are not the only currency that matters. Contributing to your community improves the lives of others and reflects our stewardship responsibilities. Drawing on Salve's "Investment Planning" course, we'll review basic investment strategies and see how Salve's students are utilizing these strategies to generate and allocate funds for charitable donations.
OHA 106 - Don't Look Behind the Curtain: The Troubling History of the Casino Theatre's Designer and Architect
Dr. Tara Brooke Watkins
The Casino Theatre is the only extant theater building designed by Stanford White, making it an architectural gem. Yet White was a well-known abuser and designed this space to be inaccessible to all but the most elite of Newport. Today, the Casino is hailed for its gold, ostentatious decor and velvet seats. Our students perform on the stage and audiences sit in the seats, but no one questions how the design and architecture kept people from looking at the abuse and how it may keep people away. How can Salve theatre help us move forward in this space in a socially conscious and just way?