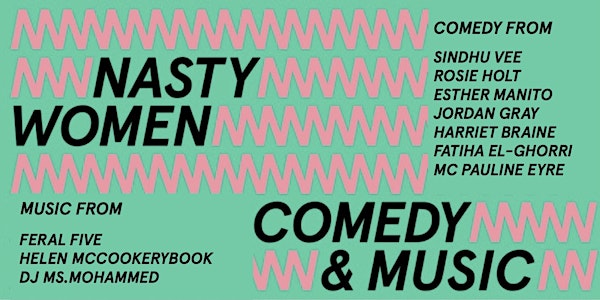 Saturday Night Nasty Women of Comedy and Music
When and where
Location
Stour Space 7 Roach Road London E3 2PA United Kingdom
Description
Join us for an amazing evening of Comedy, Live Music and DJ sets by some of the UK's most brilliant Nasty Women. Comedians: MC Pauline Eyre, Rosie Holt, Harriet Braine, Esther Manito, Fatiha El-Ghorri, Jordan Gray & Sindhu Vee
Music from: picked as #onestowatch electro-punk group Feral Five, DJ Ms. Mohammed, DJ Zoe Ellen Bryant, singer-songwriter Helen McCookerybook and rising rapper Tisha Hart.
In aid of End Violence Against Women.

Comedy
MC and feminist stand-up comedian Pauline Eyre steers the Nasty Comedy ship with a line-up including some of the country's best and most exciting female comedians.

- Sindhu Vee, BBC New Comedy Awards 2016 Finalist, Sindhu Vee is most likely the tallest Indian woman you'll ever meet. She devotes all the time she has left over from raising her 3 children (and bizarrely gigantic labrador) to comedy and suffering facial peels. As seen on Dave: Alan Davies 'As Yet Untitled"/BBC R4 Comedy/BBC Asian Network. sindhuvee.com
- Rosie Holt, burst onto the comedy scene when she won So You Think You Write Funny: The Sitcom Trials. Punk playwright Mark Ravenhill described Rosie thus, "If Miranda Hart had Satan's Love child it would be Rosie Holt" and after Caitlin Moran tweeted her UnSafe Sex Song it went to her head. Describes herself as "handy with a ukelele". Charming and hilariously personal, Rosie's musical comedy is wonderful to watch. Rosie has also written for Alain De Botton's School of Life. @RosieisaHolt
- Harriet Braine, an exceptional comedy singer/songwriter is Winner of the 2016 Funny Women Awards and Best Newcomer at 2016 Musical Comedy Awards. Performs brilliantly funny ditties about famous artists: Monet v Manet to the tune of ABBA's 'Money Money Money' anyone? @HarrietBraine and Facebook.

- Fatiha El-Ghorri, a sharp and sassy comedian who cracks the ice with her acute and funny observations on identity and race.
- Pauline Eyre, a fabulous, funny and brilliant comedian and MC who's been standing up since…well, a long time ago. Now doing it in front of audiences. @yespaulineeyre and Facebook.

- Esther Manito, a So You Think You're funny 2017 finalist, Bath New Act of the Year finalist 2017, Semi-finalist for Amused Moose 2017. Funny Women's one to watch 2016. Esther is also a published writer in the satirical collection, "Don't Panic I'm Islamic". @esther_manito

- Jordan Gray, announced her jump from Pop music to stand-up comedy this year. The Transgender comic first came to fame on The Voice UK in 2016 and regularly appears on national TV and mixed media. She hosts a weekly guest-based radio and podcast show on Phoenix 98FM. @Talldarkfriend

Music
- DJ Zoe Ellen Bryant has a monthly show on Amazing Radio showcasing new music with female vocals, and DJs regularly at Robomagic Live's ROAR night (FKA Finding The Female Headliner). She is also a Music Supervisor and writes for Spindle Magazine @zoeellenbryant
- Helen McCookerybook, the bass player/singer with The Chefs and guitarist/singer with Helen and the Horns both of which were favourites of BBC Radio 1's John Peel. Now a solo artist who tours the UK regularly. Her new solo album, 'The Sea' has been featured on BBC Radio 6's Gideon Coe. @mccookerybook Facebook Helen-McCookerybook
- Singer/guitarist Ros Cairney from deux furieuses will perform a special short acoustic set. Deux Furieuses' debut album Tracks of Wire topped multiple 'album of the year' lists in 2016, and received acclaim from the likes of Q Magazine and DJ John Kennedy, Radio X. The band played their biggest gig to date in May 2017 supporting Frank Turner at The Roundhouse. @deuxfurieuses
"Anger masterclass recalling PJ Harvey's Rid of Me and the austerity of Savages" Q MAGAZINE
"It's the sound of standing up and fighting for your rights, it's the sound of now." 10/10 LOUDER THAN WAR
- Feral Five Electro-punk duo Feral Five make groundbreaking dance music with bite. Featured on BBC Radio 6 Music, they're Louder Than War #onestowatch 2017. They've played Picasso inspired tunes at The National Portrait Gallery and performed with a 3D printer at Music Tech Fest. @FeralFive
- Tisha Heart is a 23 year old emerging rapper from the heart of West London. Tisha has two very polar opposite sides of her which is expressed through her musical flows and tones. She will be peforming brand new tracks at Nasty Women and will be releasing more music at the end of the year. @westheart_music
- Ms Mohammed (DJ Set) Joyously fierce Island punk / Alternative Fusion artist and founder of Clit Rock music events featured in The Guardian. "Powerful, Feminist, Brilliant, Goddess-like with raging guitars & tribal drums!" - Bobby Friction, BBC Asian Network @MsMohammedMusic